Glen Sather: 'With 30 teams, the GM has become more of a string puller than anything else, because you are maneuvering through this maze of people—to try and find something that is going to help your organization. In the meantime, you have to build the organization, and you have to rely on the advice that these people give you, because you just can't do it all.' Page 134, Behind the Moves.
Peter Chiarelli's advisors—Craig MacTavish, Scott Howson, Bill Scott, Bob Green, Kelly Buchberger, James McGregor—are mostly remnants and roll ends from previous administrations. Peter Chiarelli has kept the avocado fridge, the red shag and the trusty Coleman stove, but one wonders what part of the procurement pool these men have him shopping in. No excuses, Peter Chiarelli has the job and could have moved out people, but he is going to war with two men who decided trading for and signing Nikita Nikitin was a good idea. Dear Peter Chiarelli: Are you sure you want to do that?
JUNE IS BUSTING OUT ALL OVER!
These days of hope being experienced by Oilers Nation come every June, and are usually dashed by some diabolical transaction that tips management's hand and indicates their level of aptitude.
I could go on, but honestly the moves themselves—clearly well below acceptable—kind of run together. Peter Chiarelli needs a puck moving defenseman now just as much as Steve Tambellini did in 2011. Will he come up with a better solution than Cam Barker? Are you sure? If he brings in Tyson Barrie, trades Ryan Nugent-Hopkins and adds a Frans Nielsen at $6 million times four, is he smart?
OILERS CURRENT ROSTER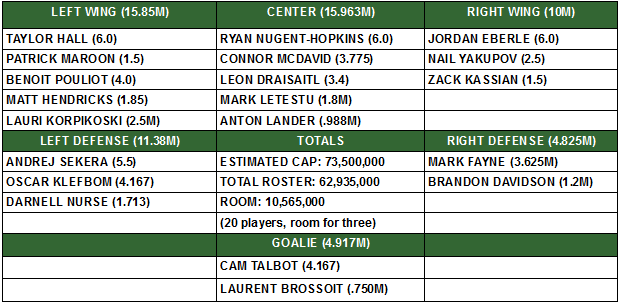 I have long advocated signing Jason Demers, adding a second RH option and leaving the forward group (pretty much) alone. Reading the tea leaves as we head to market, this is looking like it could be a roster blood bath—even the Condors may look wildly different by the first week of July.
CURRENT 50-MAN LIST (38)
G Cam Talbot. Locked in as No. 1 for the coming season.

G Laurent Brossoit. Projects as NHL backup/AHL starter.

G Nick Ellis: Newly signed college free agent.

G Eetu Laurikainen, AHL backup, he is signed for next year.
D Oscar Klefbom, The best draft and develop blue in forever. Healthy?

D Andrej Sekera, top 4D, important part of the team.
D Brandon Davidson, this generation's Pisani. Major solution, low price.

D Mark Fayne, I question Oilers ability to find three better RH this summer.
D Darnell Nurse, he will be an Oiler long after most of these names are gone.

D Griffin Reinhart, he will push for NHL time again this year.
D Andrew Ference, they may buy him out (if able). LTIR is my guess.
D Dillon Simpson, another season of improvement.
D Joey Laleggia, scored pretty well as an AHL rookie.
D Ben Betker, big man was solid at ECHL level.

D Caleb Jones, WHL D. Newly signed, definite slide rule.

C Connor McDavid, I am impatient for his next game.

C Ryan Nugent-Hopkins, suspect he is a goner.

C Leon Draisaitl, emerging NHL talent.
C Mark Letestu, checking NHL C.
C Anton Lander, the foot speed remains an issue.

C Jujhar Khaira, big man who can fill 4line role.
C Bogdan Yakimov, big body, plenty of skill, wonder about the speed.
C Kyle Platzer, may be the next Kyle Brodziak.
L Taylor Hall, impact NHL player, expert river pusher.

L Benoit Pouliot, underrated by many. Trade rumors.
L Patrick Maroon, Chiarelli may feel he can deal another LW because of his finish.

L Lauri Korpikoski, Oilers should try to offload him this summer.

L Matt Hendricks, checking NHL W.

L Drake Caggiula. High profile signing, likely to see some NHL time.

L Jere Sallinen, Newly signed, looks like tweener offense.

L Mitch Moroz, AHL winger/enforcer, improved year over year.
L Braden Christoffer, rugged winger did not have a good season.
R Jordan Eberle, scoring winger, found chem with McDavid.

R Nail Yakupov, gone baby, gone.
R Zack Kassian, will play bottom 6F, Chiarelli-style rugged.
R Anton Slepyshev, this will be an important year for him.

R Patrick Russell, power forward potential. New signing.

R Greg Chase, minor league winger.
WAITING
R Iiro Pakarinen, he should get signed in the next while. RFA
D Jordan Oesterle, I think he has passed most of the picks. RFA.
D Adam Clendening. Foot speed will cost him. RFA.
D David Musil, his skills are duplicated multiple times. RFA.
L Luke Gazdic. He is in tough at this points. RFA
R Adam Cracknell, he brings some toughness and reliability. UFA.
R Rob Klinkhammer. No feeling either way. UFA.
D Adam Pardy. He played well, doubt there is room. UFA.
D Eric Gryba, UFA. A chance he signs. UFA.
D Nikita Nikitin, UFA. Ufa alright.
D Brad Hunt. Skills are duplicated elsewhere. UFA.
L Josh Winquist. Best offensive prospect in the AHL currently—but does not have an NHL deal.
R Josh Currie At 23, he forced his way into the lineup and played very well. Can also play center.
C Marco Roy. Began slowly, but fought his way up the depth chart and emerged as a solid option.
R Tyler Pitlick. Young veteran is RFA again. If he could only stay healthy.
G Niklas Lundstrom. Signed with Bjorkloven for next year.
L Kale Kessy. Rugged winger, skills duplicated on roster. RFA.
R Andrew Miller. He may have traded himself. No chance he returns imo. UFA.
L Ryan Hamilton. May receive another deal from the Oilers.
G Keven Bouchard. 2014 pick needs to be signed.
L Daniil Zharkov. Own his rights.
NHL EQUIVALENCY AND THE DRAFT
I have Pierre-Luc Dubois ranked No. 4 on my top 150 list, he has an NHLE of 34 points. Clayton Keller has an NHLE 35.6 points, I have him ranked at No. 7. Should he be higher? Are the intangibles we credit Dubois with so strong he should be three spots ahead of Keller? I have a feeling Keller is a bit underrated on my list.
LONG RIDE HOME
I have always argued that the players heading out will depend on what the other team needs, but it is also true that Edmonton does have areas of strength (LW, LHD, No. 4 overall) that can offer a starting point. Here is my list in the order of 'most likely to be traded':
Benoit Pouliot
Mark Fayne
Nail Yakupov
No. 4 overall selection
Young LHD (Darnell Nurse, Griffin Reinhart, Brandon Davidson)
Cap space
2017 1st round selection
Jordan Eberle
Ryan Nugent-Hopkins
Leon Draisaitl
Taylor Hall
I believe trading RNH is unwise. Even if the club deals him for Tyson Barrie and then signs Frans Nielsen, suspect the cost on that contract will be too dear and too long. The wise choice (imo) would be adding Jason Demers, taking a risk on a young blue with offense (or Franson) and keeping that center depth together.