If you are an Edmonton Oilers fan, this is an exciting and dangerous time. Exciting, because there are good defensemen headed to this northern outpost. They will guard the rear, move the puck up expertly and allow smiling to occur deep into the winter. Dangerous, because those defenders are going to come at a cost.
Peter Chiarelli: "All I can tell you is I've had a lot of discussions here. (The Combine) is another useful tool for a general manager because most general managers are here. We're all in the rink, we're all within walking distance of each other. It's a very casual environment so it's a good, casual breeding ground for those decisions." Source
Is there something afoot? Taylor Hall for Hampus Lindholm? Lindholm is a fabulous player, but would Chiarelli pull the trigger straight up? Interesting scenario.
Hall per 82gp: 28-43-71. Corsi 2015-16: 51.7
Lindholm per 82gp: 8-24-32 Corsi 2015-16: 57.8 (!!)
No doubt Lindholm is a stud, and he does have three complete seasons in the NHL. That gives us a legit sample size, plus he appears to have spiked this past season. All of his defensive partners are better with him than without. I will look deeper into Lindholm (and Ryan McDonagh) as days go down.
THE VOLLMAN SLEDGEHAMMER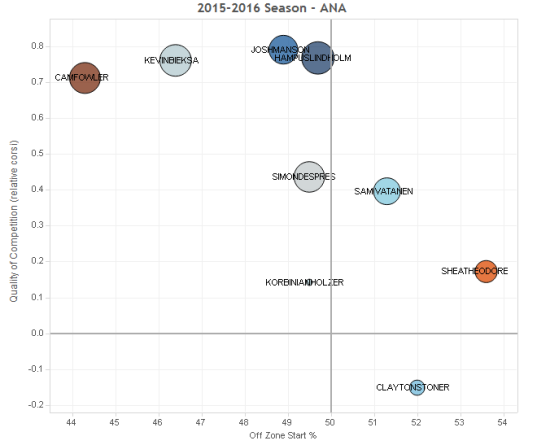 He is in an excellent spot for such a fine bubble. Hampus Lindholm is a very fine young defenseman. Would you trade Taylor Hall for him? I said yesterday Anaheim would have to add a sweetener, but how much? Or would they have to add anything at all? Trading for defensemen scares the hell out of me at this kind of price. Injury can derail a good defenseman in a heartbeat. That said, he is a perfect fit. I would make the trade but would want a sweetener and the young man would have to be signed before the deal gets done.
Matt Tkachuk: "I'm a winner. I've proven that over the last couple of years. I know how to win and I know how to bring that winning mentality to a team. Personally, I think I am a really competitive player and I'm a smart hockey player. I think that's what a lot of teams need." Source
I hate to ruin the draft for you, but the Oilers are going to select Matt Tkachuk at No. 4 overall. It is an understandable pick, but I would take PLD or trade the selection and move down for Mikhail Sergachev, Olli Juolevi and Jakob Chychrun. My phone is on, they do not call me.
I have been spending a lot of time with Prospect-Stats, specifically their Equal Strength Primary Point-per-game measure. It gives a very interesting view of the draft. Here are the 2016 eligibles in the WHL via EV primary PPG (points-per-game):
Dillon Dube .585
Tyler Benson .567
Dante Hannoun .521
Ty Ronning .507
Noah Gregor .472
The WHL does not have a great crop of forwards this season. Jake Bean, a defender, posted .294 per 60 at even strength, a little less than Caleb Jones. Interesting information. Is Dillon Dube the best forward from the WHL this season? I have Tyler Benson as the top F in the WHL—a pretty good bet if he can stay healthy. While I am emptying the honesty chamber, bet real money Edmonton drives hard to get him with their second selection. Lets try the OHL:
Alex DeBrincat .883
Adam Mascherin .754
Taylor Raddysh .657

Matt Tkachuk .649

Kyle Maksimovich .603
Top D in the OHL is Cam Dineen (.338) I think he is wildly underrated. Question: Is Matt Tkachuk the best offensive forward among the 2016 eligibles from the OHL? And why don't people talk more about Alex DeBrincat? Now the Q.
Pierre-Luc Dubois .855

Vitalii Abramov .730
Pascal Laberge .589
Brandon Gignac .552
Maxime Fortier .529
Top D is Luke Green (.361) and he is probably badly underrated. Look at PLD! The man had a fine year. I would take him at No. 4 overall.
MOCK DRAFT, OILERS STYLE
Years of watching drafts with the Oilers involved informs (and harms) a person. So far this spring, I have done a bunch of mock drafts looking for real value in every spot. Today, I mock the draft the way Edmonton's board has set up in the past and probably will this season.
No. 4 overall—L Matthew Tkachuk, London Knights (OHL). Red Line Report: The prototype of a modern power winger. Has great size and strength, and wins every puck battle around walls and corners. Makes power moves to the net. Has outstanding vision and playmaking skills. Has a real mean streak if you get him riled up, but would prefer to beat you with perfectly timed and placed passes or a wicked snap shot. Dominant force can take over games. Will hit, fight, score, and is one of the most competitive bastards you'll ever find. Source
No. 32 overall—LD Logan Stanley, Windsor Spitfires (OHL). Brock Otten: He's 6'7, and 220lbs and he actually moves reasonably well. He's worked very hard to improve his skating and his stride is a lot more fluid and powerful. His lateral and backwards agility still needs work, and he needs to keep his feet moving off the rush, but a lot of the times his reach and aggressiveness help to negate some of the issues he has. He's also very aggressive in using his size in the corners and in front of the net. He's one mean customer. Offensively, there are underrated components to his game. He shows upside as a puck rusher. And I really like the patience and poise he exhibits on the blueline when trying to get shots through to the net. Source
No. 62 overall—G Jeremy Helvig, Kingston Frontenacs (OHL). Brock Otten: At 6'4, Helvig possesses the size that NHL team's covet in the position. And he's worked hard to become more athletic, improving his agility in the crease. He squares up to shooters well and really uses his size to cut down angles. Quite honestly, I wouldn't be surprised at all if Helvig was the second OHL goaltender off the board come June (behind Tyler Parsons). Source

No. 85 overall (Florida pick)—L Jonathan Dahlen, Timra (Allsvenskan). Jimmy Hamrin: Dahlén is a constant threat for defenders with his great vision, agility, puck skills and quick and accurate wrist shot. He developed greatly during this season and I think he can be a surprise first round pick that turns out well. He was a 17/18 year-old who played all season against men in the second highest league in Sweden. He was the top scorer on a low scoring team and led the team in a comeback from behind to make the playoffs. Outside of these characteristics he is a mature young kid with leadership qualities. He seems to handle pressure well and performed his best hockey during his team's playoff run. He needs to keep developing all his assets of course but especially add more muscle and a bit more speed to be able to do the things he does so well today on a top 6 role in an NHL-team. Source
No. 87 overall (Pittsburgh pick)— C Tyler Steenbergen, Swift Current Broncos (WHL). Red Line Report: Astonishing improvement in his skating, and his development has been so rapid in the second half that it's like watching a completely different player. Source

No. 122 overall—C Brett McKenzie, North Bay (OHL). Brock Otten: This year, he made improvements to nearly every area. His skating is definitely better, more explosive. His shot has added velocity and become a major asset. He had 26 goals on the year, but only 2 were on the powerplay (which points to a continued trend upwards next year when he gets more PP time). McKenzie is also a terrific two way player who excels on the penalty kill (with 5 shorthanded goals) and loves using his size to disrupt on the forecheck and along the wall. Source
No. 148 overall (St. Louis pick)— R Steve Harland, North Bay Battalion (OHL). I can't find much on him and I have looked a lot. He is 20, only 5.10 and 170. His .528 primary even-strength points per 60 (.528) runs ahead of several highly touted players. I get the age difference, but Harland—on a weaker team—is not far from Dylan Sadowy, who recently fetched a third-round pick in trade. I hope he gets drafted.

No. 152 overall—LD Vojtech Budik, Prince Albert Raiders (WHL). He is a strong skater and has shutdown qualities, plus at 6.01 and 185 he probably reaches NHL average size, maybe a little more.

No. 182 overall—D Loik Leveille, Cape Breton Screaming Eagles (QMJHL). Curtis Joe: A minute-munching defenseman that can be relied upon to provide defensive stability, as well as some offensive dynamic. Skates strikingly well, and is quick to notice small openings where he can initiate puck rushes and passing plays. Possesses solid puckhandling and individual skills. Can really protect the puck with his stocky frame and set of hands. All-in-all, a defenseman that offers a lot of positives at both ends of the ice, and can do all of the little things quite well.  Source
That's how Oilers drafts go. The team will go with the flow in Round 1, add the defenseman in Round 2, get the goalie because it is in the playbook. Then the team will settle in for two or three fine selections, followed by what I hope are inspired picks late. Chiarelli's Oilers did that last season, one more time would be nice.
CAP WORRIES
Big if true! Trumpets! This could work out for the Oilers, as some teams will be entering something close to madness this summer.
Larry Brooks: According to a source with ties to the Players' Association, the cap — set at $71.4 million this year — would be reduced to approximately $69.3M for 2016-17 unless the PA triggers the 5 percent escalator. If the union does exercise the bump, then the cap should increase to approximately $72.8M. The union, which debated the issue at meetings at the end of the week, has voted for the increase all but once. Source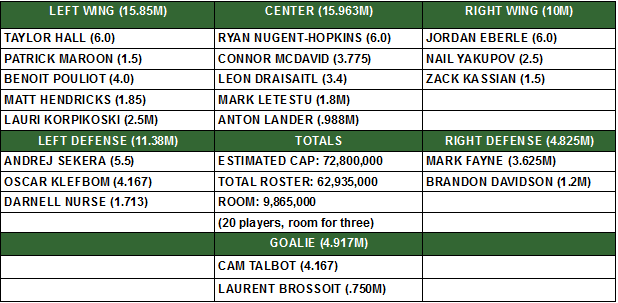 The club should be able to add two quality defensemen to this group and still have enough to grab a good backup goalie and a RHC. Note: I am assuming Andrew Ference on LTIR, something that may not happen due to the next item on today's agenda.
Larry Brooks: Second, Slap Shots has learned that rules for the 2017 expansion draft that will precede Las Vegas' anticipated 2017-18 admission to the league as its 31st franchise ("Done deal," we're told), will compel teams to protect players with no-move clauses even if they or the contracts themselves expire at the end of 2016-17. This means if the expansion draft is held, say, on June 21, 2017, teams will be obligated to protect players who, a) would become unrestricted free agents 10 days later; or, b) would be able to be waived or traded 10 days later. Source
This increases the chances of Ference being bought out—but the NHL may cast a dim view with the new rule in place. Sticky wicket, as the British say. Edmonton would need to protect Cam Talbot, Andrej Sekera and Andrew Ference (if not bought out), but it would also have tremendous impact elsewhere. Now, if the NHL really wants to tighten the screws, there should be a trade freeze and rosters should lie dormant from the 2017 trade deadline until expansion draft. That might actually cause ulcers—I challenge, no demand, the NHL does it. Hehe. No chancey, Mr. Whalen.
Cam Talbot, Andrej Sekera, Andrew Ference, Oscar Klefbom, Brandon Davidson, Taylor Hall, Ryan Nugent-Hopkins, Jordan Eberle, Leon Draisaitl.
Benoit Pouliot would appear to be on the outside looking in, or you may want to delete Brandon Davidson (I would keep him). Overall, I believe this would be a net positive for the Oilers, but the 'sky is falling' group will no doubt light torches before tea time. I have tried, and will continue to, caution patience in regard to the draft and draft rules. People, the NHL is not a thoughtful and measured league. The rules can change in seconds, based on a red fire truck passing by the window of a single owner. Seriously. Your hockey fantasy league has more restraint, more respect for the rules, more sensitivity to howls of farce. Honest.
#Oilers Rob Klinkhammer to the KHL? https://t.co/MDd6H6LUdR

— Patricia Teter (@Artful_Puck) June 5, 2016
WAITING
R Iiro Pakarinen, he should get signed in the next while. RFA
D Jordan Oesterle, I think he has passed most of the picks. RFA.
D Adam Clendening. Foot speed will cost him. RFA.
D David Musil, his skills are duplicated multiple times. RFA.
L Luke Gazdic. He is in tough at this points. RFA
R Adam Cracknell, he brings some toughness and reliability. UFA.

R Rob Klinkhammer. Could be KHL bound. UFA

D Adam Pardy. He played well, doubt there is room. UFA.
D Eric Gryba, UFA. A chance he signs. UFA.
D Nikita Nikitin, UFA. Ufa alright.
D Brad Hunt. Skills are duplicated elsewhere. UFA.
L Josh Winquist. Best offensive prospect in the AHL currently—but does not have an NHL deal.
R Josh Currie At 23, he forced his way into the lineup and played very well. Can also play center.
C Marco Roy. Began slowly, but fought his way up the depth chart and emerged as a solid option.
R Tyler Pitlick. Young veteran is RFA again. If he could only stay healthy.
G Niklas Lundstrom. Signed with Bjorkloven for next year.
L Kale Kessy. Rugged winger, skills duplicated on roster. RFA.
R Andrew Miller. He may have traded himself. No chance he returns imo. UFA.
L Ryan Hamilton. May receive another deal from the Oilers.
G Keven Bouchard. 2014 pick needs to be signed.
L Daniil Zharkov. Own his rights.