How many games will Drake Caggiula play in the NHL this season? 0? 10? 40? I think the outer marker is 40, but believe he will play at least a game or two in the NHL. If you think about how advanced he is as a prospect—and his age—it makes sense that Edmonton would fast track him. His draft year? 2012.
Drake Caggiula will probably start the season as a feature player with the Bakersfield Condors. Here is an early projection for Bakersfield's roster in 2016-17:
G Laurent Brossoit. He is halfway between the AHL and NHL at this point.
G Nick Ellis: May start at Norfolk.
G Eetu Laurikainen: A big season ahead for the Finn. Needs to show well.
D Griffin Reinhart: Another player who could see 0-40 games in the NHL 16-17.
D Dillon Simpson: I think he might get a game or two with Edmonton.
D Joey Laleggia: He will probably play a more prominent role.
D Ben Betker: May spend most of the season in the AHL.
C Jujhar Khaira: He could spend the entire season in Edmonton or Bakersfield.
C Bogdan Yakimov: Complete wild card. If he is in NA, he must post crooked numbers.
C Kyle Platzer: A big season for him in California. He needs to play. A lot.
L Drake Caggiula: He should score well in the AHL, and get NHL time.
L Jere Sallinen: Could be a candidate for recall depending on performance.
L Mitch Moroz: More playing time and better health required.
L Braden Christoffer: Year one, he looked overwhelmed.
R Anton Slepyshev: More competition this year, but he has a chance.
R Patrick Russell: Excellent resume, should be AHL-ready right away.
R Greg Chase: Like Platzer, he needs playing time in Bakersfield.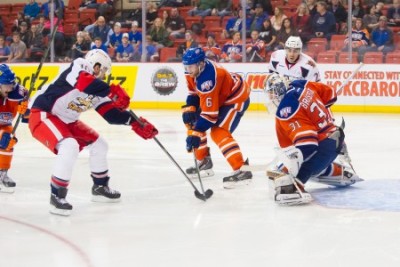 It is also fascinating to look at the FA list and contemplate who will be signed (among Condors) and who might end up walking.
D Jordan Oesterle: He would be one of the first recall options.
D Adam Clendening: A righty, he would also receive early recall consideration.
D David Musil: Oilers have duplicated his skills thrice and more. Bubble.
D Brad Hunt: Unlikely signing in my opinion. Oesterle/Laleggia will replace him.
L Luke Gazdic: Completely up in the air in my opinion.
L Josh Winquist: I hope they sign him, he has earned the chance.
L Kale Kessy. I think the Oilers will pass on the opportunity.
C Josh Currie: He is a good player and is young enough to have a career.
C Marco Roy: His numbers were good in year one, he has a chance in my opinion.
R Tyler Pitlick: He would be a strong option for early recall.
ANAHEIM CALLING
The more I look at this month, the closer I get to Disneyland. The match between Edmonton and Anaheim is excellent in terms of trade before Milan Lucic arrives on July 1 (as I have been saying forever, if the big man reaches free agency, PC will go hard to the hoop to get him signed).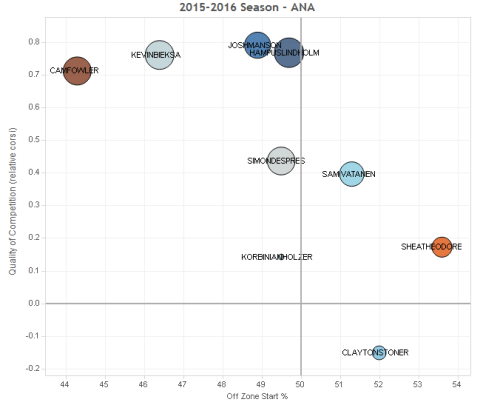 The Ducks are apparently contemplating moving someone out (internal cap and RFA status means pressure) and for Edmonton the most attractive blue are Hampus Lindholm and Sami Vatanen. We have discussed Lindholm as an option in days gone down here on this blog, and Vatanen would be a good option as a puck mover. We know the two teams have talked in the recent past:
Jason Gregor in late March: Right around the trade deadline a source told me Yakupov and his camp had asked for a trade, but I could never get a solid confirmation so I didn't write it.

My source mentioned at the time the Ducks were close (not guaranteed but close) on a deal with Yakupov and Benoit Pouliot prior to the trade deadline

, but the injury to Pouliot put an end to those discussions. Source
Edmonton and Anaheim did in fact do business (Patrick Maroon) but we may see these two teams make another deal this month. Lindholm? Vatanen? I have always felt the right guy to deal is Cam Fowler, but if Bob Murray is interested in trading Lindholm or Vatanen, Edmonton needs to close in on a deal.
At this point, I think we can safely say there is some kind of fracture and the Oilers are once again in danger of losing another fine prospect. There were hints of a signing around the time Caleb Jones inked his deal, and some of us thought the deal would be signed in the days after Seattle's season ends. We are now well into June, no word, and reasonable people can begin to suggest Bear will enter his final junior season as a possible draft re-entry.
In recent years, Edmonton has drafted—and not signed—Tobias Rieder and Erik Gustafsson. Is Bear the next one? For the Oilers, it would be ridiculous and counterproductive to lose a perfectly good prospect—but, once again, we are here.
I am not privy to negotiations, but I am not a fool, either. If Ethan Bear has decided to make a bet on himself, I congratulate him on it and we can talk about where he ranks for the 2017 NHL draft in a few months. I will say that the Edmonton Oilers badly need value contracts for the Connor McDavid era, and from the outside this looks wrongheaded. Hopefully we see an Ethan Bear entry-level deal very soon.
Note: Oilers have until June 1, 2017 to sign Bear. No imminent danger, but the rumor about being close, followed by crickets, suggests a disconnect.
CHIARELLI'S NEEDS LIST
Top-pairing D to partner with Klefbom (Jason Demers, Justin Faulk)
Second-pairing RHD to partner with Sekera (Tyson Barrie/Sami Vatanen)
Acquire RHC with some skill (Small group available. Andrew Shaw? Tommy Wingels? Tyler Bozak?)
Backup goalie (Jhonas Enroth, James Reimer)
Offload unwanted contract (Lauri Korpikoski)
CHIARELLI'S AVAILABLE LIST
Benoit Pouliot
Mark Fayne
Nail Yakupov
No. 4 overall selection
Young LHD (Darnell Nurse, Griffin Reinhart, Brandon Davidson)
Cap space
2017 1st round selection
Jordan Eberle
Ryan Nugent-Hopkins
Leon Draisaitl
Taylor Hall
Benoit Pouliot and Nail Yakupov for Sami Vatanen and some salary retained? Taylor Hall for Hampus Lindholm? Interesting days ahead.
LOWDOWN WITH LOWETIDE
A busy, fun show at 10, TSN1260. Scheduled to appear:
Jonathan Willis, Cult of Hockey. June is busting out all over! We will discuss Oilers options and some of the rumors/proposals.
Guy Flaming, Pipeline Show. Connor Bleackley goes back in the draft, Jake Bean is Red Line's top defenseman, who is the best draft-eligible goalie in the draft.
Steve Kournianos, The Draft Analyst. Steve's list from No. 4 through No. 9 is an interesting one, and Oilers fans should know about it.
Don Landy, CFL.ca. We will continue the CFL tour, with a look at some of the top teams, including EE.
10-1260 text, @Lowetide on twitter. See you on the radio!