You will hear, from time to time, about heart and character and leadership. These are things that have extreme value to hockey teams, and managers spend dear picks on those prospects who display those things. No matter how much leadership you own, you have to have the skill and speed. Have to. (Dark Angel).
ANTON LANDER 13-14
5×5 points per 60: 0.21 (16th among forwards)
5×4 points per 60: nil
Qual Comp: 13th toughest competition among regulars (fourth line)
Qual Team: 9th best competition among regulars (third line)
Corsi for 5×5 %: 43.9
Corsi for 5×5 % REL: -.2
Zone Start: 40% (6th toughest on the team among regular forwards)
Shots on goal/percentage: nil
Boxcars: 27, 0-1-1
ANTON LANDER 14-15
5×5 points per 60: 1.60 (5th among regular forwards)
5×4 points per 60: 5.52 (2nd among regular forwards)
Qual Comp: 13th toughest competition among regulars (fourth line)
Qual Team: 12th best competition among regulars (fourth line)
Corsi for 5×5 %: 48.6
Corsi for 5×5 % REL: 5.2
Zone Start: 49.4%
Shots on goal/percentage: 61 shots/9.8%
Boxcars: 38, 6-14-20
ANTON LANDER 15-16
5×5 points per 60: 0.33 (15th among regular forwards)
5×4 points per 60: nil (in 49 minutes and 51 seconds)
Corsi for 5×5 %: 47.3
Qual Comp: 4th line competition
Qual Team: 4th line teammates
Corsi for 5×5 % REL: -8.1
Shots on goal/percentage: 54 shots/1.9%
Boxcars: 61, 1-2-3 .049
VOLLMAN SLEDGEHAMMER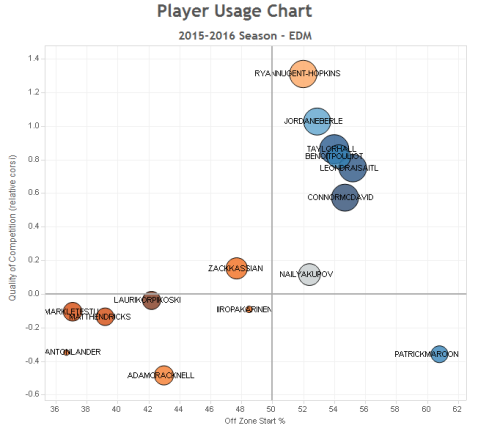 Lander is in a soft minutes area of the graph, and Edmonton badly needed him to deliver something. Anything.
RE 15-16: 75GP, 12-15-27 .360
ACTUAL 15-16: 61GP, 1-2-3 .049
How bad was it? Last season, the NHL employed 378 forwards who played more than 400 minutes. Lander's 0.33 points-per-60 at 5×5 ranked him No. 375 overall—ahead of Boyd Gordon, Paul Gaustad and Jacob Josefsen.
What is his next NHL job? What is his next NHL job?
Seriously. It sure is.
Will they bring him back? Lander is signed for another season, so unless the team trades him then training camp is likely. I am very doubtful about his NHL chances in 2016-17.
He looked so good in pre-season. Yes. I was at the game where he scored a hat trick, looked strong and in good places. Bah. What an awful season.
I think he has it. I think it doesn't matter.
It's over? Look, Peter Chiarelli and Todd McLellan cannot afford to have a repeat of the collapsed third line. Lander is in an awful spot on this roster, and, although I like the player, he scored one goal all year. Hard to make an argument in favor of giving him another shot.
So he comes to camp and then what? He comes to camp as the No. 5 or No. 6 center and he has a very good chance of getting sent down early. The Oilers have most of the management and coaching staff at the World Cup of Hockey, so he might get a break—but the odds of the coach counting on him again are very low.
Why are you so down on him? What evidence can I use to be positive? Look, the Oilers invested 550 minutes at even strength to Anton Lander, and the return was below the Mendoza line. This is serious stuff here. He scored three points at even strength, one of those a second assist. As impressive as Connor McDavid was (28 points in 625 even-strength minutes) at 5×5, the Oilers gave it all back and more with Lander. The team can't do that again, it would be treason.
Good grief. Take a pill. Seriously? I will tell you, I have cheered for teams that have done this in one form or another since the beginning of time. The Montreal Expos used to employ Tim Raines in left field and he was way above average for that position. Music! But they gave it all back with Doug Flynn at second base. You can't do that! You are wasting your advantage with below replacement level performance.
Todd Nelson got more out of him. Yes. And the Oilers drafted Connor McDavid. There are facts everywhere. This is the real fact: Lander needed to be better in the role provided and he was not—that is the story here.
He was snakebit! Okay, Marshall Dillon. Look, I like Anton Lander, but even when the good half season happened under Todd Nelson there were skating issues. He was 1.60/60 at 5×5 last season, if he could have managed it again we would have a different conversation.
Who did he play with? Iiro Pakarinen (50.8 Corsi for 5×5 percentage in 152 minutes); Lauri Korpikoski (41.6 in 148) and Teddy Purcell (47.8 in 125 minutes).
Who did he play most with in 2014-15? Matt Fraser. Seven points in 214 minutes but the possession number was 41.7.
What happens now? We will see. He has a contract and the team may not trade him this summer. I expect there will be added competition at the position, and would guess that there are several names ahead of him on the current depth chart. McDavid, Nuge, Leon, Letestu, but also (possibly) Jujhar Khaira and Bogdan Yakimov.
What about PK? Maybe. I will tell you that is a thin resume for a guy who accomplished so little at even strength (and he did get some PP time). I think he might have to regain his career in the minors or Europe, or perhaps another organization. It will be extremely difficult to bring him back this coming year.
Why this song? It is an incredible song. It is about a dream, an ideal, something that recurs without being real or getting closer. It is about things that we want, we know we want, but those things—sometimes—are never gifted to us.