As we edge nearer to the close of the 2015-16 season (could end tomorrow night) the voices are getting stronger.
A reporter out of Vancouver has said that Travis Hamonic is still very likely to be moved out west.

Edmonton looking like the landing spot.

— Tyler Yaremchuk (@ty89yar) June 8, 2016
Joe Haggarty: The word among scouts, execs and media types was that Colorado's Tyson Barrie, Winnipeg's Jacob Trouba and Anaheim's Hampus Lindholm would be the headliners among a group of talented young D-men on the move. There was also major buzz in Buffalo this week that the Montreal Canadiens will be looking to move P.K. Subban in a blockbuster deal for the Habs, but it's still difficult to envision Marc Bergevin pulling the trigger on that one.
More Haggarty: Hockey sources indicated to CSN that Colorado is dangling Matt Duchene with the hopes of ultimately landing Trouba, and that

either Taylor Hall or Ryan Nugent Hopkins will be dealt by Edmonton GM Peter Chiarelli to get their own coveted young D-man

. (The Oilers would then draft a young forward with the fourth overall pick to replace whatever they lose up front.)
We can probably expect these kinds of rumors for most of the month, or until Peter Chiarelli actually makes a deal. Let's update the list, with Lindholm added and Hamonic back in play.
LINDHOLM SLEDGEHAMMER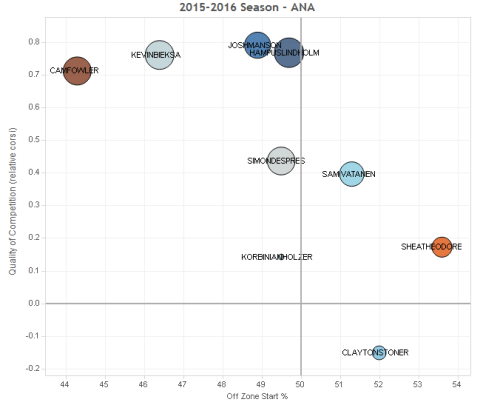 HAMONIC SLEDGEHAMMER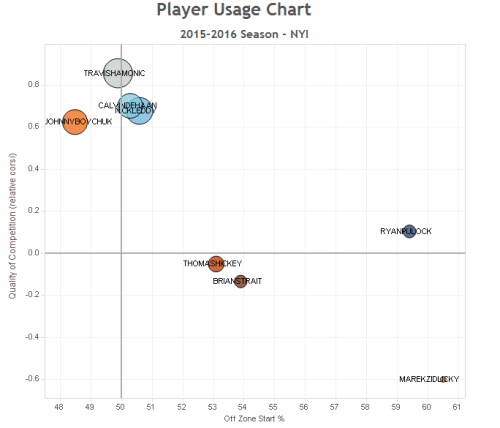 DEFENSE?
LD Hampus Lindholm, Anaheim Ducks. Perfect fit, if available.

Travis Hamonic, NY Islanders. Perfect fit, if available.

Jason Demers, Dallas Stars. Money is all it takes.
Tyson Barrie, Colorado Avalanche. Nuge?
LD Alex Goligoski, Dallas Stars. He would be an outstanding option.
Radko Gudas, Philadelphia Flyers. Strong, effective defender.
Justin Faulk, Carolina Hurricanes. Would be higher, question availability.
Sami Vatanen, Anaheim Ducks. Solid offense, not completely proven.
Jacob Trouba, Winnipeg Jets. Strange year for a talented young player.
David Savard, Columbus Blue Jackets. Range of skills.
LD Keith Yandle, NY Rangers. Offensive defenseman.
Michael Stone, Arizona Coyotes. Major knee surgery.
LD Brian Campbell, Florida Panthers. He is effective.
Damon Severson, New Jersey Devils. A nice underlying option.
Mark Pysyk, Buffalo Sabres. The numbers imply there is a player here.
Ryan Pulock, New York Islanders. Big shot from the point has high value. Very young.
Ryan Murphy, Carolina Hurricanes. Some chaos, but good speed and puck-moving ability.
Brandon Montour, Anaheim Ducks. This could be a special player.
Cody Franson, Buffalo Sabres. That hammer from the point would come in handy and he fits a real need.
Jordan Schmaultz, St. Louis Blues. Puck-moving prospect.
Anthony DeAngelo, Tampa Bay Lightning. Another player with a puck-moving element to his game.
Colin Miller, Boston Bruins. With the other Miller signing, maybe he is available.
LD David Schlemko, New Jersey Devils. Depth D, has some nice things.
Eric Gryba, Edmonton Oilers. I think management likes him.
Ville Pokka, Chicago Blackhawks. Young defender in the Chicago system.
Frank Corrado, Toronto Maple Leafs. Very little evidence but he showed up in some good places.
Ryan Sproul, Detroit Red Wings. Puck-moving defender in the AHL.
Dennis Wideman, Calgary Flames. A year removed from a fantastic offensive season.
LD Matt Irwin, Boston Bruins. Depth defender.
RD Dan Boyle, New York Rangers. Retiring, but he is the player they are looking for—early, not late in his career.
Mikhail Sergachev says he's spoken to #Oilers a few times. The big d-man played for former Oil assistant Rocky Thompson in Windsor

— Chris Wescott (@TheChrisWescott) June 4, 2016
Bob had an interview with Sergachev during combine weekend, and Rocky Thompson spoke eloquently about him on radio in the last while. Tkachuk at No. 4, though, pretty sure. I wonder were they have Sergachev? He is No. 6 on my list, top defender.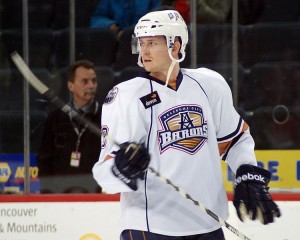 MAJOR, MINOR
The expansion news should get cleared up soon, and the actual rules could be along within six months of expansion confirmation. I am reading lots of folks suggesting Edmonton acquire just one long term defensive option this summer in order to slip everyone through the expansion draft. I agree, but not for the reasons given (for the record, based on rumored expansion rules, Edmonton will likely lose someone like Benoit Pouliot, Patrick Maroon or Griffin Reinhart).
I think one long term and one short term option is the reasonable path, but mostly because that is what will be made available. If Edmonton signs Jason Demers, that will be the big, and a lesser move—trading for Anthony DeAngelo, or signing a free agent for one season—will be the smaller addition. I also think we may end up seeing four lefties on the opening night roster:
Klefbom—Jason Demers
Sekera—Fayne
Davidson—Cody Franson
Nurse
If the Oilers decide to trade a Taylor Hall or a Nuge (or Leon, or No. 4), it probably takes Demers acquisition out of the picture (Oilers would use the free agent money on Milan Lucic in a case of that kind).
EXPANSION LIST
With the confirmation (we think) that Andrew Ference will not have to be protected, and the understanding the rules will chance, here is my suggested protected list. McDavid and Nurse are not eligible based on current rules.
Cam Talbot, Andrej Sekera, Oscar Klefbom, Brandon Davidson, Jason Demers, Taylor Hall, Ryan Nugent-Hopkins, Leon Draisaitl, Jordan Eberle
The Oilers will lose a very good player (my guess is Benoit Pouliot) but there will be all kinds of opportunity at the deadline to tweak things—and of course a trade with the new team in Vegas is always possible. Nashville made so many trades on their first day the mind boggles.
LOWDOWN WITH LOWETIDE
We are live at the Ranch today, for the TSN 1260 golf tournament. Scheduled to appear, beginning at 10:
Bruce McCurdy, Cult of Hockey. If the Oilers do not take Matt Tkachuk, they will have made a trade down. Is Mikhail Sergachev the secondary target?
Jeff Krushell, Krush Performance. These basebrawls are getting interesting.
Paul Almeida, SSE. Milan Lucic, Hampus Lindholm and the big moves to come.
Scott Cullen, TSN. Jays, NBA, SCF, when do these blasted trades start happening?
10-1260 text, @Lowetide on twitter.