Back in February, we discussed the left side of the Edmonton Oilers defensive roster. At that time—and now—the lefty-righty ratio on defense is badly of out time.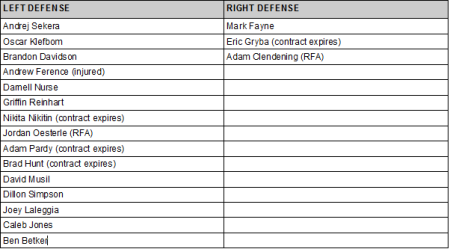 That is a lot of left! Nikita Nikitin is reportedly heading back to Russia, Andrew Ference is likely to be bought out of be placed on LTIR (thanks for the Stanley in 2011, Mr. Ference!). I think Brad Hunt is likely gone, and if the team signs Ethan Bear the ratio could be 14-4 by draft day! Changes are on the way.
UP FRONT
All the months this winter I rambled on about Lucic being a possible acquisition, it never occurred to me that the Oilers would deal a LW of note to make room. For me, the idea of having Lucic-McDavid, Hall-Nuge made some sense, with Pouliot as a helluva option on what would be the third scoring line. The trade deadline may have changed all that, with Patrick Maroon arriving and seemingly giving Edmonton a quality 1-2-3 at LW. Here is what I wrote (with projected lineup) in February:
My suspicion is that we see a lot of movement at these positions over the summer. I was on with Dean Millard on Sports Night last night, and we discussed Milan Lucic. For me, he is a player Peter Chiarelli pursues if he comes available. If the Oilers land him, I think the lines could end up like this:
Hall—Nuge—Draisaitl
Milan Lucic—McDavid—Patrik Laine
Pouliot—Lars Eller—Kassian
Hendricks—Letestu—Korpikoski
Oilers offload Yakupov for Eller (this is not my idea originally, someone mentioned it a long time ago), Eberle for Hamonic, sign Lucic and draft Laine. A lot of work, terrific skill and a punch of centers. Expensive third line though, can they afford it?

The days turned into months and the snow finally melted, we got the bikes out and the barbeque never gets a rest. We are mere days away from the draft and trades are becoming more prevalent.
And the damndest thing has happened. Although the RHD is an acknowledged problem and the options (Barrie, Hamonic, Demers) are all logical options, the rumored procurement of left wingers runs at cross purposes with the actual roster. Milan Lucic to Edmonton rumors pop up hourly, people are openly talking about Matt Tkachuk as the pick at No. 4, and all of a sudden the LHD is the second most outrageous position on the portside.
WHAT THE HELL IS GOING ON?
What the hell is going on? If I am reading the tea leaves correctly, the big draft pick is a LW and the big free agent pickup is a LW. What the hell is going on?
I am inclined to think we are looking at a trade. Milan Lucic is not a player Edmonton needs unless there is a LW heading out for a RHD. Matt Tkachuk is not an NHL-ready sort so will not change the short term for Edmonton.
At this point, I am inclined to think we might see a trade involving one LW for D, and an inexpensive short-term option on RW:
Milan Lucic—McDavid—Eberle
Hall—Nuge—Lee Stempniak
Maroon—Draisaitl—Kassian
Hendricks—Letestu—Pakarinen
With Benoit Pouliot being the odd man out and part of the trade package for a blue. The alternative? I don't think I need to tell you the risks in trading a franchise player at age 24.