What if we entered every NHL draft with just numbers—just NHL equivalencies—and followed them exactly. Would we better off? Worse? Here is a quick look at the top 10 forwards for each draft year (qualified by being in the realm of top prospects leading into the selection).
2010
Taylor Hall 17-29-46
Tyler Seguin 19-22-41
Mikael Granlund 13-28-41
Vladimir Tarasenko 21-18-39
Jeff Skinner 19-16-35
Jaden Schwartz 12-19-31
Tyler Toffoli 14-16-30
Brett Connolly 14-15-29
Austin Watson 10-16-26
Alex Burmistrov 9-16-25
2011
Ryan Strome 12-28-40
Sean Couturier 14-24-38
Ryan Nugent Hopkins 11-27-38
Jonathan Huberdeau 15-21-36
Zack Phillips 13-20-33
Sven Bartschi 13-19-32
Gabriel Landeskog 17-14-31
Matt Puempel 15-16-31
Joel Armia 17-11-28
Mark Scheifele 8-20-28
2012
Tomas Hertl 19-21-40
Nail Yakupov 18-22-40
Tanner Pearson 15-22-37
Mikhail Grigorenko 16-17-33
Alex Galchenyuk 11-19-30 (16 year old season)
Radek Faksa 12-15-27
Tim Bozon 13-12-25
Zemgus Girgensons 11-14-25
Brendan Gaunce 10-15-25
Teuvo Teravainen 12-8-20
2013
Jonathan Drouin 19-30-49
Sasha Barkov 18-22-40
Elias Lindholm 15-25-40
Nathan MacKinnon 17-22-39
Max Domi 15-18-33
Hunter Shinkaruk 14-19-33
Sean Monahan 13-20-33
Anthony Mantha  17-13-30
Valeri Nichushkin 20-10-30
Adam Erne 9-15-24
(Darnell Nurse 5-11-16)
2014
Sam Reinhart 15-28-43
Kevin Fiala 11-30-41
Leon Draisaitl 15-25-40
Sam Bennett 16-23-39
Nikolaj Ehlers 18-20-38
Robby Fabri  19-18-37
Michael Dal Colle  14-21-35
Nikolai Goldobin 14-21-35
Sonny Milano 12-23-35
Ivan Barbashev  12-21-33
2015
Connor McDavid 25-42-67
Jack Eichel 20-34-54
Mitch Marner 18-34-52
Dylan Strome 17-33-50
Andrew Mangiapane 17-23-40
Jack Roslovic 10-25-35
Kyle Connor 13-19-32
Anthony Beauvillier 13-17-30
Evgeny Svechnikov 12-18-30
Mathew Barzal 6-23-29
I think the Oilers would be better off using an NHLE—Mangipane went No. 166 overall to Calgary—and maybe they could grab more than one of these fellows in a single summer.
2016
Matt Tkachuk 14-35-49
Alex DeBrincat 22-22-44
Auston Matthews 22-20-42
Clayton Keller 13-23-36
Alex Nylander 13-22-35
Pierre-Luc Dubois 14-20-34
Logan Brown 9-24-33
Tyson Jost 9-14-23
Patrik Laine 9-8-17 (Sm-Liiga alert)
Jesse Puljujarvi 6-7-13 (Sm-Liiga alert)
DeBrincat may be available late in the first round, but my guess is that Edmonton is more likely to trade up for Tyler Benson (if they move into round 1 for a second pick). Would you take DeBrincat? Based on my numbers above, only Connor McDavid posted a higher goals total NHLE, with Matthews also managing 22 and Tarasenko posting 21. Is DeBrincat special? And what about Clayton Keller? Top 10, right? I have him No. 7 overall, where do you think he will go?
@EdmontonRaider no, LTIR only used for amount a team exceeds cap during season. Cannot be banked for bonuses.

— General Fanager (@generalfanager) February 5, 2016
Hmmm. I think this means that the Oilers will not be able to LTIR Ference in the way we thought. Someone will correct me if I am wrong, but for me the idea was to send down Leon and Darnell night before opening roster, activate Ference. Then LTIR Ference and callup the two youngsters—music! Sounds like the AF money doesn't simply come off the cap worry—it is still there and must be managed—so the Oilers have less actual room than we thought.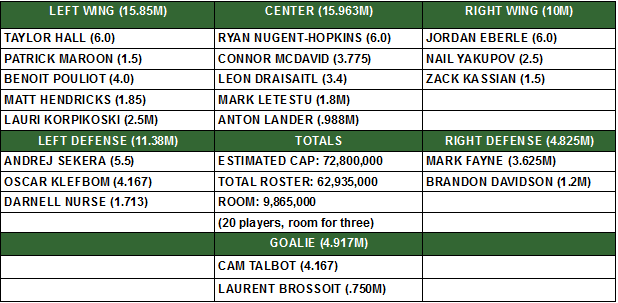 Ference has a cap hit of $3.25 million, and we had hoped those dollars could be applied to the various bonus monies that will (or probably will) be on the roster:
Connor McDavid $2.85 million
Leon Draisaitl $2.475 million
Grffin Reinhart $2.35 million
Darnell Nurse $850,000
It basically means my chart above is the actual real time situation. Edmonton would have to send Leon and Nurse down overnight and then LTIR Ference—and the cap hits of the bonus kids are as I describe above. Edmonton still has about $10 million depending on final cap number.  Edmonton has some things they can do:
Sending down Lauri Korpikoski saves them (I believe) $950,000 million in cap (hat tip to Ducey).
Trading Matt Hendricks and Mark Fayne.
I am not in favor of some of those things, but if the plan is to bring in $12 million in talent on a $10 million budget, those things may be required to make it work.
LOWETIDE SOLUTION
I don't have it all worked out, but the general idea is
Leave the forwards (mostly) alone.
How does Peter Chiarelli do it? Well, part of it comes via free agency and does involve pain. If he can sign Jason Demers for a reasonable dollar (and term) I like that option. If not, he might have to sign a lefty (Brian Campbell?) and then make a trade (Eberle for Hamonic?) to reach balance. After that? Perhaps Pouliot plus to Anaheim for Sami Vatanen:
Klefbom—Demers
Sekera—Fayne
Davidson—Vatanen
My two key elements: Leave the forwards (mostly) alone, and acquire actual NHL defensemen with a track record (200 games, Vatanen is at 194).
TARGET TEAMS
Based on needs and asset match, there are three teams I can see the Oilers doing business with this summer:
NY Islanders (something around Jordan Eberle and Travis Hamonic)
Anaheim (this is close to a perfect fit, LW for RHD)
Philadelphia (All kinds of interesting options)
TUESDAY THURSDAY
The Carolina Hurricanes have done a splendid job early, acquiring Teuvo Teravainen yesterday and signing Derek Ryan today (Bob Stauffer was all over Ryan as a possible FA option if he got to July 1 without Carolina getting his name on a contract).
That move by Carolina (and Chicago) may mean the meter clicks for Edmonton, too. I imagine they had extreme interest in Andrew Shaw, who will likely be signed by the Blackhawks now that they have some cap breathing room. Ryan may have been on the Oilers list of possible RHC, meaning the pool is shrinking early. If there is a deal out there—Bozak, or a list of intriguing characters we discussed yesterday—then we may see something happen soon. One thing that may hinder the acquisition: Defense remains the top target, so Chiarelli is extremely unlikely to trade an asset he may be able to use in the procurement of a RHD.
DARNELL'S OFFENSE
I had a question come to me overnight about Darnell Nurse as an offensive player. He is (as we discussed on his draft day) unlikely to spend a giant portion of his career on the power play—and the boxcars flow for blue who can stay on a PP unit. His NHLE's beginning in the year leading up to his draft were 16, 20.5 and 24 points. I had (in the past) suggested he would deliver similar offense to Jason Smith and was met with some resistance. He will have more substantial offensive seasons than his rookie campaign, but the outer marker is likely something this side of 30 points. Nurse carries a big part of his value on the defensive side of the game, an area in which he struggled in year one. Some people appear to have abandoned him as a prospect, I would encourage you to be patient—young defensemen take time and Nurse spent much of the season on the top pairing. That was a mistake, but clearly not on the young blue.