Peter Chiarelli was hired in the days and hours after the Edmonton Oilers won the McDavid draft lottery. There had to be a moment in time when he thought 'this can't possibly go sideways' and yet the pressure is on full screw 12 months later. Can he get this team balanced, can he get this team six good defensemen true—without sacrificing the heart of a brilliant forward group? (Somebody Waits)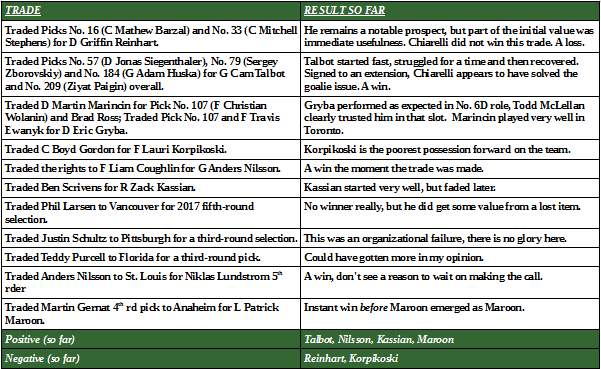 He should be fired immediately. I disagree. No matter how much you hate his first summer, he is a veteran GM—first guy hired with a resume since Larry freaking Gordon—and one summer is a very small window for a GM.
Why didn't he get more done? He actually accomplished quite a bit. No. 1 goalie, top 4D in Sekera and I will add Mark Letesu as a useful—if unspectacular—addition. The problem is there was so much to do, not the least of which is replacing Jeff Petry on RHD—something that is Job 1 only 18 months after he was traded. Lordy.
Yeah, but Reinhart, ugh. We have been over it on this blog, once or twice. I count Reinhart and Korpikoski as being negatives last summer. Both were problematic and it is fair to criticize Chiarelli for them. I would suggest the impact on the 2015-16 team—Reinhart being unable to help, Korpikoski hurting the team—were gigantic factors. That said, firing him, or suggesting he be fired without a massive summer, seems shortsighted to me. It is a marathon not a sprint, and we endured Steve Tambellini's extreme caution. You can die that way, too.
Why were his mistakes so massive?  Chiarelli has no fear of risk and because of it there are going to be trades like the two we saw last summer. Suspect we will get at least one more this summer, still plenty of work to do.
You are predicting a bad trade from a GM you endorse? Yes. You know, Glen Sather made some crappy trades, too.
Name one. Mark Messier.
Reinhart was worse. Oh, go to hell.
Name one more. Martin Rucinsky, Adam Graves, Miro Satan. Look, general managers do not bat .400, there are sharks in every NHL city. You can't use one summer as a hammer to fire a guy. If you ran your business like that you would be broke by Christmas. I understand venting on the internet, but this is serious business. The Oilers are broken. Big job and it is going to involve some risk, with balance and depth so very far away.
PC in Free agency? Did well, in my opinion. Added Sekera and Letestu. People criticize Sekera for not getting his shot through, but he posted a 30-point season. He is a two years removed from a 40-point year, I could see him doing it again on a team with a better power play.
What was his biggest mistake last summer? Not buying out Nikita Nikitin and using that money on a bona fide RHD—even Cody Franson.
Hindsight is 20/20 man. I said it at the time.
Franson was not helpful. He had a decent year at evens and they didn't use him on the power play. That is more about deployment than failure.
Okay, fine. One more summer. I think he gets five years.
When will this team make the playoffs? Depends on how quickly Chiarelli can get the defense straightened away, and how much of the forward group he has to use in order to procure it.
Allow me to re-phrase. Can the team make the playoffs in 2017? Yes.
Music! HOW? I count Andrej Sekera, Oscar Klefbom, Brandon Davidson and Mark Fayne as capable NHL defensemen. If PC can add two legit RHD—veterans—then, yes I think they can make it.
One a two-way guy and another a puck mover? I think they need a two-way guy, but if they grabbed Hamonic and Demers (as a for instance) and did not procure an offensive defenseman I would be more than fine with it.
What about the power play? Oilers could use Sekera and a RH forward as the hammer. They did that (kind of) a few times in the early part of the century.
They gave up because it didn't work. They gave up because of a shorthanded goal. Petr Sykora was fabulous in that role.
Is there anything Chiarelli can do for you to turn on him? Sure.
What? Trade Taylor Hall or the Nuge for less than full value.
What is full value for Hall? An impact defenseman capable of playing in all disciplines, changing the look of the defense overnight.
P.K. Subban? Why not.
He isn't coming here. Sure. I know.
Who else? There really isn't anyone who would be available. It is a dangerous conversation. It's like that scene in Paper Moon where Tatum O'Neil is robbing the store owner blind by having her Dad distract him and then cleverly asking for change while his brain overloads.
What in hell are you talking about? Let's say you and I are talking about a trade, Hall for Hampus Lindholm. I want more than the blue, and you start talking about your first-round pick and now I am pulled into the conversation. You say 'hey, you need a RHC, right? I have a guy!' and bingo bango I am looking at a center, a first-round draft pick plus the blue. And then you say 'but you know, I can't give Lindholm and all that for Hall, but I could put Vatanen in there'.
Huzzah! I'm Tatum O'Neil! You're Tatum O'Neil.
Why this song? It's a lonely song for a lonely job. I think making a trade must be like buying a house. You are absolutely in control until the moment you buy it. And in Chiarelli's case, you are not certain about your house inspector.