How do you offload a former No. 1 overall pick who has floundered as a hockey player and still get value? Turns out, it is really damned difficult.
Patrik Stefan was traded with Jaroslav Modry to Dallas for Niko Kapanen and the pick that became Will O'Neill. Stefan played 41 more games, Modry 165, Kapanen 158 and O'Neill has yet to play in an NHL game.
Alexandre Daigle (315 more NHL games after the deal) was dealt for Pat Falloon (163), Vaclav Prospal (1,049) and Chris Bala (6). Ottawa made out well, trading with the Flyers—a team that often deals for these types of players.
A rumor flying around has Travis Sanheim from the Flyers in play, it is an Eklund rumor and of course people have opinions about him. That said, I do think that the Philadelphia trade above offers some guidance for us as we try to estimate a deal for Nail Yakupov. Daigle was dealt to the Flyers for another high pick who struggled, plus something (that turned into something else).
Yakupov's resume is not a fun read. Once you get past the black ink (No. 1 overall) there are rows and rows of pedestrian measures and he looks for all the world like a guy who will be in the KHL next summer. He has not progressed and his strengths remain dormant (mostly) because the Oilers mishandled him. What can PC get for Yak? If we go back to 2010, and search for 'high picks who are struggling' or 'players who may be buried by exceptional depth', we get:
LHD Derek Forbort, LAK. Chosen No. 15 overall in 2010, he has played 14 NHL games and his path to an NHL job is not easily seen.
LW Austin Watson, Nashville Predators. Taken No. 18 overall in 2010, he has a nice range of skills and I think he might have a future in a checking role. Has played in 63 games, 57 of them in the last season.
LHD Jamie Oleksiak, Dallas Stars. Chosen No. 14 overall in 2011, he has played in 78 NHL games. I think he might be an NHL player, but he keeps getting passed by better ones in the Stars system.
RW Joel Armia, Winnipeg Jets. Taken No. 16 overall in 2011. He is a big winger, has played in 44 NHL games and has been traded.
RHC Mark McNeill, Chicago Blackhawks. Selected No. 18 overall, he is a two-way center. A little shy offensively, he has played in 1 NHL game.
LHD Slater Koekkoek, Tampa Bay Lightning. A truly unique name, and he could have a career. Koekkoek has not progressed like a No. 10 overall selection, but 2012 was a year that was not strong on talent.
LHD Samuel Morin, Philadelphia Flyers. Chosen No. 11 in 2013, he has progressed well enough but is on a deep prospect list. Had a solid AHL debut.
LHD Josh Morrissey, Winnipeg Jets. No. 13 selection in 2013, Jets rarely trade their draft picks before or after. Still, intriguing name.
RHD Ryan Pulock, New York Islanders. He is just emerging now and looks as though he will have a career. No. 15 overall pick in 2013, you could argue he is slightly blocked but this is a valuable young player.
LW Michael Dal Colle, New York Islanders. Ran in place a little in his final junior year, but a bona fide prospect. No. 5 overall in 2014.
LHD Travis Sanheim, Philadelphia Flyers. A fine young defender, surprised to hear his name mentioned—although he does qualify under the 'man, we have a lot of defensemen' category. No. 17 in 2014.
RHD Anthony DeAngelo, Tampa Bay Lightning. No. 19 in 2014, he is a nice fit for Edmonton's puck moving needs. Splendid rookie season in the AHL.
LW Nikita Scherbak, Montreal Canadiens. No. 26 in 2014, he was not great in his AHL debut (23 points in 48 games—Marco Roy had the same production). Big winger.
Josh Ho-Sang, New York Islanders. No. 28 overall in 2014, he had another strong year in the OHL and is about to turn pro. He was dominant in midget hockey along with Connor McDavid, so I included him on the list.
I think we would be wise to assume a somewhat fuzzy resume is coming back, and—as the previous No. 1 deals above show—a package that obscures actual value of said former No. 1. Something like Sanheim and a pick for Yakupov and a pick. Seems about right.
WHERE HAVE ALL THE BLUE MEN GONE?
Matt Dolloff from CBS Boston gathered up all of the news on defensemen over the last while—Alex Goligoski traded to Arizona (fabulous move by Coyotes), Tyson Barrie off the market and Jacob Trouba apparently staying put. He also ties the Oilers to Kevin Shattenkirk, and I have read this a few times. I am putting Shattenkirk on this list, despite the fact we all believe it is a distant bell.
LD Hampus Lindholm, Anaheim Ducks. Perfect fit, if available.

Travis Hamonic, NY Islanders. Perfect fit, if available.

Kevin Shattenkirk, St. Louis Blues. He solves the issue, would cost the moon and has one year left. Problematic solution.
Jason Demers, Dallas Stars. Wilford Brimley: The right thing to do.
Tyson Barrie, Colorado Avalanche. Nuge?
LD Alex Goligoski, Dallas Stars. He would be an outstanding option.
Radko Gudas, Philadelphia Flyers. Strong, effective defender.
Justin Faulk, Carolina Hurricanes. Would be higher, question availability.
Sami Vatanen, Anaheim Ducks. Solid offense, not completely proven.
Jacob Trouba, Winnipeg Jets. Strange year for a talented young player.
David Savard, Columbus Blue Jackets. Range of skills.
LD Keith Yandle, NY Rangers. Offensive defenseman.
Michael Stone, Arizona Coyotes. Major knee surgery.
LD Brian Campbell, Florida Panthers. He is effective.
Damon Severson, New Jersey Devils. A nice underlying option.
Mark Pysyk, Buffalo Sabres. The numbers imply there is a player here.
Ryan Pulock, New York Islanders. Big shot from the point has high value. Very young.
Ryan Murphy, Carolina Hurricanes. Some chaos, but good speed and puck-moving ability.
Brandon Montour, Anaheim Ducks. This could be a special player.
Cody Franson, Buffalo Sabres. That hammer from the point would come in handy and he fits a real need.
Jordan Schmaultz, St. Louis Blues. Puck-moving prospect.
Anthony DeAngelo, Tampa Bay Lightning. Another player with a puck-moving element to his game.
Colin Miller, Boston Bruins. With the other Miller signing, maybe he is available.
LD David Schlemko, New Jersey Devils. Depth D, has some nice things.
Eric Gryba, Edmonton Oilers. I think management likes him.
Ville Pokka, Chicago Blackhawks. Young defender in the Chicago system.
Frank Corrado, Toronto Maple Leafs. Very little evidence but he showed up in some good places.
Ryan Sproul, Detroit Red Wings. Puck-moving defender in the AHL.
Dennis Wideman, Calgary Flames. A year removed from a fantastic offensive season.
RD Dan Boyle, New York Rangers. Retiring, but he is the player they are looking for—early, not late in his career.
A cautionary note: Some of the names crossed off could easily appear again. Travis Hamonic may well be in play despite the Garth Snow verbal. We wait. And worry a little, but I am pleased to see that  (it appears) Peter Chiarelli is unwilling to trade terrific value for need and take less than 100 cents on the dollar.
SAIL ON DOWN THE LINE
https://twitter.com/NHLFREEAGENTS/status/743749374409211905
I enjoyed watching him, he was kind of like a utility outfielder. He didn't have enough bat for the NHL, but was splendid in the AHL and I expect he will have success in the KHL. Wish him well, the man can skate like the wind.
CURRENT 50-MAN LIST (38)
G Cam Talbot. He will play 50 games next year. Who plays the other 30?

G Laurent Brossoit. Projects as NHL backup/AHL starter.

G Nick Ellis: Newly signed college free agent.

G Eetu Laurikainen, AHL backup, he is signed for next year.
D Oscar Klefbom. Splendid young player. Watch out for falling anvils.

D Andrej Sekera, top 4D, important part of the team.
D Brandon Davidson, this generation's Pisani. Major solution, low price.

D Mark Fayne, Jim Matheson mentioned buy out. I don't see it.

D Darnell Nurse, bet third pair with Davidson for 2016-17.

D Griffin Reinhart, he will push for NHL time again this year.
D Andrew Ference, LTIR looks very likely.
D Dillon Simpson, I think we may see him a little in Edmonton this year.
D Joey Laleggia, scored pretty well as an AHL rookie.
D Ben Betker, big man was solid at ECHL level.

D Caleb Jones, WHL D. Newly signed, definite slide rule.

C Connor McDavid, the hockey world remains jealous. Who can blame them?

C Ryan Nugent-Hopkins, am encouraged he may stay.

C Leon Draisaitl, emerging NHL talent.
C Mark Letestu, checking NHL C.
C Anton Lander, may catch on as utility forward in 2016-17.

C Jujhar Khaira, he is likely to push some more.
C Bogdan Yakimov, big body, plenty of skill, wonder about the speed.
C Kyle Platzer, may be the next Kyle Brodziak.
L Taylor Hall, shine on you crazy diamond.

L Benoit Pouliot, underrated by many. Trade rumors.
L Patrick Maroon, an outstanding value contract.

L Lauri Korpikoski, is he on the way out? No buyout in sight.

L Matt Hendricks, checking NHL W.

L Drake Caggiula. High profile signing, likely to see some NHL time.

L Jere Sallinen, Newly signed, looks like tweener offense.

L Mitch Moroz, AHL winger/enforcer, improved year over year.
L Braden Christoffer, rugged winger did not have a good season.
R Jordan Eberle, scoring winger, found chem with McDavid.

R Nail Yakupov, I think he will be traded any day.

R Zack Kassian, will play bottom 6F, Chiarelli-style rugged.
R Anton Slepyshev, this will be an important year for him.

R Patrick Russell, power forward potential. Interesting new signing.

R Greg Chase, minor league winger.
WAITING
R Iiro Pakarinen, he should get signed in the next while. RFA
D Jordan Oesterle, I think he has passed most of the picks. RFA.
D Adam Clendening. Foot speed will cost him. RFA.
D David Musil, his skills are duplicated multiple times. RFA.
L Luke Gazdic. He is in tough at this points. RFA
R Adam Cracknell, he brings some toughness and reliability. UFA.
R Rob Klinkhammer. Off to Russia. UFA.
D Adam Pardy. He played well, doubt there is room. UFA.
D Eric Gryba, UFA. A chance he signs. UFA.
D Nikita Nikitin, UFA. Ufa alright.
D Brad Hunt. Skills are duplicated elsewhere. UFA.
L Josh Winquist. Best offensive prospect in the AHL currently—but does not have an NHL deal.
R Josh Currie At 23, he forced his way into the lineup and played very well. Can also play center.
C Marco Roy. Began slowly, but fought his way up the depth chart and emerged as a solid option.
R Tyler Pitlick. Young veteran is RFA again. If he could only stay healthy.
G Niklas Lundstrom. Signed with Bjorkloven for next year.
L Kale Kessy. Rugged winger, skills duplicated on roster. RFA.
R Andrew Miller. He may have traded himself. No chance he returns imo. UFA.
L Ryan Hamilton. May receive another deal from the Oilers.
G Keven Bouchard. 2014 pick needs to be signed.
L Daniil Zharkov. Own his rights.
OILERS CURRENT ROSTER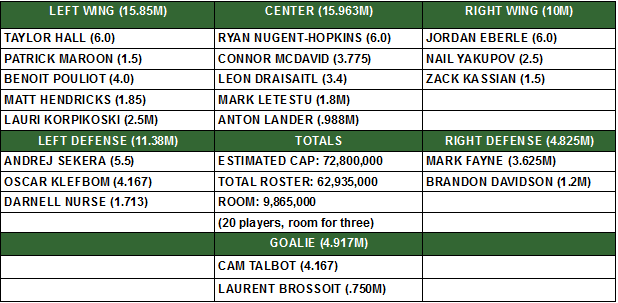 I would not be surprised to see a trade in the next 24 hours, suspect it would be Nail Yakupov.
I believe many of these public displays (Barrie, Hamonic) are issue framing and attempted counter treys. A giant game of chicken is taking place, suspect Edmonton is in there somewhere.
Peter Chiarelli has not traded Hall or Nuge, and that is a good thing.
Jason Demers is the very obvious free agent, but many of the teams who want to improve defense are making moves—perhaps making them less likely to push for Demers.