He is back, and before Iiro Pakarinen. This afternoon, the Edmonton Oilers announced the return of Tyler Pitlick.
NHL boxcars: 27gp, 3-0-3
AHL boxcars: 196gp, 28-57-85 (per 82gp: 12-24-36) (NHLE: 6-11-17)
Tyler Pitlick (#Oilers)
1 yr two-way @ $725,000 cap hit
$95,000 AHL salaryhttps://t.co/35YZnyol3a

— General Fanager (@generalfanager) June 17, 2016
I think this should be framed as a slight surprise, especially with Edmonton not having signed Iiro Pakarinen yet. It has been mentioned that the Oilers might take the young Finn to arbitration—opening up another buyout window (ala the false start Schultz situation a year ago).
ERIC RODGERS NEIGHBORHOOD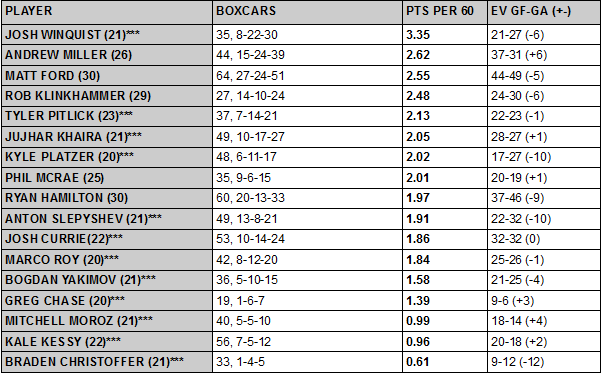 Pitlick spent half of the season injured, scored reasonably well when healthy and his team played at par during even-strength game state.
CURRENT 50-MAN LIST (39)
G Cam Talbot. He will play 50 games next year. Who plays the other 30?

G Laurent Brossoit. Projects as NHL backup/AHL starter.
G Nick Ellis: Newly signed college free agent.
G Eetu Laurikainen, AHL backup, he is signed for next year.
D Oscar Klefbom. Splendid young player. Watch out for falling anvils.

D Andrej Sekera, top 4D, important part of the team.
D Brandon Davidson, this generation's Pisani. Major solution, low price.

D Mark Fayne, Jim Matheson mentioned buy out. I don't see it.

D Darnell Nurse, bet third pair with Davidson for 2016-17.

D Griffin Reinhart, he will push for NHL time again this year.
D Andrew Ference, LTIR looks very likely.
D Dillon Simpson, I think we may see him a little in Edmonton this year.
D Joey Laleggia, scored pretty well as an AHL rookie.
D Ben Betker, big man was solid at ECHL level.

D Caleb Jones, WHL D. Newly signed, definite slide rule.

C Connor McDavid, the hockey world remains jealous. Who can blame them?

C Ryan Nugent-Hopkins, am encouraged he may stay.

C Leon Draisaitl, emerging NHL talent.
C Mark Letestu, checking NHL C.
C Anton Lander, may catch on as utility forward in 2016-17.

C Jujhar Khaira, he is likely to push some more.
C Bogdan Yakimov, big body, plenty of skill, wonder about the speed.
C Kyle Platzer, may be the next Kyle Brodziak.
L Taylor Hall, shine on you crazy diamond.

L Benoit Pouliot, underrated by many. Trade rumors.
L Patrick Maroon, an outstanding value contract.

L Lauri Korpikoski, is he on the way out? No buyout in sight.

L Matt Hendricks, checking NHL W.

L Drake Caggiula. High profile signing, likely to see some NHL time.

L Jere Sallinen, Newly signed, looks like tweener offense.

L Mitch Moroz, AHL winger/enforcer, improved year over year.
L Braden Christoffer, rugged winger did not have a good season.
R Jordan Eberle, scoring winger, found chem with McDavid.

R Nail Yakupov, I think he will be traded any day.

R Zack Kassian, will play bottom 6F, Chiarelli-style rugged.

R Tyler Pitlick. Young veteran just signed. Bakersfield, possible recalls 16-17.

R Anton Slepyshev, this will be an important year for him.

R Patrick Russell, power forward potential. Interesting new signing.

R Greg Chase, minor league winger.
WAITING
R Iiro Pakarinen, he should get signed in the next while. RFA
D Jordan Oesterle, I think he has passed most of the picks. RFA.
D Adam Clendening. Foot speed will cost him. RFA.
D David Musil, his skills are duplicated multiple times. RFA.
L Luke Gazdic. He is in tough at this points. RFA
R Adam Cracknell, he brings some toughness and reliability. UFA.
R Rob Klinkhammer. Off to Russia. UFA.
D Adam Pardy. He played well, doubt there is room. UFA.
D Eric Gryba, UFA. A chance he signs. UFA.
D Nikita Nikitin, UFA. Ufa alright.
D Brad Hunt. Skills are duplicated elsewhere. UFA.
L Josh Winquist. Best offensive prospect in the AHL currently—but does not have an NHL deal.
R Josh Currie At 23, he forced his way into the lineup and played very well. Can also play center.
C Marco Roy. Began slowly, but fought his way up the depth chart and emerged as a solid option.
G Niklas Lundstrom. Signed with Bjorkloven for next year.
L Kale Kessy. Rugged winger, skills duplicated on roster. RFA.
R Andrew Miller. He may have traded himself. No chance he returns imo. UFA.
L Ryan Hamilton. May receive another deal from the Oilers.
G Keven Bouchard. 2014 pick needs to be signed.
L Daniil Zharkov. Own his rights.