In the last six drafts, Edmonton has selected Connor McDavid, Taylor Hall, Ryan Nugent-Hopkins, Oscar Klefbom, Leon Draisaitl, Darnell Nurse and Brandon Davidson. Geez Alou, that's a cluster. Is there room for another?
OILERS MOCK, 2016
No. 4—L Matthew Tkachuk, London Knights (OHL): Big winger, great passer, good shooter. NHLE 49 points. Likely a year away, but with the Oilers penchant for inserting first-round picks directly into the NHL, the possibility exists for him to play this fall. Guaranteed to see action on McDavid's line this fall during training camp.
No. 32—LD Lucas Johansen, Kelowna Rockets (WHL).  Two-way D, good mobility. In a draft year that features plenty of offensive defensemen and several shutdown types, Johansen is the somewhat rare two-way gem.
No. 63—RD Luke Green, Saint John Seadogs (QMJHL). Impressive offensive defender. He is a fine skater and passer, and reports have him as owning an excellent shot. May be gone by this number and don't be surprised if Edmonton takes him at 32.
No. 84—G Mikhail Berdin, Team Russia (MHL). A strong (.929) season, highly regarded. Aggressive, athletic, quick glove. Has performed well in high profile international competitions like World Junior A Challenge.

No. 91—RC Dylan Gambrell, U of Denver (NCAA). Fast, skilled, brilliant. The more I read on him, the more I like the idea of Edmonton drafting him. Projects as a playmaking center, turns 20 in August and could probably play pro right now.
No. 123—RD Jordan Sambrook, Erie Otters (OHL). Smart two-way defender, effective in all situations. 6.02, 185, April 1998. Good chance he is off the board by this time, but what a nice resume—and a perfect fit for Edmonton.

No. 149—C Andrei Svetlakov, CSKA (KHL). High skill forward played in the KHL at age 19 and posted crooked numbers. Impressed in the CHL Series in November and then again at the World Juniors.
No. 153—RD Jake Ryczek, Waterloo Blackhawks (USHL). Smart two-way player with a real gift offensively (described as being unpredictable and difficult to defend) and has defensive acumen. Why is he available here? Size: 5.10, 180.
No. 183—R Steve Harland, North Bay Battalion (OHL). Nobody talks about him, so I will. He is small (5.09, 158) turned 20 in May and has one season in the OHL. Even-strength and primary numbers are good.
JOSH HO-SANG
I mentioned him yesterday as a possible trade target, and that got me looking through his back pages. Extremely talented player, his NHLE from this season in the OHL (8-25-33) is terrific. He is a smaller winger (6.0, 170) and plays an aggressive style—injury worries would be there for sure.
There are some eye-popping things about his season. Ho-Sang was his team's leading scorer—by 23 points during the regular year and NINE in the playoffs. There have been reports about attitude, but I am always suspicious of those criticisms. I admit to not having read everything ever about this player, but the quotes I have read make him out to be an extremely confident, probably arrogant, player. That's fine by me. Hockey culture has some ridiculous measures, one of which is the 'humble great' attitude made famous by Howe, Orr and Gretzky. Josh Ho-Sang isn't that kind of person, and that means jack diddley to me. Can he play? Math says yes.
ADDRESSING NEED, WITH AN EXPLANATION
A year ago, I listed the challenges for Peter Chiarelli thusly:
Draft McDavid (check)
Find a quality goalie option (his answer was Cam Talbot)
Acquire a legit top pairing blue (Andrej Sekera)
Sign a more offensive two-way F (Lauri Korpikoski)
Ignore MacT re: Marincin (dealt for No. 107 overall)
I also added a secondary, fantasy list. Kind of 'if you get that done and have time, try working on some of these things':
Buyout one of Nikitin or Ference (did not do it)
Add a second-pairing Petry replacement (Griffin Reinhart)
Offload Ben Scrivens (accomplished mid-season)
Add a second goalie of significant reputation (Anders Nilsson)
Offload Teddy Purcell (accomplished at the trade deadline)
Add a "Pisani" who can mentor, score 15, and play a two-way role up and down the lineup (Nope. Still waiting)
THIS YEAR'S LIST
I know you have seen the first one many times, but in the interests of future reference, here is the primary again:
Top-pairing D to partner with Klefbom (Hamonic, Demers)
Second-pairing RHD to partner with Sekera (Vatanen)
Acquire RHC with some skill (Shaw)
Backup goalie (Chad Johnson)
SECONDARY LIST
Add a "Pisani" who can mentor, score 15, and play a two-way role up and down the lineup.
Re-stock the shelves via the draft.
Improve overall team speed.
Offload Lauri Korpikoski.
Improve goaltending depth (added Nick Ellis, but more is needed—likely draft).
Improve AHL quality (Caggiula, Russell, Ellis, but more is needed).
Cull the LHD herd.
Rob the Bruins of something.
SALARY CAP
People are saying $72.8 million (Brooks), so we were using the right number all spring: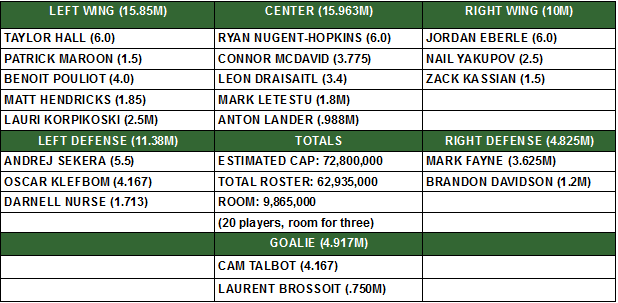 I am reminded in looking at this roster just how solid that forward group is before the flood. Need a RW and a Pisani, but that is some sweet quality. Defense needs help RH side, but the lefty group (putting Davidson on proper side) looks damned good from here. The Oilers have around $10 million here, they can sign Jason Demers, Dan Boyle and James Reimer (I imagine) for around that number. That isn't enough, the team will have to make a trade. I vote dealing the pick. Thoughts?
SATURDAY SPLATTERDAY
I know some may feel that the Oilers next news won't roll out until the next Dave Jamieson show—and there is a certain amount of logic there. That said, PC made both of his trade deadline deals while I was sitting with Paul Almeida doing Saturday Sports Extra. We are on at noon today. We wait.