Peter Chiarelli's shopping list remains the same but the possible solutions appear to be fewer by the hour. Sami Vatanen signing yesterday takes a puck mover off the available names and my list is leaking. Righties are the new Californium-252.
 THE RHD LIST (what is left)
PK Subban, Montreal Canadiens. If available, shoot the moon.
Travis Hamonic, NY Islanders. Perfect fit, if available.

Kevin Shattenkirk, St. Louis Blues. Problematic solution.
Jason Demers, Dallas Stars. Wilford Brimley: The right thing to do.
Radko Gudas, Philadelphia Flyers. Strong, effective defender.
Matt Dumba, Minnesota Wild. Electric skill, fast train, chaos, 21.
David Savard, Columbus Blue Jackets. Range of skills.
Damon Severson, New Jersey Devils. A nice underlying option.
Mark Pysyk, Buffalo Sabres. The numbers imply there is a player here.
Ryan Pulock, New York Islanders. Big shot from the point has high value. Very young.
Ryan Murphy, Carolina Hurricanes. Some chaos, but good speed and puck-moving ability.
Brandon Montour, Anaheim Ducks. This could be a special player.
Cody Franson, Buffalo Sabres. That hammer from the point would come in handy and he fits a real need.
Jordan Schmaultz, St. Louis Blues. Puck-moving prospect.
Anthony DeAngelo, Tampa Bay Lightning. Another player with a puck-moving element to his game.
Colin Miller, Boston Bruins. With the other Miller signing, maybe he is available.
Eric Gryba, Edmonton Oilers. I think management likes him.
Ville Pokka, Chicago Blackhawks. Young defender in the Chicago system.
Ryan Sproul, Detroit Red Wings. Puck-moving defender in the AHL.
Dennis Wideman, Calgary Flames. A year removed from a fantastic offensive season.
Dan Boyle, New York Rangers. Retiring, but he is the player they are looking for—early, not late in his career.
I added Matt Dumba to the list, because Bruce Garrioch mentioned him during the Sunday Column. Nuge has been mentioned as a player of interest in Minnesota, but that would leave Edmonton badly lacking in experienced centermen who could play the tough minutes. A deal around Leon Draisaitl might be a better fit. Thoughts?
By the way, Garrioch also dropped PC's name in the Shattenkirk paragraph. Tough to suss that out, although if STL signs him perhaps we see Alex Pietrangelo in play—and the Oilers would likely spend mad money on him.
According to @SunGarrioch, the #Flames are looking to move into the 3rd or 4th overall spot at the @2016NHLDraft.

— Christian Roatis (@CRoatis) June 18, 2016
Hmmm. The Flames trading up to take Jesse Puljujarvi. What would Edmonton need (aside from No. 6 overall) to make that work? My initial reaction is Dougie Hamilton, with a sweetener from Edmonton to make it work. My next reaction is to tell my brain this is not happening ever. Suspect that is the case.
BEATING THE DRAFT
We talk about the Oilers 2015 draft a lot, because it is tracking very well. As you may recall, that draft was a killer. So, how does Edmonton compare to another team in terms of quality from that draft? I chose Buffalo because they also chose an elite talent, and also had some picks missing from some rounds.
Edmonton
C Connor McDavid—Edmonton Oilers. 45gp, 16-32-48.
D Caleb Jones—Portland Winterhawks. 72gp, 10-45-55.
D Ethan Bear—Seattle Thunderbirds. 69gp, 19-46-65.
D John Marino—Tri-City Storm. 56gp, 5-25-30.
G Miroslav Sbovoda—HC Sumperk. 21gp, 3.05 .924
D Ziyay Paigin—Sochi HC. 45gp, 9-19-28
That is a helluva draft, based on year one. Edmonton did not have a second or third round pick, meaning the degree of difficult was higher. That said, McDavid. History suggests only one of the defensemen will play 100 games in the NHL, you would probably be wise to bet on two of these chaps doing it—based on year one. Have to do it again, men!
Buffalo
C Jack Eichel—Buffalo Sabres. 81gp, 24-32-56
D Brendan Guhle—Prince Albert Raiders. 63gp, 10-18-28.
D Will Borgen—St. Cloud State. 37gp, 1-13-14.
D Devante Stephens, Kelowna Rockets. 72gp, 2-9-11.
C Giorgio Estephan, Lethbridge Hurricanes. 59gp, 30-44-74.
D Ivan Chukarov, UMass-Amherst. 36gp, 3-5-8.
The Sabres procured some nice talent in other rounds too. Guhle is a giant who might have a shutdown future, Borgen scored well for St. Cloud State, and I like Estephan
HAPPY FATHER'S DAY
It is a perfect Father's Day so far, gorgeous morning and everyone is still sleeping. The dog came downstairs and damned near hocked a loogie, she has been chasing spiders lately and eating them. I think she is also an anteater. We have rabbits who still come in our backyard, and she knows they do, but my puppy hasn't been able to get close to one. Rabbits…see things.
The kids are good, we have one out of school for the summer and grabbing odd jobs and another working and keeping the economy going. Young people order online a lot, on my week off I signed for three items.
Jo and I are good, we visited her Mom on her 90th birthday in June. 90! She was a teenager in WW2, 44 during the October crisis and 56 when I met her—never looked her age! Genes. Smoke 'em if you've got 'em.
I was maybe 10. It was 17 miles north of Maidstone, we lived in the old school that my Dad fixed up. We had goats, we had a garden, we had a ping pong table made out of the school blackboards.
My Dad was building a fence. He put the posts in on a Saturday, help from his boys who weren't old enough yet to be of much help (although that is a lie, my brother was pretty damned handy even as a youngster).
He worked hard all day, I remember watching him and thinking he could do anything (Dad could do a lot of stuff). At dusk, he and Mom stood and looked at his handiwork and then Dad said he wanted to back the car into the yard and past the posts.
He handed me the flashlight and said 'shine this light so I can see' and proceeded to start up the Ford. Remember people, I was 10. Dad starts backing up and I am shining the light in the sky, on the side of the house, at our dog Barney, but not helping Dad. I can hear him grumbling, and then yell 'SHINE THE LIGHT OVER HERE!'
So I did. I put the light right on his face. He started yelling, the car door hit a post, he slammed the breaks on, jumped out of the car and started yelling blue murder. I thought I was dead. He was mad as hell and it was on me! 'Why did you do that???? What kind of a dummy shines a light on my EYES so I can see??'
Mom comes running out of the house, assuming one of us has been run over. Dad rants and raves, explains the situation.
Mom: 'He's 10. Why didn't you tell him where to shine the light?'
Dad: 'No sense, no reason.'
By then, the dog and I were trying to find animals in the grass. It happened just like that. Happy Father's Day!
CRYSTAL BALL!
We have reached the point in the offseason where it is a case of sitting around and waiting for news. Here is my best guess for the next two weeks:
Edmonton will draft Matt Tkachuk No. 4 overall.
Edmonton will make a day two trade involving prospects and picks for a young RHD like Mark Pysyk or Anthony DeAngelo.
Edmonton will trade Nail Yakupov for another high pick who has struggled since draft day (we talked about it here). I think Josh Ho-Sang is an example of a player who might be a plug-and-play while also being somewhat available.
Edmonton will sign Jason Demers in free agency.
Edmonton will sign Chad Johnson in free agency.
Edmonton will sign PA Parenteau in free agency.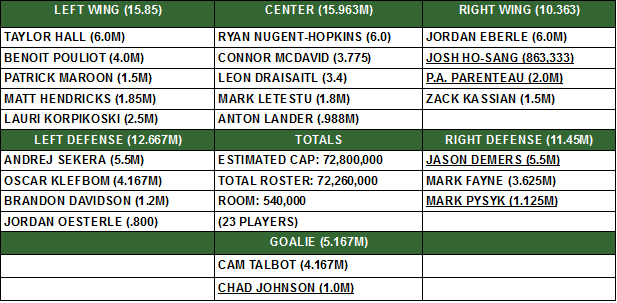 If the money is too tight to mention, perhaps Korpikoski is sent down and Pakarinen wins that job. Thoughts?