I will tell you there is a growing sense across Oilersnation that the deal may not be there this week. We could see a major overhaul, or we might see smaller, subtle moves. A lot of this week depends on Edmonton finding a dance partner and that is not a certainty. I count the NY Islanders, Philadelphia Flyers and Anaheim Ducks among possible partners.
Darren Dreger, TSN1050: "We know what the Edmonton Oilers are trying to do. They're trying to rebuild their blueline. Well, what are you going to move to make that happen. 4th pick overall we know to be in play. So what about Taylor Hall. Lots of rumblings around the National Hockey League. 'Maybe this is the time the Oilers change the culture of their club and Hall really is a target that they'd consider moving.' Source
I would suggest to you that these are the kinds of things we hear leading up to the draft, and there is no need for panic. It takes two to tango, and there is no evidence the player who would be needed to satisfy the ask is available. I think this comes down to whether or not you trust Peter Chiarelli to make a trade that sewers his future. I trust he will not do it, your mileage may vary.
A year ago, Peter Chiarelli needed defense and goaltending, this season just the blue. As we set ourselves for a very busy week, let's look at the work to be done and the updated assets list.
CURRENT PROJECTED ROSTER, CAP ROOM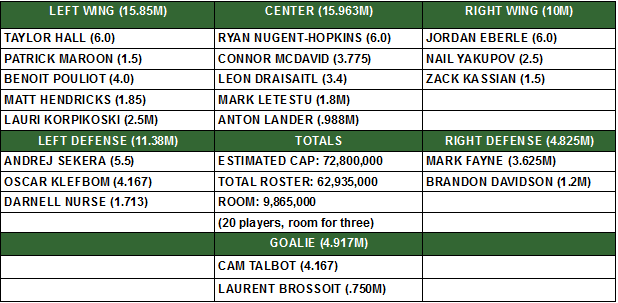 THE NEEDS LIST
Top-pairing RHD (Two-way skills)
Second-pairing RHD (Offensive defenseman)
Acquire RHC with some skill
Backup goalie (Chad Johnson)
SECONDARY LIST
Add a "Pisani" who can mentor, score 15, and play a two-way role up and down the lineup.
Re-stock the shelves via the draft.
Improve overall team speed.
Offload Lauri Korpikoski.
Improve goaltending depth (added Nick Ellis, but more is needed—likely draft).
Improve AHL quality (Caggiula, Russell, Ellis, but more is needed).
Cull the LHD herd.
Rob the Bruins of something.
CHIARELLI TRADE LIST
Cap space
Nail Yakupov
No. 4 overall selection
Ryan Nugent-Hopkins
Taylor Hall
Jordan Eberle
Benoit Pouliot
Mark Fayne
Griffin Reinhart
2017 1st round selection
That cap space may not come in handy until just before the season, ala Leddy-Boychuk and the Islanders a couple of years ago. Important for the Oilers to use that cap room wisely. The most likely trade this week? Nail Yakupov.
DRAFT PICKS
No. 4 overall (1st)—Matt Tkachuk appears to be a lock
No. 32 overall (2nd)—Oilers need to stick the second rounder.
No. 63 overall
No. 84 overall
No. 91 overall
No. 123 overall
No. 149 overall
No. 153 overall
No. 183 overall
With their last six second-round picks, Edmonton has chosen Tyler Pitlick (27 NHL games), Martin Marincin (150), Curtis Hamilton (1), David Musil (4), Mitch Moroz (0) and Marco Roy (0). The one second-round hit during this period was traded for a fourth-round selection. Bob Green will get his first chance to make an impression with this year's second-round pick—hope he chooses someone who can skate and has a two-way resume. Candidates include Tyler Benson, Nathan Bastian, Kale Clague and Tyler Parsons.
Former #OKCBarons #Oilers Curtis Hamilton signs with SaiPa #Liiga https://t.co/wdijk7S3ij

— Patricia Teter (@Artful_Puck) June 20, 2016
SIX O'CLOCK ALREADY
Bruce Garrioch: Ideally, the Flames would like to get into the top three or four and the Columbus Blue Jackets, Vancouver Canucks and Edmonton Oilers are listening to all offers because it never hurts to see what other teams are offering. But that's where this becomes muddy because nobody is sure what Calgary is willing to give up. Source
Calgary has No. 6, No. 35, No. 54, No. 56 and No. 66, so may attempt to trade up that way. I don't think No. 6 and No. 35 would be enough for Edmonton, do you? I think a deal around Dougie Hamilton would work very well, but why would Calgary do that? No match I can see. One area above Edmonton could use? Cap space.
More Garrioch: The Boston Bruins are trying to add another blueliner and the word is they're spoken to St. Louis about blueliner Kevin Shattenkirk. The belief is the Blues don't want him in the West and the Bruins might be a good fit for a deal. The issue is they're not the only ones looking for help on defence with Buffalo GM Tim Murray being aggressive in his pursuit of a blueliner along with Edmonton Oilers GM Peter Chiarelli. Source
This isn't the first time Kevin Shattenkirk has been in the same paragraph as Peter Chiarelli lately. It isn't a deal that makes sense—Shattenkirk is a year from free agency—but the Oilers dealt for Cam Talbot a year ago in a similar situation. Risky, but also thinking outside the box.
I WAS JUST IN THE MIDDLE OF A DREAM
Ed Wills, Vancouver Sun: The wild card here is Colorado, another team that needs blue-line help. Last week Avs GM Joe Sakic said Tyson Barrie isn't going anywhere and expressed commitment to the team's underachieving core. But the Avs also want to sign Nathan MacKinnon to a long-term deal and that might put Matt Duchene in play. Source
You will notice I have placed Tyson Barrie back on the list of possible acquisitions. I suspect it would need to be a three-way deal, with Edmonton possibly offering Nuge, No. 4 overall, cap space or a substantial LHD (not all of these things, obviously). A lot depends on Colorado—if they trade Matt DuChene, RNH may come into play.
Jim Matheson, Edmonton Journal: In a swap of 4 and 8, right-winger Tyler Ennis (three more years at $4.6 million), centre Zemgus Girgensons (restricted free-agent) and ex Oil Kings' captain/D, right-shooter Mark Pysyk, could be in play. Source
Good point here by Matty, I wrote about Pysyk this weekend and the other two men are players of interest as well. Girgensons has always been an intriguing player for me, but defense is the key need so one hopes the defender is part of a deal.
 THE RHD LIST (what is left)
PK Subban, Montreal Canadiens. If available, shoot the moon.
Travis Hamonic, NY Islanders. Perfect fit, if available.

Kevin Shattenkirk, St. Louis Blues. Problematic solution.
Jason Demers, Dallas Stars. Wilford Brimley: The right thing to do.
Tyson Barrie, Colorado Avalanche. Fabulous option, sounds unavailable.
Radko Gudas, Philadelphia Flyers. Strong, effective defender.
Matt Dumba, Minnesota Wild. Electric skill, fast train, chaos, 21.
David Savard, Columbus Blue Jackets. Range of skills.
Damon Severson, New Jersey Devils. A nice underlying option.
Mark Pysyk, Buffalo Sabres. The numbers imply there is a player here.
Ryan Pulock, New York Islanders. Big shot from the point has high value. Very young.
Ryan Murphy, Carolina Hurricanes. Some chaos, but good speed and puck-moving ability.
Brandon Montour, Anaheim Ducks. This could be a special player.
Cody Franson, Buffalo Sabres. That hammer from the point would come in handy and he fits a real need.
Jordan Schmaultz, St. Louis Blues. Puck-moving prospect.
Anthony DeAngelo, Tampa Bay Lightning. Another player with a puck-moving element to his game.
Colin Miller, Boston Bruins. With the other Miller signing, maybe he is available.
Eric Gryba, Edmonton Oilers. I think management likes him.
Ville Pokka, Chicago Blackhawks. Young defender in the Chicago system.
Ryan Sproul, Detroit Red Wings. Puck-moving defender in the AHL.
Dennis Wideman, Calgary Flames. A year removed from a fantastic offensive season.
Dan Boyle, New York Rangers. Retiring, but he is the player they are looking for—early, not late in his career.
DISTANT BELLS
James Mirtle, Globe & Mail: No team is talking more than the New York Rangers. Anxious to become competitive again right away after an embarrassing early exit from the playoffs, GM Jeff Gorton is looking at major changes. Source
The Rangers are not a perfect match for Edmonton (like Anaheim or the NY Islanders, Philadelphia Flyers) but if they ever made Ryan McDonagh available that would be something to pursue. I know he is a lefty, but Edmonton could acquire him and then move one of their own LHD for a righty solution.