We are probably close to something (Yak deal?) involving the Oilers, but the truth is the entire Canadian West has been dormant so far this week. Winnipeg signed a goalie, Edmonton signed a couple of fringe NHLers, Calgary hired a coach and Vancouver let their GM be interviewed. Entertaining sure, but not substantial. What do we know, for sure?
Wait, Dreger said on TSN that the potential cost of Trouba for EDM would be Nurse? You do that deal all day if you're EDM, don't you?

— Alan Hull (@alanhull) June 21, 2016
I deleted Nurse and Leon Draisaitl from my Chiarelli list awhile back, based on what the leaves were saying. I think the McDavid cluster could see an addition—Matt Tkachuk and others—but PC borrowed heavily last year in gathering up Cam Talbot. As much sense as this trade makes, Trouba is three years in to his pro career and in search of real money. If you are truly incredulous about reasons why Edmonton would hesitate (suspect they make that deal), cost and control are the only arguments that hold any water. They could sign Jason Demers in free agency, keep Nurse, and still spend less than what Trouba is apparently asking. I would make the trade for Trouba, though, I do not see it as a major risk. Trouba has struggled, but defensemen get hurt, fall off, then recover. It would be a good bet.
Stauffer suggests if Demers asks for $5.5 mil from EDM they could pass.

— zach laing (@Loweded) June 21, 2016
I get that, but it is also true the absence of alternatives clears the mind. When the trades die down and the options dry up, I am sure the sweat begins to run into some fairly desperate places. Aiming higher via trade makes complete sense, but Demers could be in play on July 1 for PC.
Can't help but think NJD and Oilers could be a fit. Severson a RS D with big upside, Devils desperate for offence, plenty of cap space.

— Ryan Rishaug (@TSNRyanRishaug) June 21, 2016
Absolutely makes sense and one of the top names on my list. The great thing about Severson is that he can play up the lineup a little (second pairing) and he has plenty of good years ahead. Yes, please.
NEW JERSEY VOLLMAN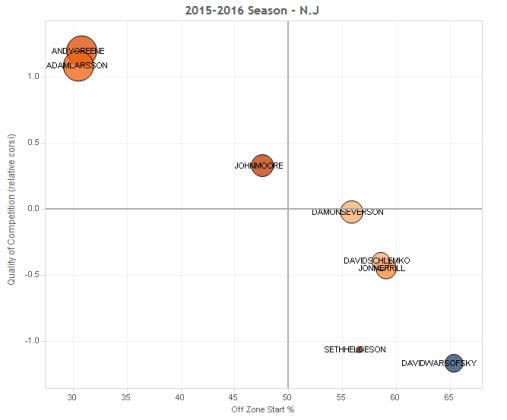 I like the bet very much. If the Oilers could grab Demers and Severson this summer, you might get your wish (Fayne dealt). I still think the chances that Edmonton's third pair has two lefties is fairly high.
Reading the tea leaves, #Oilers list might be:
3. Puljujarvi
4. Tkachuk
5. Sergachev
6. Dubois

— Tyler (@akaRCN) June 21, 2016
I wonder what a team would have to offer Edmonton for No. 4. Sure, trading down gets you (possibly) one of Sergachev, Juolevi or Chychrun, but Edmonton has a lot of young LH blue. It would be tough to trade out, I would think. It might be best to deal down to No. 8, then again to No. 12 and then take Charlie McAvoy or Dante Fabbro—both RHD. I know everyone and their Mother are telling you one defenseman is better than the other one, but I will be damned if I believe there is a helluva lot of difference between the top six blue this time.
Dreger: 'There have been multiple offers' for No. 3 from #CBJ, 'and I think the same would apply' to No. 4 and No. 5. #Oilers #Canucks

— Chris Nichols (@NicholsOnHockey) June 21, 2016
I will once again list my three teams that make sense for trade: Islanders, Flyers and Ducks. I know those teams do not have picks nearby, but the Ducks have two picks now and that may mean they can move up. Note: No, I am not talking about trading the winger, this is mostly a trade down scenario—with a defensive kicker. Edmonton needs to add some youth on defense (RH), I wonder if someone like Brandon Montour could be available in a trade involving picks. Brandon Montour is a helluva prospect, folks.
For fans concerned about Ethan Bear. Discussions are on-going and positive. Don't see an issue here

— Bob Stauffer (@Bob_Stauffer) June 21, 2016
Music! That 2015 draft could produce some real talent, beyond the obvious. Miles of track to go, but signing these kids after successful seasons is just good business. Bear is one of the precious few RH in the system, along with John Marino. Edmonton is extremely likely to grab one of these men at the draft:
RD Dante Fabbro, Penticton (BCJHL): Impressive two-way D. Great passer.
RD Charlie McAvoy, Boston University (NCAA). Complete D, good speed.
RD Adam Fox, US National Team (USHL). Creative, intelligent, good skater. 5.10, 183.
RD David Quenneville, Medicine Hat Tigers (WHL). Small, very skilled. I like him.
RD Frederic Allard, Chicoutimi Sagueneens (QMJHL). Two-way D, impressive offense.
RD Filip Berglund, Skelleftea AIK (SEL). Intriguing offense, may take awhile.
RD Luke Green, Saint John (QMJHL). Impressive offensive defender.
RD Filip Hronek, HK Hradec Kralove (Cze). Smart undersized skill D.
RD Andrew Peeke, Green Bay Gamblers (USHL). Big, mobile D, plus shot.
RD Jordan Sambrook, Erie Otters (OHL).

Solid two-way D, may be undervalued

RD Pascal Corbeil, Blainville-Boisbriand (QMJHL). Small puck mover.
RD  Jacob Cederholm, HV71 (SuperElite). Big defensive defender
RD Chase Priskie, Quinnipiac (NCAA). Puck-moving defender.
RD Jake Ryczek, Waterloo Blackhawks (USHL). Appears to be a spark offensively.
RD Nicolas Mattinen, London Knights (OHL). He is big and can skate.
RD Mitch Eliot, Muskegon Lumberjacks (USHL). Two-way defender.
RD Aaron Irving, Edmonton Oil Kings (WHL). Two-way defenseman, saw him good.
RD Darren Raddysh, Erie Otters (OHL). Two-way D, Brock Otten likes him.
RD Loik Leveille, Cape Breton Screaming Eagles (QMJHL). Two-way D, Oilers know him.
RD Tyler Nother, Windsor Spitfires (OHL). Big man, good skater, has some skill.
RD Santino Centorame, Owen Sound Attack (OHL). Offensive defender. Skilled.
RD Gabriel Sylvestre, Shawinigan (QMJHL). Big defender.
RD Joe Gatenby, Kelowna Rockets (WHL). Two-way D, good skater.
RD Pascal Corbeil, Blainville-Boisbriand (QMJHL). Very small offensive D.
RD Jacob Neveu, Rouyn-Noranda (QMJHL). Big righty blue.
RD Gabriel Bilodeau, Gatineau (QMJHL). Tall, thin blue with a little offense.