As much fun as the first round always is, the Edmonton Oilers badly need to rattle and hum in the later rounds. In 2015, they appear to have done it, but the race among the ruins previous to it mean this draft is beyond important. It is vital to nail it, round one through seven.
Douglas Hunter, A Life in Hockey: Among the Europeans discussed by (Scotty Bowman) and his staff on the night before the draft was Jiri Dudacek.
"I remember his name being discussed," recalled Jimmy Roberts. "but the first I knew Dudacek was our top pick was when Scotty stood up and said his name at the draft."
Hockey people are hockey people. Math people are math people. I believe the key to winning a Stanley Cup with Connor McDavid as an Oiler is getting these two sets of highly combustible people-types together in a room. We need to make sure the player has 10 fingers and toes, skates well, uses his brain. And you need the math to make sure those blasted boxcars are not lying to you. Most important, you need a leader who will not trump the views of his advisers over gut feel, intuition,  vague virtues that cannot be measured like heart, grit—not even a red fire engine that might pass through his purview.
I think 2015 was a good draft. Music! Now, they have to do it again. Matt Tkachuk, Lucas Johansen, Filip Hronek, Dylan Gambrell, Jordan Sambrook. Edmonton badly needs two, three, four productive NHLers to come from this draft. Impossible? That is the task.
OILERS CURRENT ROSTER AND CAP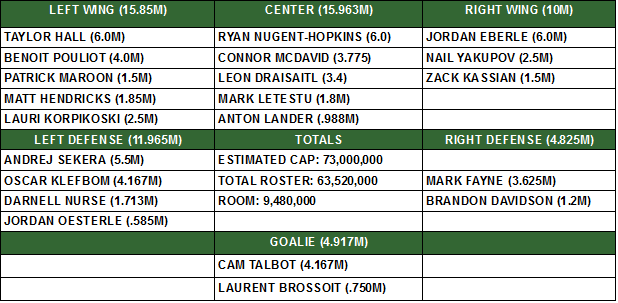 Two small things that I wanted to mention as we get set for the moves that will change this roster:
The cap is set at $73 million. That is $200,000 more than projected.
Jordan Oesterle's excellent contract gives him a chance (imo) to land that No. 7 job. Dandy negotiation for both sides.
If the Oilers grab just one defender this summer, I am beginning to think it might be the pick mover (No. 2 on the list below). Seems to be more Shattenkirk and less Hamonic to the proceedings thus far. I could be reading too much into things, but that is kind of what this blog is about, truth to tell.
THE CHIARELLI LIST
Top-pairing RHD (Two-way skills)
Second-pairing RHD (Offensive defenseman)
Acquire RHC with some skill
Backup goalie
THE CHIARELLI EXTENDED PLAY LIST
Add a "Pisani" who can mentor, score 15, and play a two-way role up and down the lineup.
Re-stock the shelves via the draft.
Improve overall team speed.
Offload Lauri Korpikoski.
Improve goaltending depth (added Nick Ellis, but more is needed—likely draft).
Improve AHL quality (Caggiula, Russell, Ellis, but more is needed).
Cull the LHD herd.
Rob the Islanders of something.
THE ASSETS LIST
Cap space*
Nail Yakupov
No. 4 overall selection*
Ryan Nugent-Hopkins
Taylor Hall
Jordan Eberle
Benoit Pouliot
Mark Fayne
Griffin Reinhart
2017 1st round selection
I think the cap space may come into play more and more as the summer wears along. The Blue Jackets may make a panic trade with Calgary this week in an effort to grab enough walking around money to sign Seth Jones. There are barstool blues all over the NHL in cap terms and PC can apply the same kind of pressure as he did one year ago to the Bruins (whose return for Dougie Hamilton may be less than two years away). I do not know where this is heading, but expect a defenseman will be here right soon.
OFFER SHEET
Speeds has an outstanding read on an offer sheet here. I really like options two and three, interested in your input. Seth Jones for only money would be an excellent option for the Oilers, and speeds gives us a lot to think about here. How many draft picks would you want to give up?
SHATTENKIRK. AGAIN
Pierre Lebrun: "But also certainly player movement. There are calls right now coming in on St. Louis on Kevin Shattenkirk, who has a year left on his deal. Can the Blues sign him to an extension, or do they have to move him. They're pretty deep on defense, especially with the advent of Parayko this year behind Pietrangelo and Bouwmeester. The Blues are in a pretty good position of strength to probably move Shattenkirk, if they want, in an offseason in which there are a lot of teams looking for D. Think of the Boston Bruins.

Think of the Edmonton Oilers

. Those among the teams that have already spoken to St. Louis here of late regarding Kevin Shattenkirk." Source
The Bruins do have some things to offer, just not sure if the club would be willing to trade young forwards like David Pastrnak or Ryan Spooner. Rumor has it that a late first has been offered, Edmonton could do better if they choose. I think Leon would have high value, suspect Nuge would be of interest (although his cap is $6 million).
DEREK STEPAN
Larry Brooks, NY Post: If the Blueshirts deal Stepan, then it would have to be in a trade that brings back another top-line center; perhaps to Edmonton for Ryan Nugent-Hopkins, who is carrying a $6 million cap hit through 2020-21. It is a swap that would increase the Rangers' talent level (while providing Edmonton with veteran leadership). Source
Stepan is somewhat similar to Nuge, per 82gp the Ranger has posted 21-37-58 boxcars (Nuge: 20-38-58) and both men have two-way acumen without being great in the faceoff circle. Nuge is three years younger, Stepan is RH. I would not make the deal, based on age differences. I will say you would be hard pressed to find a more similar NHL player to Nuge who just happens to be right handed, so it is an interesting trade idea based on that difference.
WHAT DO WE KNOW FOR CERTAIN?
All this chatter, does it mean anything? Yes and no. We had Cam Talbot as a target (along with others) last year at this time. Based on the tea leaves, I think we can guess:
The Oilers are listening to offers for No. 4 overall.
If they make the pick, it is Matt Tkachuk.
Connor McDavid should win the Calder, but will not.
Kevin Shattenkirk is in play.
The Oilers are clearly discussing some of their more valuable assets in trade.
That said, maybe they trade down at grab Mikhail Sergachev, maybe the club deals Nurse or Leon instead of a $6 million man. If I am thinking along with Peter Chiarelli, his no-trade list is Connor McDavid, Leon Draisaitl, Darnell Nurse—along with veterans like Cam Talbot and Andrej Sekera—players PC brought into the fold. I would count Oscar Klefbom as outside all of these lists, because the injuries of last year probably dashed any possible trade value. Also probably unwise to deal the young man, he looks bona fide.
BLOGGER AWARDS
The folks at Oilers Rig did a fun thing, doing polls on various categories. It is here. I would like to thank them for including me, it is an honor to be mentioned in such a fabulous group. I think it fair to tell you who I voted for in each category:
Corsi Award: Jonathan Willis
Most Influential Blog Series: Woodguy for the Cam Talbot mini-series
Please come back series: I tried to vote for all of Rom, Mike and Scott.
Blind Love: Megan Fowler
Anger Management: Bruce McCurdy
Dellow Memorial: G Money
Troll: DSF, but out of love
Unicorn: Woodguy
Sliderule: G Money
Rookie: G Money
Most Respected: Pat McLean
Fun idea, congrats to them on a job well done. If I didn't include you, it wasn't from lack of exposure. I was surprised and happy to see that the work of all nominees was known to me. Time pressures have been a big issue over this year, so getting time to read blogs has been tight. Sincere thanks to those who voted for me and I look forward to the great work being done by all of these blogs.
I AM GOING TO 'OLD MAN' YOU NOW
I value blogs highly, because I lived a life before them. A life that was filled with things that were not true, like Chris Hajt would be Bill Hajt and countless other things. If you write a blog, thank you for doing it. If you take the time to inform me, from Blue Bullet's brilliant work to G or Woodguy or Jon or Bruce or Megan or Alex or Sunil or Alan or Sami or Walter or Ryan or any of you, thanks. You have given your time to make my experience watching this beautiful game better. That is a noble pursuit.
PS, we need more women writing about the Oilers. Seriously. The more smart people looking at a problem, the more ideas. With all due respect to Dans out there, bet my bottom dollar there are a bunch of Susans who have great things to tell us. If you are female, and reading this wondering how you can get started, please reach out. You will find a lot of support, and hat tip to Megan and others who are making their voices heard.