If Peter Chiarelli pulls this off, every male Edmontonian will own a moustache like the one you see in the photo.
The PK Subban trade talk is real, fwiw. I don't know how far along or if anything will happen but it's not just random smoke.

— Travis Yost (@travisyost) June 23, 2016
Yost….knows things. Twitter was sending all manner of items out today, including BG getting in on the act. We talked last night about what it might take, I suggested a little from columns A, B and C:
Trading down from No. 4 to Montreal's spot (No. 9).
Trading one of Ryan Nugent-Hopkins or Leon Draisaitl.
Trading one of Oscar Klefbom or Darnell Nurse.
As the day is rolling out (BG version) it sounds like:
No. 4 overall
Leon Draisaitl
Enough cap room to sign Steven Stamkos (I think)
Okay, some things:
Matty has a story. It is confusing.
Georges Laraque had some amazing shifts as an Oiler and I thought he was a wonderful player to watch. If this deal happens, he should be remembered by Oilers fans for this tweet.
The tweet (Leon and No. 4) is the rumored ask. I doubt it is that simple but would do it in a heartbeat.
Mark Spector has an article up that discussing including Klefbom and Montreal's No. 9 in this massive deal.
Craig Button mentioned Calgary and wanting to slide up and named Dougie Hamilton. Not a rumor, just an idea.
The Oilers with Subban needs a miracle: Three third-line forwards making $500,000: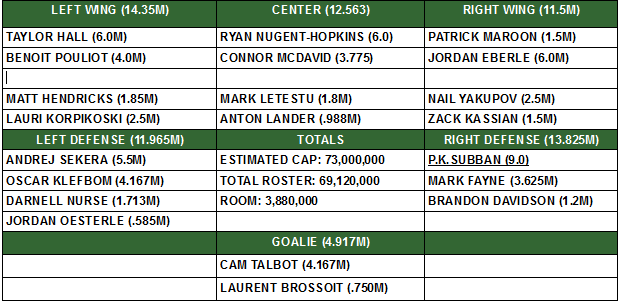 Oilers would have to work on the third line and I would think there would be an effort to offload Lauri Korpikoski and or Mark Fayne, possibly Matt Hendricks. Drake Caggiula, Jujhar Khaira and even Tyler Pitlick might come into play as inexpensive options. The Pitlick and Oesterle signings loom large now, and Griffin Reinhart's bonus dooms him for opening night inclusion no matter his training camp.
About two times a week, I post this list and throw a few words next to each player:
TOP OPTIONS FOR BLUE
LD Hampus Lindholm, Anaheim Ducks. Perfect fit, if available.

PK Subban, Montreal Canadiens. If available, shoot the moon.
Travis Hamonic, NY Islanders. Perfect fit, if available.

Kevin Shattenkirk, St. Louis Blues. Shoot the moon—for one year?
Jason Demers, Dallas Stars. Wilford Brimley: The right thing to do.
Tyson Barrie, Colorado Avalanche. No idea the price.
Radko Gudas, Philadelphia Flyers. Strong, effective defender.
David Savard, Columbus Blue Jackets. Range of skills.
LD Brian Campbell, Florida Panthers. Moves up with yesterday's news.
Damon Severson, New Jersey Devils. A nice underlying option.
Mark Pysyk, Buffalo Sabres. The numbers imply there is a player here.
Ryan Pulock, New York Islanders. Big shot from the point has high value. Very young.
LD Keith Yandle, NY Rangers. Moves down with yesterday's news.
Ryan Murphy, Carolina Hurricanes. Some chaos, but good speed and puck-moving ability.
Brandon Montour, Anaheim Ducks. This could be a special player.
Cody Franson, Buffalo Sabres. That hammer from the point would come in handy and he fits a real need.
Jordan Schmaultz, St. Louis Blues. Puck-moving prospect.
Anthony DeAngelo, Tampa Bay Lightning. Another player with a puck-moving element to his game.
Colin Miller, Boston Bruins. With the other Miller signing, maybe he is available.
LD David Schlemko, New Jersey Devils. Depth D, has some nice things.
Ville Pokka, Chicago Blackhawks. Young defender in the Chicago system.
Ryan Sproul, Detroit Red Wings. Puck-moving defender in the AHL.
Dennis Wideman, Calgary Flames. A year removed from a fantastic offensive season.
RD Dan Boyle, New York Rangers. Retiring, but he is the player they are looking for—early, not late in his career.
CHIARELLI QUOTES
I tried to get my own, but kept popping back to twitter! Bah! NYC Backpacker to the rescue and I thank him for the quotes below from PCs media avail:
"How do you change the culture? Everyone talks about having to move out one of these young players that command a big salary. That may or may not be true."
God bless Peter Chiarelli.
"I'd like to get a right D because the righty/lefty thing is important."
-Gazzola: "You favor that balance?"
"We can work without it. We've got D on our radar that are left D that play the right side, so, and Klef can play right side."
Sounds to me as though the Oilers are warming to the (recent) idea that balance on defense (especially) is a goal to strive for now and in the future. A good sign.
"There are some situations where I can, I think I can provide a temporary fix that might bridge a gap little bit and I don't know if that's the route we want to go. Um, I'd like to have a, to get back to the righty-lefty thing, kind of a solid defender in there that can play a versatile game, that can play in the top 4. Doesn't mean we're going to fix it in one fell swoop either. But, you know, I'd to… I'd like to get some permanence to… to kind of the first step in fixing it."
This one came from Marna. For me, this was the money quote of the day, or at least the money quote when my brain worked (brain is now mush). I really like his thinking here—fix it, it'll stay fixed. Measure twice, cut once.
WHAT WILL THE TRADE BE?
First, chances are this doesn't happen. Remember the Heatley trade? The Garry Unger trade (not that one, the one before that)? Sometimes smoke does not produce fire (usually when I am camping). That said, I will predict:
Oilers trade Leon Draisaitl, No. 4 overall and Oscar Klefbom to Montreal for P.K. Subban and No. 9 overall.
And even that is insane. Montreal are off their nut.