The draft is done, but the real work of summer remains on the horizon. Peter Chiarelli has mountains of work still on his desk. The draft may have given him an option on NHL RW but the blue remains unsolved and the heavy work remains undone. I think we can begin talking about an exiting portsider, but more on that later.
THE CHIARELLI LIST
Top-pairing RHD (Two-way skills)
Second-pairing RHD (Offensive defenseman)
Acquire RHC with some skill
Backup goalie
None of the major items have been checked off, although the acquisition of Jesse Puljujarvi could impact No. 3 on this list (Leon could stay at center, and the righty would be the Finn). I hesitate to cross everything off because counting on teenagers is an established bad idea in our town. It is also true that all of these young impact forwards carry large bonuses (McDavid, Draisaitl, possibly Puljujarvi) so we should proceed with caution when projecting too far in this regard.
THE CHIARELLI EXTENDED PLAY LIST
Add a "Pisani" who can mentor, score 15, and play a two-way role up and down the lineup.
Re-stock the shelves via the draft (Puljujarvi and the entire draft)
Improve overall team speed (Puljujarvi)
Offload Lauri Korpikoski.
Improve goaltending depth (added Nick Ellis, but not much in draft).
Improve AHL quality (Caggiula, Russell, Ellis, but more is needed).
Cull the LHD herd (have, in fact, added to the LHD group).
Rob the World of something.
I think the first item off the list is improving the prospect depth chart—Edmonton had a good draft (although the order of picks was curious). I will also say the Oilers are now a team that can boast having a strength: Defenseman. My top 20 prospects list has 10 defenders between 1-20 for Edmonton. The club could trade three defensive prospects and not miss a beat.
THE ASSETS LIST
Cap space*
Nail Yakupov
Ryan Nugent-Hopkins
Taylor Hall
Jordan Eberle
Benoit Pouliot
Mark Fayne
Griffin Reinhart
2017 1st round selection
All are still here and available. What does that tell you? The big part of the roster shuffle for the NHL team is still to come. In the coming days, certainly leading up to Friday, we could see some interesting names traded as teams try to get out from under cap problems. I would venture a guess that Columbus, the Rangers and Los Angeles may do some unusual things. Edmonton could use just cap hit to grab a solution, and that could happen before Friday. GMs with cap to lose are up against it right now, in real time.
 50-MAN LIST (40)
G Cam Talbot. No. 1 goalie, sounds like someone may be brought in as backup.

G Laurent Brossoit. Should get some competition for backup role.

G Nick Ellis: Should push for AHL playing time.
G Eetu Laurikainen, could be on the Glendale train to Norfolk at times.
D Oscar Klefbom. Top 4D role, as long as he is healthy.

D Andrej Sekera, Top 4D, important part of the team.
D Brandon Davidson, Top 4D, right side or left?

D Mark Fayne, very likely to occupy one of the RH roles.

D Darnell Nurse, bet third pair with Davidson for 2016-17.

D Jordan Oesterle, he is going to push for NHL time. A good young blue.
D Griffin Reinhart, the drafting of JP further complicates his cap issues.
D Andrew Ference, LTIR looks very likely.
D Dillon Simpson, likely to play a prominent role in Bakersfield.
D Joey Laleggia, Condors PP QB as early as this fall (depending on Oesterle)
D Ben Betker, should see more time in the AHL this year.
D Caleb Jones, WHL D. Newly signed, definite slide rule candidate.
C Connor McDavid, he will be in his house this fall.

C Ryan Nugent-Hopkins, rumors abound. Abound!

C Leon Draisaitl, emerging NHL talent.
C Mark Letestu, checking NHL C.
C Anton Lander, may catch on as utility forward in 2016-17.

C Jujhar Khaira, looking for full time NHL employment.
C Bogdan Yakimov, losing ground to Khaira, race may already be over.
C Kyle Platzer, a strong AHL season is the hope.
L Taylor Hall, he pushes the river and owns possession. Nuff said.

L Benoit Pouliot, underrated winger may be vulnerable to trade.

L Patrick Maroon, an outstanding value contract.

L Lauri Korpikoski, still here and may play this season in Edmonton.

L Matt Hendricks, lots of depth on the wing, will need to fight for time.

L Drake Caggiula. High profile signing, likely to see some NHL time.
L Jere Sallinen, Intriguing winger, seems like an energy type.
L Mitch Moroz, some urgency for a step forward in the coming season.
L Braden Christoffer, uncertain where he will play (AHL/ECHL).
R Jordan Eberle, I think he could score 35 with McDavid.

R Nail Yakupov, sail on post is idling in the driveway.

R Zack Kassian, will play bottom 6F, Chiarelli-style rugged.
R Tyler Pitlick, pleased he re-signed with the Oilers, one more chance.
R Anton Slepyshev, needs to step up the offense, remains a solid prospect.
R Patrick Russell, PF from college, will be fun to track this year.
R Greg Chase, should see plenty of AHL time.
The 50-man list really drives home the areas of weakness. LHD is actually solid to good (Klefbom, Sekera, Davidson, Nurse) with some interesting players bubbling under (Oesterle, Reinhart, Simpson, Laleggia). However, RHD is basically Mark Fayne—and that means the Oilers are going to reduce the quality of LH depth while having men play out of position. Klefbom—Sekera, Davidson—Fayne, Nurse—Oesterle? Oilers need help and July 1 beckons. This is serious stuff. Am I worried? No.
WAITING
R Jesse Puljujarvi, this should happen in the coming days. 2016 draft
R Iiro Pakarinen, Bob has suggested we may see a signing soon. RFA
D Ethan Bear. Also Bob, looks imminent. 2015 draft
D Adam Clendening. Could be a depth signing. RFA.
D David Musil, expect we see him signed or traded. RFA.
L Luke Gazdic. Oilers at 40 contracts, there is room. RFA
R Adam Cracknell, I could see him signing back mid-July. UFA.
D Adam Pardy. At least worth a conversation. UFA.
D Eric Gryba, without a Fayne trade, return seems unlikely. UFA.
D Nikita Nikitin, rumored to be signing with Omsk. UFA
D Brad Hunt, he is such a good AHL player. UFA.
L Josh Winquist, interesting to see where he lands. UFA.
C Marco Roy. AHL contract seems likely. UFA.
L Kale Kessy. Rugged winger, skills duplicated on roster. RFA.
R Andrew Miller. The loan trade likely signaled his exit. UFA.
CURRENT PROJECTION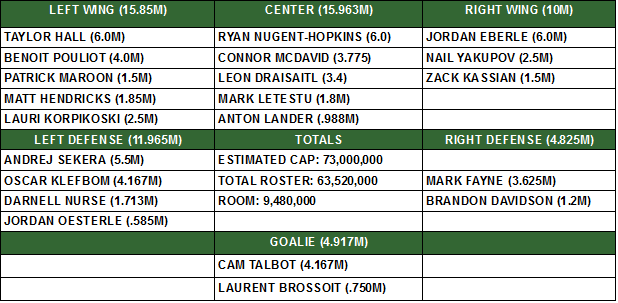 WHAT WILL CHIRELLI DO IN FREE AGENCY?
Milan Lucic
Jason Demers
A lesser blue like Dan Boyle, I have seen Jakub Nakladal mentioned, I think Darcy likes Zach Redmond. One year, someone who can be a placeholder until after the expansion draft.
WHAT WILL CHIARELLI DO VIA TRADE?
This will be the big part of tomorrow's post, but my bet at this point is PC already has an idea about Lucic and Demers and levels of interest. It seems extremely unlikely Chiarelli could or would sign both men—and Oil would still need a hammer from the point—but it is at least possible two free agents are added (with a LW heading out).
Lucic—McDavid—Eberle
Hall—Nuge—Puljujarvi/Yakupov
Pouliot/Maroon—Draisaitl—Pakarinen
Hendricks—Letestu—Kassian
Klefbom—Demers
Sekera—Fayne
Nurse—Davidson
Talbot, Brossoit
A fun week ahead! I think!