The Edmonton Oilers placed Lauri Korpikoski on waivers today, the club will buy him out. Peter Chiarelli could have kept him, with an eye to sending him to the minors this fall—but one wonders if this is a case of the GM taking temptation from the coach. Statistics reveal Todd McLellan played him 14 minutes a night—including 11 at evens where his possession numbers were poor (43 percent Corsi for percentage 5×5) and his offense (1.02) pedestrian.
OILERS CURRENT 50-MAN LIST (41)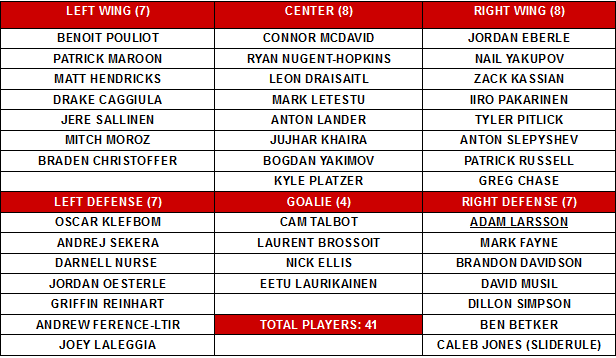 The blue line now has three legit top 4D, you could add Mark Fayne or Brandon Davidson and I would not quarrel.
If the Oilers add Tyson Barrie via trade this weekend, a top 6D of Klefbom—Larsson, Sekera—Barrie and Davidson—Fayne would be dandy.
If the Oilers are going to borrow another forward to trade it for blue, expect at least two UFA forwards added tomorrow. Brett Connolly could be that extra added player (more below).
CURRENT PROJECTED ROSTER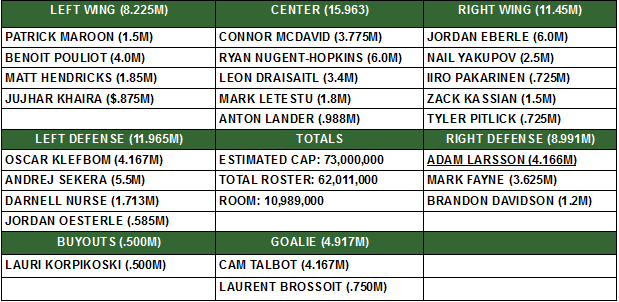 The top two lines (I assume Maroon—McDavid—Eberle and Pouliot—Nuge—Draisaitl) look good to go.
If Lucic is acquired, Todd McLellan could go Lucic—McDavid—Eberle, Pouliot—Nuge—Pakarinen and Maroon—Draisaitl—Yakupov.
I doubt the Oilers are done, so the point is moot.
TOMORROW'S FREE AGENT LIST (OILERS EDITION)
Things have changed. For me, the Larsson trade puts Edmonton in a completely different part of the shopping center—and Stamkos off the books impacts the forward group.
C Frans Nielsen, New York Islanders. He is a dream player, one of my favorites. 32.

L Milan Lucic, Boston Bruins. He was not the top player on my list until the Hall deal.

R Loui Eriksson, Boston Bruins. Effective scorer, two-way winger.
C David Backes, St. Louis Blues. He is past 30, but close to a perfect fit.
R Brett Connolly, Boston Bruins. Skill winger, I think the Oilers get him.
RD Jason Demers, Dallas Stars. Wilford Brimley: The right thing to do.
R P.A. Parenteau, Toronto Maple Leafs. Scoring W, plug-and-play.
W Darren Helm, Detroit Red Wings. Fine two-way winger with speed.
LD Brian Campbell, Florida Panthers. Just money, big help.
G James Reimer, Toronto Maple Leafs. Probably too expensive, top G option.
L David Perron, Anaheim Ducks. I think he is a helluva player.
L Mikkel Boedker, Colorado Avalanche. Fast skill winger with two-way ability, 26.
G Jhonas Enroth, Los Angeles Kings. A solid option.
RC Riley Nash, Carolina Hurricanes. Underrated option in my opinion.
G Chad Johnson, Buffalo Sabres. A very good fit as backup.
RD Jakub Nakladal, Calgary Flames. Big defender, surprised he is UFA.
LD Patrick Wiecioch, Ottawa Senators. I know they do not need LD, this is value.
G Al Montoya, Florida Panthers. A reasonable bet.
R Lee Stempniak, Boston Bruins. Scoring winger. Somewhat legendary.
R Teddy Purcell, Florida Panthers. He does a lot of good things effectively.
R Kris Versteeg, Los Angeles Kings. Small, skilled and gritty.
L Thomas Vanek, Minnesota Wild. A short, value deal might be a wise idea.
RD Zach Redmond, Colorado Avalanche. Darcy likes him as a depth D.
L Joe Colborne, Calgary Flames. If other options unavailable, worth looking at.
L Jason Chimera, Washington Capitals. Remains a fast train, has two-way acumen.
G Anton Khudobin, Anaheim Ducks. Goalie option.
L Quinton Howden, Florida Panthers. He has a nice resume.
RD Michael Paliotta, Columbus Blue Jackets. Interesting depth option.
LD David Schlemko, New Jersey Devils. I always thought he could play.
RD Eric Gryba, Edmonton Oilers. It isn't over until it is over.
L Matt Martin, NY Islanders. Flames will outbid Oilers.
G Joni Ortio, Calgary Flames. If only to piss off Flames fans.
RC Cody Hodgson, Nashville Predators. Under the radar option.
R Justin Fontaine, Minnesota Wild. Under the radar option.
LD Adam Pardy, Edmonton Oilers. He has talent.
R Adam Cracknell, Edmonton Oilers. Big, named Adam.