All spring, we talked about needs, possible assets out and adding help on defense. We had it surrounded (Taylor Hall was No. 4 on my assets list) but it was so very difficult to identify the actual assets out—probably because it depended on the ask. At the very beginning, we agreed PC would make his list, find out who was out there, and then check down to what he considered acceptable. As it turned out, that is exactly what happened, meaning we predicted it—and it still produced shock and argh.
This morning, I think we can safely say one thing: We are witnessing the increased value, in real time, of actual NHL right-handed defensemen.
Adam Larsson is a good young NHL RHD. There are good things in his resume, and he addresses a major need. I am looking forward to seeing him in an Oilers uniform this fall. Some positives from the Todd Cordell post from yesterday:
Of the four Devils' blue liners to play more than 1,000 minutes at 5 v 5 last season none allowed fewer shot attempts against per 60 minutes than Larsson despite playing heavy defensive minutes against the league's top players.
Larsson is actually a very underrated puck mover. For the most part his outlets are accurate and over the last two seasons he is tied with Hampus Lindholm, Sami Vatanen, Kris Letang, Aaron Ekblad and Matt Niskanen with .31 primary assists per 60 minutes of 5 v 5.
As mentioned his shot suppression numbers have been fantastic despite playing in a division where he goes up against Sidney Crosby, Evgeni Malkin, Alex Ovechkin, Claude Giroux and co. more than any other players. He can handle tough competition, he can handle big minutes and his offensive game is probably better than he's given credit for.
THE CHIARELLI LIST
Top-pairing RHD (Two-way skills—Adam Larsson)
Second-pairing RHD (Offensive defenseman)
Acquire RHC with some skill
Backup goalie
Added now and not No. 5—Find a replacement for Taylor Hall
I am pleased Chiarelli checked off the No. 1 need on the list, but of course the payment was shocking. Make no mistake, Adam Larsson is a good NHL defender who is young, under a good contract and likely to help beginning this fall. The list grew from four to five because of the Hall deal.
THE CHIARELLI EXTENDED PLAY LIST
Add a "Pisani" who can mentor, score 15, and play a two-way role up and down the lineup.
Re-stock the shelves via the draft (Puljujarvi and the entire draft)
Improve overall team speed (Puljujarvi)
Offload Lauri Korpikoski.
Improve goaltending depth (added Nick Ellis, but not much in draft).
Improve AHL quality (Caggiula, Russell, Ellis, but more is needed).
Cull the LHD herd (have, in fact, added to the LHD group).
Two tasks have been addressed and that is progress. I imagine he will run through several in the next few days—although getting the second NHL blue seems a difficult task. We could see a Lauri Korpikoski buyout today, although it is far from a certainty. I wonder if the Oilers will consider Korpikoski as a potential mentor and guide for Jesse Puljujarvi this coming season (Iiro Pakarinen also available at the NHL level, Jere Sallinen and Eetu Laurikainen in Bakersfield).
THE ASSETS LIST
Cap space*
Nail Yakupov
Ryan Nugent-Hopkins
Taylor Hall
Jordan Eberle
Benoit Pouliot
Mark Fayne
Griffin Reinhart
2017 1st round selection
In the end, I had him at No. 4, but in truth the $6 million dollar men were apparently all in play—and could still be in play, depending on how aggressive PC plans to get this summer. Trading Hall means unicorn talk will have to wait, depending on how quickly Jesse Puljujarvi can establish himself, the healthy of Ryan Nugent-Hopkins and the addition of Milan Lucic in free agency.
Drake Caggiula may play in the NHL at some point in 2016-17
OILERS CURRENT ROSTER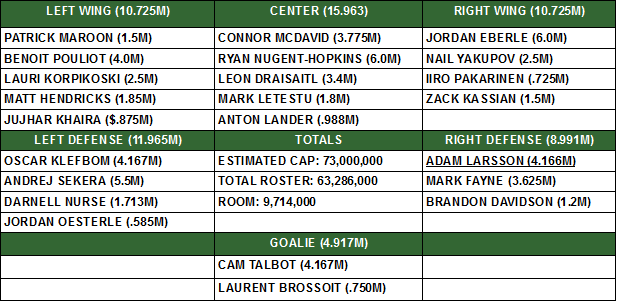 One suspects the Larsson acquisition is the big play of summer, along with Milan Lucic being signed tomorrow. After that, grab an inexpensive defensive option, a backup goalie and hit cottage country by American Independence Day. That second defensive option could prove important, hope the team chooses well. Would they consider another trade? I assume Jason Demers is not part of Edmonton's future, based on the Larsson trade. Do you agree?
https://twitter.com/NicholsOnHockey/status/748267100234383360
Jason Gregor: Darren Dreger mentioned on radio Lucic might be getting a seven-year deal from the Oilers. Yikes. If you thought people were angry today, wait until Friday if a seven year deal is announced. Source
I cannot believe the Oilers would have traded Hall without knowing Lucic was a lock to make the team. Perhaps I have misread the situation. If Lucic does not arrive tomorrow, we will be having a long conversation about the offense this winter.
CURRENT 50-MAN (42)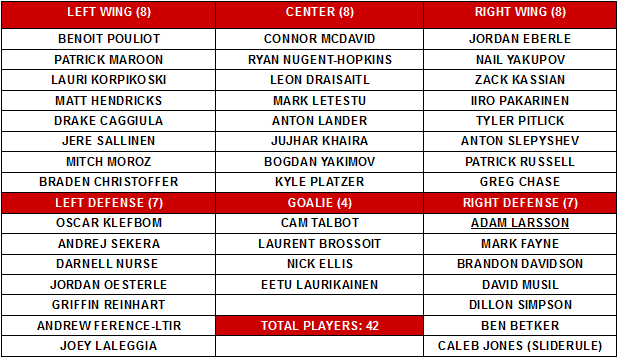 WAITING
R Jesse Puljujarvi, this should happen in the coming days. 2016 draft
D Ethan Bear. Also Bob, looks imminent. 2015 draft
R Adam Cracknell, I could see him signing back mid-July. UFA.
D Adam Pardy. At least worth a conversation. UFA.
D Eric Gryba, without a Fayne trade, return seems unlikely. UFA.
D Nikita Nikitin, rumored to be signing with Omsk. UFA
D Brad Hunt, he is such a good AHL player. UFA.
L Josh Winquist, interesting to see where he lands. UFA.
C Marco Roy. AHL contract seems likely. UFA.
R Andrew Miller. The loan trade likely signaled his exit. UFA.
USE YOUR BRAIN FOR MORE THAN A HAT RACK
I think we can all agree that Peter Chiarelli overpaid for Adam Larsson. That said, I hope we can move past the trade and talk about Larsson and his considerable skills. You may feel that is unkind, but for me spending more time discussing the trade means we are dwelling on things we cannot control—and basically wallowing in our own misery. In my life, I have learned it is not productive to spend a lot of time in that place. You may feel it harsh, but that will be the mindset of this blog moving forward. It is sad. It is done. We move on.
LOWETIDE RANKING 2011 DRAFT
No. 3 overall—Adam Larsson. I've been back and forth with Larsson all year, but believe this is the best place to slot him. The evidence is overwhelming now, he played against men in the SEL, played well and did it against good hockey players at the most important times in his club's season. An outstanding NHL prospect. Source
LOWDOWN WITH LOWETIDE
A busy, fun show today, TSN1260 at 10 this morning. Scheduled to appear:
Darcy McLeod, Because Oilers. Darcy's look at RHD this spring showed Larsson as a bona fide option—a very good one, in truth. We will discuss Larsson and the trade.
Andy Wigston, The Brick Invitational. The most amazing tournament with the most incredible history is on again July 4-10. We will talk about it with Andy, and you can catch information here.
Todd Cordell, Hockeybuzz. Todd helped us through tough moments yesterday with his verbal, and we will touch base this morning live in regard to Adam Larsson
Frank Seravalli, TSN. What a crazy 30 minutes yesterday. Frank will put everything in perspective.
10-1260 text, @Lowetide on twitter. Talk soon!