The Edmonton Oilers added a third piece in free agency on Day 1, with Mark Fraser—former Oiler—returning to the fold on a two-way deal. In the year Fraser played in Edmonton, he got into 23 games (19 with Toronto). The numbers looked like this:
Mark Fraser 13-14
5×5 points per 60: 0.19 (7th among D)
5×4 points per 60: nil
Qual Comp: 2nd easiest among D
Qual Team: 3rd pairing, poorest available among D
Corsi for 5×5 %: 43.1
Corsi for 5×5 % REL: -0.7
Shots on goal/percentage: 5 shots/20% (2nd among D>5 or more shots)
Boxcars: 42, 1-1-2
Plus Minus: -15 on a team that was -51
He was not terrible (his Corsi Rel just off par) but Fraser hasn't played in the NHL much since, and was an AHL option last season in Binghampton (Senators). I am neither upset or happy with this signing, it is an organization filling in where they see a need. The issue I have is, LHD in this organization is not a need.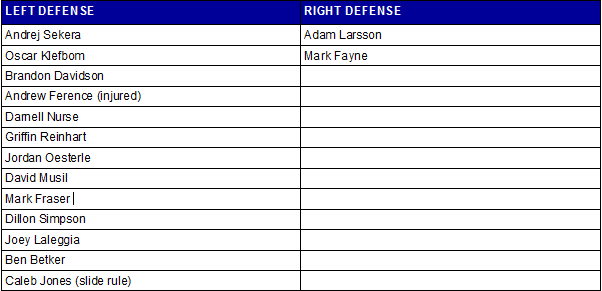 Oilers are using up their extra squares on the 50-man in a curious manner. More to come.