One true thing I can tell you about my observing Peter Chiarelli over his time as GM of the Boston Bruins and Edmonton Oilers: He surprised me this week (and last summer during draft week) with his willingness to overpay for assets. There are two deals on his Edmonton resume that (I believe) show us a lot about his mindset.
Traded picks No. 16 and No. 33 to the NY Islanders for D Griffin Reinhart.
Traded Taylor Hall to New Jersey Devils for D Adam Larsson.
Since the Hall trade, this blog, twitter and most places I go to talk hockey have been in a constant state of anger, rage or turmoil. The proverbial Tower of Babel has us talking past each other, arguing about all manner of things and not really making progress. I think it might help to make a few statements I believe to be true, in an effort to see how much we can agree on.
Adam Larsson is a solid young NHL defender with a promising future. One of the people I respect most in the game described Larsson as a solid 2-3D. His contract (in cap and term) allows the GM to wheel in other areas and the word balance can now be used openly in public gatherings. That is a lot of good.
Milan Lucic is so good people talk about him as a type. 'We need a Milan Lucic type' people will say, at the corner market, liquor vendor or livery stable. As a Bruins fan, I know the power of Lucic as a player, and look forward to seeing him on the ice at the new arena.
Peter Chiarelli is overpaying for these things, and there is reason to be concerned. Just because a team has all manner of assets does not mean the general manager can play fast and loose with the real gold. No matter how you feel about this week—and the additions are very nice—the years of Taylor Hall just sent away are very concerning. We need to acknowledge that, and by that I mean understanding in our own minds the price paid this summer to tunnel through to a respectable defense.
Those things said, and with the belief that the past informs the future, I think it is reasonable for us to assume Peter Chiarelli has at least one major move left in his musket. The new building, the pressure to move up the standings, the long list of issues for the second summer in a row—all have combined to produce what I think we can agree has been a major roster bloodletting. It isn't over.
Note: I don't post this to piss you off, but for me it is important to know the external forces at play here. How much upheaval can we expect, and are there overpays to come? Will these overpays impact this team's ability to win the Stanley Cup?
On the other hand, there is real progress in some areas that have laid dormant for a long time. Can you tell me the last time the Oilers had a RHD with Adam Larsson's resume and future? I am hopeful we can converse and exchange ideas without arguing across each other, which is the stuff of children. Thanks for reading.
DAY TWO FREE AGENCY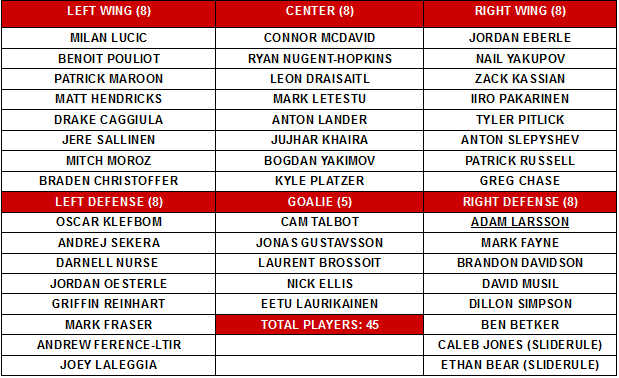 Only one addition from Day 2 in free agency, Ethan Bear signed his deal and is now the third actual RHD (Larsson, Fayne) on the roster—13 of them lefties. Bear and Caleb Jones are sliderules, so the roster—despite being 45 deep, is actually just 43 names for next season.
One item from today: Florida signed an astounding contract with Jason Demers, just fabulous. This means Edmonton will in fact pursue the puck-moving defender via trade, so let's re-set the list:
Tyson Barrie, Colorado Avalanche. Might cost the Nuge. Weird match.
Jacob Trouba, Winnipeg Jets. If he shakes loose, Oilers may pounce.
David Savard, Columbus Blue Jackets. Range of skills.
Matt Dumba, Minnesota Wild. Has some nice things.
Damon Severson, New Jersey Devils. A nice underlying option.
Ryan Pulock, New York Islanders. Big shot from the point has high value.
Ryan Murphy, Carolina Hurricanes. An attractive later choice.
Brandon Montour, Anaheim Ducks. This could be a special player.
Cody Franson, Buffalo Sabres. Hammer from the point.
Dennis Wideman, Calgary Flames. A year removed from a fantastic offensive season.
While we are at it, let's also re-set the men who are waiting for contracts—the ones who have ties to the Oilers and could be part of the future:
R Jesse Puljujarvi, this should happen in the coming days. 2016 draft
R Adam Cracknell, I could see him signing back mid-July. UFA.
D Adam Pardy. At least worth a conversation. UFA.
D Eric Gryba, without a Fayne trade, return seems unlikely. UFA.
C Marco Roy. AHL contract seems likely. UFA.
We are running out of names, which means people are finding jobs. Josh Winquist is in the Islanders organization, Brad Hunt with the Blues.
TOMORROW
It may not be tomorrow, it could be July 15 or August 10 or five minutes from now. However, everything we have seen this week suggests Peter Chiarelli has been told (in the words of the great philosopher Izzy Mandelbaum) it is go time. Edmonton will finish drilling through this mountain of rock and find six good men and true to play NHL defense. I have no idea what the forwards will look like on that day.