There is talk of a trade for Tyson Barrie or Cam Fowler, but we can probably begin the process of sussing out the Oilers roster for 2016-17. The nature of this year's 50-man list is that we are going to see (I believe) a lot of roster shuffling at the bottom end—and of course injuries will have their say. Let's have a look at the current situation.
ROSTER LOCKS (100 PERCENT) (19)
Goal (1): Cam Talbot
Defense (6): Oscar Klefbom, Adam Larsson, Andrej Sekera, Mark Fayne, Brandon Davidson, Darnell Nurse
Center (4): Connor McDavid, Ryan Nugent-Hopkins, Leon Draisaitl, Mark Letestu
Left Wing (4): Milan Lucic, Benoit Pouliot, Patrick Maroon, Matt Hendricks
Right Wing (4): Jordan Eberle, Nail Yakupov, Zack Kassian, Iiro Pakarinen
2016-17 HOPEFULS
R Jesse Puljujarvi. 70 percent. It is probably higher, but I am hopeful the Oilers bring him along slowly. He isn't skating at the Orientation camp and won't see the ice for a little more of the summer. Sounds like he will be fine, but this number reflects what we hope will be a reasonable approach to breaking him in this fall. Cap bonus worry also comes into play.

LD Jordan Oesterle. 70 percent. Oesterle is very mobile and has proven to be a quick study in coverage, positioning and making good outlet passes at the NHL level. You can never be sure—he has no draft pedigree at all—but that footspeed can work on offense and defense.
G Jonas Gustavsson. 70 percent. He is the favorite to win the backup job, but is not a guarantee to win it. Brossoit would have to clearly outplay the veteran, but JG is vulnerable as early as training camp in my opinion.
C Anton Lander. 70 percent. The Oilers at center are a little up in the air, but will no doubt have 5 Cs on the roster. I don't think Lander is a lock for the job—two other Cs appear on this list—but he should be able to win out over the competition this fall. As is the case with all of these names, a single trade could change the odds.
C Jujhar Khaira. 30 percent. Khaira performed well a year ago in his NHL debut, and PC didn't sign a lot of strong competition (imo) for the final roster spot. The club could decide on using a Gazdic, but the look of the 50-man so far allows for a reasonably talented last forward.
G Laurent Brossoit. 30 percent. I don't see much of a gap beyond experience, and there shouldn't be a major waiver worry with Gustavsson. Brossoit did struggle in a small sample size late last year, but the Oilers believe in him and there is no reason to keep him on the farm if he is playing well.
LD David Musil. 12 percent. A reasonable option for 7D, Musil is a shutdown defender and could probably help on the PK. Famous for his draft position, I think there is a small window of opportunity. Would have been higher, but the Mark Fraser addition gives me pause.
LD Mark Fraser. 12 percent. I was surprised by this signing, because Edmonton has a bunch of LHDs pushing for NHL work. I still think he is a Bakersfield option, but there is a chance EDM wants a vet 7D.
R Tyler Pitlick. 10 percent. Health has always been his issue, but he has enough talent to put himself in the conversation if he off the IR. Edmonton signed him for another year, so they must feel he can help them on some level.
L Drake Caggiula. 8 percent. Speedy skill winger is somewhat unique on the hopefuls list—he has enough skill to play on a scoring line. NHLE is 22 goals and over 40 points, it will be interesting to see who he skates with during TC.
R Taylor Beck. 6 percent. New signing, his contract tells me there is a chance he will appear in the NHL this season. Beck has size, some skill and is versatile—he might be a good fit in the 14F role.
R Patrick Russell. 5 percent. His NCAA numbers combined with his size and resume make him an attractive option for the Oilers. His time is now, he is 23.
LD Griffin Reinhart. 5 percent. Honestly I think this is generous. Reinhart without his contract bonus would be second on this list behind Oesterle. The Oilers have potential bonuses of over $10 million if you include McDavid, Draisaitl, Puljujarvi (assuming his deal is in the range of Laine's), Reinhart and Nurse. I cannot see him making the opening night roster.
LD Dillon Simpson. 1 percent. Opening night is a distant bell, but he impressed his AHL coach with his consistency and I think that might get him an extended look this fall—despite the Leftorium. He may get a cup of coffee later in the year.
R Anton Slepyshev. 1 percent. When you look at size, skill, speed, and the progression of the Russian boxcars, he looked like a player coming into TC last year. He did not perform well in the AHL, got hurt, and the year unraveled. I think he gets another chance at some point this year.
This begins the RE series and of course the Oilers will make a blockbuster trade later today. The opening night roster (by my estimation) will look like this:
Goal: Cam Talbot (starter), Jonas Gustavsson
Defense: Oscar Klefbom, Adam Larsson, Andrej Sekera, Mark Fayne, Brandon Davidson, Darnell Nurse, Jordan Oesterle
Center: Connor McDavid, Ryan Nugent-Hopkins, Leon Draisaitl, Mark Letestu, Anton Lander
Left Wing: Milan Lucic, Benoit Pouliot, Patrick Maroon, Matt Hendricks
Right Wing: Jordan Eberle, Jesse Puljujarvi, Nail Yakupov, Zack Kassian, Iiro Pakarinen
In a month or so #Oilers Klefbom will travel to Montreal (and Bauer) to get a custom made ice skate that will protect his foot.

— TSM dohfOs (Martin Lundén) (@dohfOs) July 4, 2016
Klefbom is a vital part of the Oilers defense over the next several years, so this has to work out for the organization. The young defender is by far the most promising among a group of high picks that include Darnell Nurse and Griffin Reinhart.
OSCAR KLEFBOM 15-16
5×5 points per 60: 1.09 (1st among regular D)
5×4 points per 60: 3.27 (2nd among regular D)
Corsi for 5×5 %: 50.5
Qual Comp: 2nd toughest among D (first pairing)
Qual Team: 4th best available among D (second pairing)
Corsi for 5×5 % REL: 6.8
Shots on goal/percentage: 48 shots/8.3%
Boxcars: 30gp, 4-8-12 .400
This is a dandy player card, showing Oscar useful at both ends of the ice. His offensive ability was obscured early in his career, his boxcars improving as he rose up the higher depth charts at the pro level. That is unusual, especially for a blue. A healthy Klefbom goes a long way to helping this team rise in the standings.
VOLLMAN SLEDGEHAMMER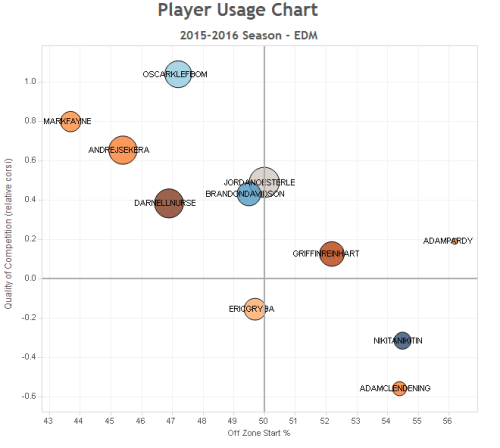 The Vollman shows that Klefbom is already in the difficult part of the graph and possesses a nice blue bubble. It is so Oiler that he is the one to come down with an injury that is both freak and slightly scary in possible long-term impact (foot injuries, if they are recurring, can derail a career). It is encouraging that the young man skated in June here in Edmonton and felt good, and the idea of getting a more comfortable boot is a good idea. Safe to say we will all feel better when he dresses for 75 games or more in the coming year.
The #Oilers salary cap situation is more challenging than it seems: https://t.co/Ty6YjYqxCt | pic.twitter.com/R2NeCjiLLo

— Mike Colligan (@MikeColligan) July 5, 2016
This is a must read, and talks about (with more clarity and evidence) the difficulty Griffin Reinhart is going to have making this team. I wonder if the cap worry is enough in and of itself for Edmonton to consider dealing GR? Perhaps the team thinks it wise to keep him for the coming expansion draft, and of course he could be recalled later in the year when cap bonuses are no longer in reach.
https://twitter.com/NicholsOnHockey/status/750058042884960257
Chiarelli: "So generally speaking guys, you know what – it's a tough business. You make these decisions.

Whatever you do, social media is going to criticize you

. Whatever you do. It's like talk radio. It's a really public forum and you just (laughs) you don't look at it, basically."
I think this is generally untrue. Peter Chiarelli has received positive reviews on moves that seemed positive on first blush (Talbot trade, Andrej Sekera signing, Maroon trade, Lucic signing—even things that are a stretch, like not trading up for Puljujarvi—are received positively), and has been hammered soundly on things that were net negative (Reinhart trade, Korpikoski trade, Hall trade). There is so much commentary that you could probably find media outside those lines, but most things I have read about these things made sense at the time.
As I said yesterday on the Lowdown, I can't tell you the Hall trade was a good deal just to make you feel better. I can tell you that Larsson looks like a substantial addition to the blue line. and that I cannot foresee a time in the future where pundits agree that the Oilers won this deal (beyond an injury, et cetera). Peter Chiarelli got ripped because the trade was not full value. At some level, it is the media's job to hold him to account, and I think that has been done.
One true thing: The defense needed to be fixed and I do think Larsson is a strong addition and a big part of the solution.
Twelve teams were after Lucic.

— James Mirtle (@mirtle) July 1, 2016
Milan Lucic is a very productive possession player, as shown via the wowys at Stats.HockeyAnalysis.com. The same site shows he is ranked No. 40 in 5×5 points-per-60 among the NHL among forwards with 400 or more minutes at even strength. Lucic ranks No. 5 among NHL LWs in even-strength points (47), just six behind Taylor Hall.
Lucic does not score 30 goals a year (he has done it once) and he does not shoot the puck 300 times in a season. He is an unusual player, an enforcer with soft hands, and because of it has averaged 30 assists per 82 games in his career. That is a big part of his value.
There are things to criticize about the Lucic deal—it is too long, he plays a rugged style and that often means physical breakdown around age 30—but Milan Lucic is a unique player—because he brings 50-point seasons to a policeman's game.
LOWDOWN WITH LOWETIDE
A busy show beginning at 10, TSN1260. Scheduled to appear:
Jonathan Willis, Cult of Hockey. Much to talk about with Mr. Willis, including the most newsworthy week in many years for the Oilers. We will chat about the big items.
Guy Flaming, The Pipeline Show. The 2016 draft and what surprised Guy, along with an early look at names being discussed for the 2017 draft.
Paul Sir, The Basketball Hour. A crazy free-agency period in the NBA, where money is running wild. Paul will break it down and tell us how Oakland became the strongest FA market in the league.
I can be reached at 10-1260 via text, @Lowetide on twitter. See you on the radio!