Drake Caggiula has a terrific resume. His cap hit ($1.35 million, with $425,000 in performance bonuses) for the next two years would make him an exceptional value contract should he make the team. His NHL equivalency (22-22-44) makes him a bona fide NHL prospect from the opening whistle of training camp. If the Edmonton Oilers are to contend for the playoffs at any time in the next two seasons, value contracts will play a part. Patrick Maroon ($1.5 million), Brandon Davidson ($1.425 million) and Connor McDavid will be value deals, Edmonton needs more.
#Canucks prospect Brock Boeser with the nice saucer pass to Caggiula – @UNDmhockey up 1-0 pic.twitter.com/z88ppgXqGh

— Ryan Biech (@ryanbiech) April 8, 2016
Offense is the hardest thing to do, and this young man has it. Some may think there is no chance for Caggiula to make the NHL this fall, but last year's crew who competed in the Billy Moores game had a pro and NHL story to tell. Here is a sample from a year ago:
D Darnell Nurse. A man among boys, he swatted away opponents like flies. I would guess 95% of the falling came as a result of Nurse simply overwhelming players. Had some good battles, too. So mobile.
C Connor McDavid. He's amazing. His extra skating gear is intoxicating and delightful. We've trained our brains to expect a certain set of possibilities during a specific on-ice moment, and McDavid surprises us by defying our collective expectations about how things will go by getting past the cone and having enough space to drive to the net. It's like magic. Reminder: Shinny game against other kids, basically a neighborhood pickup game. It means nothing. The skating is fantastic, though.

C Leon Draisaitl. His passing is so good, it's shocking. Leon's creativity is going to make some right handed shooter a pile of money. He made a dire mistake against McDavid but was flying most of the night and was obviously one of the best players on the ice.
L Braden Christoffer. Had the puck on his stick a lot and did good things with it.
FILIP BERGLUND
The Black Book No. 91. Despite the large frame and not the fastest stride, Berglund actually has good finesse with the puck. He controls the puck very well and uses his size to protect it. He has good vision and can regularly execute accurate passes. When defending Berglund's size helps and his defensive instincts are decent, but he is not a very physical player when considering his frame. His skating will also need to get better, he doesn't have the prettiest stride in the world and he could stand to further improve his footwork along with his acceleration as he can be slow getting to pucks.
Future Considerations No. 187. Berglund really stands out because of his immense size. A real weapon from the point on the power play, his shot is pro ready and opponents are wise not to try and block it. He's not a rocket on the skates by any means, but has good mobility for a kid his size. With his strength and reach, he protects the puck very well and can gain the offensive zone. Berglund needs to increase his foot speed, continue improving his play in the defensive zone, and use his size and reach better going forward.
The Bloggers Tribune: Berglund is an offensive minded right-handed defender. He is big but lacks the long smooth stride you often see from players with his frame. Berglund is great with the puck on his stick and while he's not the fastest skater, he has no problem controlling the breakout. He has great vision and has shown the ability to be a key member of his team's transition from defense to offense. He was passed over in last year's draft but he's improved significantly since then and could be the best second-year eligible players in the draft. Source
CHIARELLI'S MAIN LIST
Top-pairing RHD (Two-way skills—Adam Larsson)
Find a replacement for Taylor Hall (Milan Lucic)
Second-pairing RHD (Offensive defenseman)
Acquire RHC with some skill
Backup goalie (Jonas Gustavsson)
We are seeing the same thing this summer as last, some solutions appear adequate to good, others are unlikely to solve the problem. Is Jonas Gustavsson this year's Lauri Korpikoski? I think there is a very real chance Laurent Brossoit wins the backup job sometime during the 2015-16 season.
Peter Chiarelli: "We have to improve our defence, which we did. And we have to get bigger and heavier, with skill, which we did. I felt we've improved the team significantly. The proof will be in the pudding." Source
One of the things Edmonton's management is no doubt counting on is better health for next season. In a way, it is a trump card for next year, allowing (in my opinion) a summer of change before the roster is locked and loaded for the next two years (and the end of the McDavid entry-level deal). I received a significant amount of push back on the Lowdown yesterday when I said this Oilers team may have been as good or better by keeping Hall and simply signing Jason Demers—but I think that is absolutely the case. Suspect we have all had enough of what has become a toxic debate, but that doesn't mean we cannot have a lively debate about the possibilities with Hall/Demers.
THE CHIARELLI EXTENDED PLAY LIST
Add a "Pisani" who can mentor, score 15, and play a two-way role up and down the lineup.
Re-stock the shelves via the draft (Puljujarvi and the entire draft)
Improve overall team speed (Puljujarvi)
Offload Lauri Korpikoski (Bought out)
Improve goaltending depth (added Nick Ellis, Gustavsson).
Improve AHL quality (Caggiula, Russell, Ellis, Gustavsson, Fraser).
Cull the LHD herd (have, in fact, added to the LHD group).
The Pisani should probably be on the top list, especially if PC chooses to keep his centers three. Most of the secondary list has been crossed off and in some cases very well. The goaltending remains a concern, up and down.
THE ASSETS LIST
Taylor Hall
Cap space*
Ryan Nugent-Hopkins
Benoit Pouliot
Jordan Eberle
2017 1st round selection
Nail Yakupov
Mark Fayne
Griffin Reinhart
The hope at this point (for me) is that the futures portion of this list (2017 picks, LHD, et cetera) would be the big part of assets gone or going. If Peter Chiarelli can find a Tyson Barrie—and there are some options still out there—without giving up RNH or higher, then I think we can reasonably discuss a team that is heading toward balance. That would be a significant accomplishment, despite the incredible cost.
CURRENT 50-MAN (46)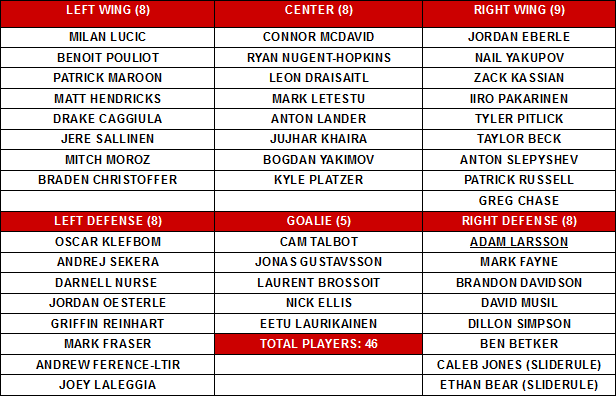 LOWDOWN WITH LOWETIDE
At 10 this morning, TSN1260. I believe you will want to tune in:
Darcy McLeod, Because Oilers. A week ago, we talked with Darcy—fresh from news of the deal. A week later, we will drill down on Larsson—his talents, how much value should be placed on them, and how valuable those talents would be to the Edmonton Oilers.
Don Landry, CFL.ca and Yahoo Sports. Week 3 of the CFL is straight ahead, and some big cames—one at Commonwealth—are ready to go. We will preview.
Frank Seravalli, TSN. Frank had Taylor Hall on his trade list, and also had RNH, Jordan Eberle and Nail Yakupov. We will discuss the rest of the summer and what may have changed since the Hall trade.
10-1260 text, @Lowetide on twitter.