No matter who Edmonton brings in between now and training camp, a bunch of Bakersfield Condors are going to see action in 2016-17. If we go back to 2014-15 and look at the final OKC Barons, it gives us an idea about how much those blue in the minors will be counted on at some point this year in Edmonton.
BARONS D 2014-15

Oscar Klefbom played only nine games but was clearly a strong AHL player.
Jordan Oesterle struggled defensively but performed pretty well with the puck.
Dillon Simpson quietly posted a solid EV goals for differential.
David Musil—who played the tough opposition—did pretty well in goal differential too.
Brandon Davidson emerged as a bona fide NHL prospect, leading the blue in even strength goal differential.
CONDORS 2015-16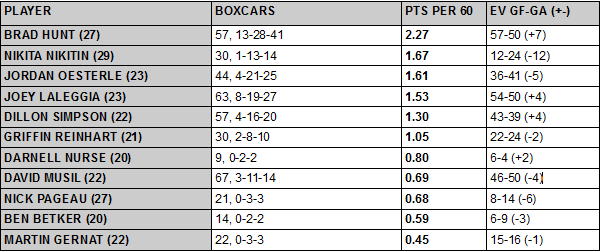 Jordan Oesterle improved offensively and defensively this season, and he looked NHL-ready in his callup. Clearly not at Klefbom or Davidson levels, but he is a somewhat unique player among the farmhands: Fast, good with the puck and a quick study defensively.
Joey Laleggia shows up pretty well in his rookie season—he did play a little at forward—and he is probably going to see another full season in the AHL before getting an NHL chance.
Dillon Simpson continued to improve overall, something he has done since his draft day.
Griffin Reinhart's numbers are a little shy but the young man made progress. Coach Gerry Fleming talked about his inconsistency and lack of physical play in January: "He knows he has to get better and he's focused on those areas in his game. There's things we've asked him to work on and it starts with practice. We've seen improvement in his practice habits. He's committed himself to coming down here and working better. His attitude has been great." Source
Darnell Nurse had good numbers but did not play much in the AHL.
My guess is that Nurse will start the season in the NHL, and recalls will include Jordan Oesterle, Griffin Reinhart and David Musil. Youngsters Dillon Simpson and Joey Laleggia can get into the conversation if they continue to improve.
CURRENT 50-MAN
I think the Oilers have enough depth and balance at this point to suggest they can be patient and wait for the defenseman to come to them. The fact PC kept Ryan Nugent-Hopkins gives the team any number of options—and I expect we will see them all before the end of the 2016-17 season.
There are concerns of course—backup goalie was addressed but has that 'Lauri Korpikoski' feel to the chosen solution. It is also unknown how the team plans to plot their top 6F—and almost as importantly—it is anyone's guess about how many useful pieces will remain for the bottom 6F.
At this point, I think it is probably reasonable to suggest that balance—true balance—will not happen.
THE RE SERIES
I am in the early stages of the RE series, and the numbers are interesting. Last year, I estimated:
Four goalies (there were in fact three)
12 defenders (there were in fact 14)
Six centers (there were in fact six)
Six left wingers (there were in fact seven)
Eight right wingers (there were in fact eight)
Fourteen defensemen is a lot, I will not project that many for this coming season. Eight RWs is also a lot, but there remains some real uncertainty at the position again this summer. My current count (and this could change because the roster is not final is:
Three goalies
12 defenders
Six centers
Six left wingers
Eight right wingers
Among the players I have slated on my RE series that surprised me before I began the process: Mark Fraser, Dillon Simpson, David Musil, Jere Sallinen. Edmonton still has room on the 50-man list—it is currently at 46, but with two obvious slide rules—and I think we could see a defenseman or two added between now and September.
ARE THEY DONE?
I don't think there is any way the team is finished, although it takes two to tango and other teams have different pressure points. I do think the Anaheim Ducks have some moves to make, and that Edmonton matches up in some ways. We had discussed dealing a LW (Pouliot) for a defender, but with the Hall trade Edmonton's depth chart at the position can ill afford another loss.
Anaheim has three players (Hampus Lindholm, Cam Fowler, Brandon Montour) who should be of interest and at various price points. That isn't quite true of course, suspect Lindholm is not at all available, and Montour may well be in a similar spot.
Is Cam Fowler the best available solution at this time? I have him No. 2 on my list of available defensemen and Lindholm isn't going to be dealt. So, the answer is yes. How good is he?
CAM FOWLER 15-16
5×5 points per 60: 0.48 (No. 3 among Ana blue)
5×4 points per 60: 4.38 (No. 4 among Ana blue)
Corsi for 5×5 %: 48.8 (No. 7—and last—among Ana blue)
Qual Comp: 3rd pairing
Qual Team: 3rd pairing
Corsi for 5×5 % REL: -9.4 (No. 7—and last—among Ana blue)
Shots on goal/percentage: 113 shots/4.4 percent
Boxcars: 69, 5-23-28 .406
Information via Stats.HockeyAnalysis.com, behindthenet.ca and hockey-reference.
Fowler is the obvious man out based on the numbers above—the Ducks have an emerging group of defenders and he did not hit 50 percent Corsi for 5×5 with Kevin Bieksa or Simon Despres, his two main partners. He got plenty of power-play time—almost 200 minutes—and delivered 14 points. A comparable we are familiar with? Andrej Sekera, last season.
NAIL YAKUPOV
We spent much of last night on this blog talking about Nail Yakupov and his future. Surprisingly (to me), there seems to be a growing appetite to get rid of the youngster, even for a third-round pick if that is the return. I would remind you that the RW depth chart for Edmonton is not a strong one offensively. Yakupov does have a place where he can be effective—with Connor McDavid—logic and reason dictate Todd McLellan and Peter Chiarelli at least consider that option:
Nail Yakupov was highly successful with McDavid (2-7-9 in 205 minutes 5×5, 2.63/60) including a Corsi for 5×5 percentage of 51.9.
Jordan Eberle was also successful with McDavid (8-8-16 in 364 minutes 5×5, 2.64/60) including a Corsi for 5×5 percentage of 52.2.
It is important to remember that the Oilers depth chart on RW features players applying for different jobs. Last night reminded me of the days of Marc Pouliot versus Rob Schremp, when the blog would get its gonch in a knot arguing about one or the other making the team—when the answer was obviously the two were not applying for the same job. It was never Pouliot versus Schremp, it was always Pouliot versus Brodziak, and the Oilers chose unwisely.
Skill RW on 50-man list: Jordan Eberle, Nail Yakupov, Jesse Puljujarvi (unsigned), Anton Slepyshev
Depth RW on 50-man list: Zack Kassian, Iiro Pakarinen, Tyler Pitlick
AHL hopefuls on 50-man: Taylor Beck, Patrick Russell, Greg Chase
If you tell me you know Jesse Puljujarvi will be healthy and ready this fall, I will suggest you are jumping the gun. If you suggest Zack Kassian is the answer on the 2line, I will suggest you reconsider. If you trumpet trading Nail Yakupov today for a third-round pick, I will question your ability to reason. Seriously.