Over the years, some pretty large brains have visited this blog, dropping off great ideas and receiving input from the gathered voices. I thoroughly enjoy the exchanges and have spent a decade trying to follow along, mostly keeping up—faking it when necessary. Recently, G Money has been working on a way of refining some things in our current accepted wisdom.
On the weekend, he dropped off several parcels that are included in the comments sections (recommended reading all days). Among the mountains he is attempting to climb:
Build a better blended metric to measure the 'quality' of players that goes into a QoC measure
Using this better metric, what's the next step? The idea here (and this is heavily WG) is to separate competition into bands that pull out the players that are truly good and the truly bad, and then measure players (TOI, shot metrics) against those bands of players.
These are G's words pulled from the comments section
What he is drilling down on (among other things) is a more accurate view of qual comp, then identifying and measuring the at-bats that occur against the best pitching—followed by a look at how badly our hitter beats up on the No. 5 starter and middle relief. That understood, the most incredible object G placed at our feet on the weekend is…..
MCDAVID!
Top Comp TOI 18339 CF 47.6 DFF 51.8
Muddle TOI 13593 CF 53.2 DFF 51.9
Dregs TOI 6090 61.2 DFF 69.7
Against top competition he is playing at par, good OBP and SP. Against what G is calling the muddle, the Corsi is stronger and the chances remain. Against the dregs? Enos Slaughter. Note: CF you know, DFF is dangerous Fenwick—unblocked shots that are weighted for distance and type. The closer you are to the net and the harder the shot (slap, snap, wrist, backhand) the more dangerous it is. DFF, along with this qual comp parsing, are the real keys to the G spot. It goes without saying that we shouldn't read too much into DFF and new QC numbers until we have the relative numbers to account for strength of team.
G MONEY—OILERS TOP 4D
**** Andrej Sekera ****
Top Comp TOI 39771 49% CF (924, 1108) 45.5% DFF (649.0, 767.0) 45.8%
Muddle TOI 25021 31% CF (728, 741) 49.6% DFF (505.0, 530.0) 48.8%
Dregs TOI 15739 20% CF (504, 407) 55.3% DFF (360.0, 285.0) 55.9%
**** Oscar Klefbom ****
Top Comp TOI 15378 53% CF (215, 245) 46.7% DFF (163.0, 176.0) 48.1%
Muddle TOI 9399 32% CF (144, 124) 53.7% DFF (105.0, 84.0) 55.4%
Dregs TOI 4422 15% CF (77, 58) 57.0% DFF (40.0, 34.0) 53.4%
**** Brandon Davidson ****
Top Comp TOI 20277 43% CF (307, 309) 49.8% DFF (196.0, 202.0) 49.2%
Muddle TOI 17487 37% CF (259, 261) 49.8% DFF (174.0, 171.0) 50.4%
Dregs TOI 9600 20% CF (158, 100) 61.2% DFF (100.0, 65.0) 60.7%
*****Adam Larsson*****
Top Comp TOI 46577 CF 42.3 DFF 44.5
Muddle TOI 24173 CF 45.8 DFF 53.2
Dregs TOI 14914 CF 48.9 DFF 51.8
*****Mark Fayne*****
Top Comp TOI 29172 CF 42.7 DFF 43.0
Muddle TOI 18599 CF 50.7 DFF 49.2
Dregs TOI 11696CF 54.3 DFF 52.7
Klefbom—Larsson should be top pair (Larsson's numbers against top comp is not strong, but remember his severe ZS's), and I do wonder if we see a Sekera—Davidson second pairing. Mark Fayne might end up third pairing, although the lefty-right equation may mean Davidson's numbers against the muddle would place him below Fayne. Either way, fascinating work and extremely exciting. The idea we can come up with a better Qual Comp and use dangerous Fenwick to clean up the vagues is pretty damned exciting! Well done, G and Woodguy!
DRAKE CAGGIULA
"I think pro is a little different than college hockey. Everyone is a little bigger, faster, smarter. There is going to be an adjustment period, but at the same time, I think I'm a quick learner and I'm going to learn as quick as possible to try and get accustomed to the pro game, and hopefully, it turns out well for myself." Source
I think it is worth mentioning players like Caggiula, Jujhar Khaira and others who may be close to NHL-ready as serious options for the 2016-17 Oilers. If a late summer trade sends Benoit Pouliot or Nail Yakupov—or both—to another NHL team, these likely Condors could emerge as potential NHL solutions overnight.
SHOULD MCDAVID BE THE NEXT OILERS' CAPTAIN?
No idea.
DAVID MUSIL
Oilers have qualified the defender, suspect a deal gets done in the next while. Edmonton will not offer him a one-way deal imo, but he might make more on the AHL side ($70k a year ago). If I was Musil's agent, I would email this to Musil and tell him to play in Europe for a year until Edmonton trades him: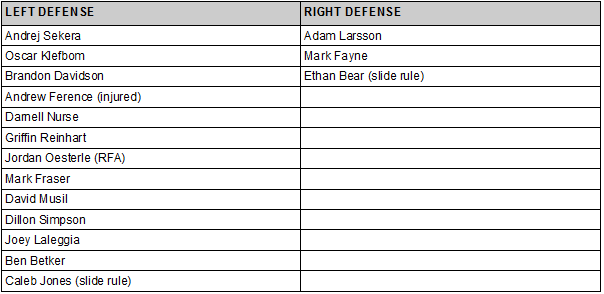 INCOMING?
Peter Chiarelli: "I'd like to try to get someone that can complement a power play and push the puck up to the forwards. That's no secret. We will continue to look at. There's still a couple that are out there. They are hard to find."
Kevin Allen of USA Today has Tyson Barrie and Kevin Klein in the possible trade pile, one suspects Edmonton would only be interested in Barrie. Klein did post some good numbers (1.02/60 at 5×5; 3.72/60 at 5×4) offensively, and has a range of skills, but the Rangers would probably want to add one of their awful contracts to any deal (Rick Nash has a cap hit that exceeds the GNP of Guam).
I think it might be wise for PC to stand pat, use a forward as a PP hammer (I am currently doing the RE math and Jesse Puljujarvi is an interesting PP possibility) and cobble together the six best defenders on the roster. If a Leddy—Boychuk weekend happens in the fall or winter, Chiarelli should be aggressive at that time. He has already forced one issue this summer, doing it again would likely further weaken an already lesser forward group.
LOWDOWN WITH LOWETIDE
A fun show on the way, TSN1260 beginning at 10 this morning. Scheduled to appear:
Scott Burnside, ESPN. There are teams with needs and there are free agents available. Although the transaction wire has been reduced to one or two a day, the work of NHL summer is getting done.
Paul Almeida, SSE. Portugal won the Euro in surprising and spectacular fashion. We will talk to Paul about the victory and Ronaldo's unusual day.
Sunil Agnihotri, Copper & Blue and The SuperFan. We will talk about goalies, first pairing of Klefbom—Larsson, potential acquisitions and men like Khaira and Caggiula as NHL options in the coming year.
Andrew Bucholtz, 55-Yard Line. Week 3 in the CFL included some outstanding games, and the Eskimos first victory of the year.
10-1260 text, @Lowetide on twitter. Talk soon!