I expect Adam Larsson will have a successful career with the Edmonton Oilers—he will stand out defensively—and help the organization make a playoff appearance this decade. Peter Chiarelli is going about the business to retooling the blue and no one can deny that Andrej Sekera and Adam Larsson are substantial additions. The major concern for all Oilers fans: An astonishing price is being paid on all major transactions.
EDMONTON'S DEFENSE WHEN CHIARELLI TOOK OFFICE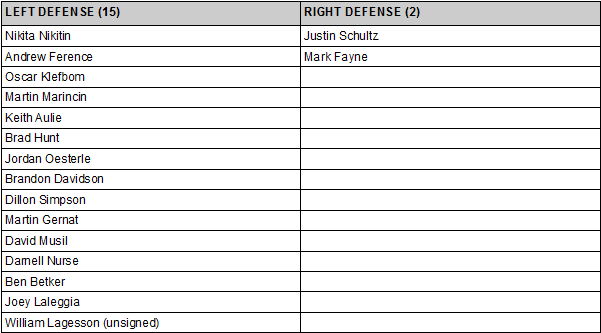 The day he took over (the post is here), PC had (by my count) 2 actual NHL defensemen: Oscar Klefbom and Mark Fayne. Nikita Nikitin and Andrew Ference were NHL defensemen at one point, but could not perform and were not going to help him. Justin Schultz was floundering under the pressure of playing too many minutes too high up the depth chart. Martin Marincin was NHL-ready but not recognized by the previous management as bona fide. Bubbling under, Brandon Davidson and Darnell Nurse were ready to pitch in as required.
EDMONTON'S CURRENT DEFENSIVE DEPTH CHART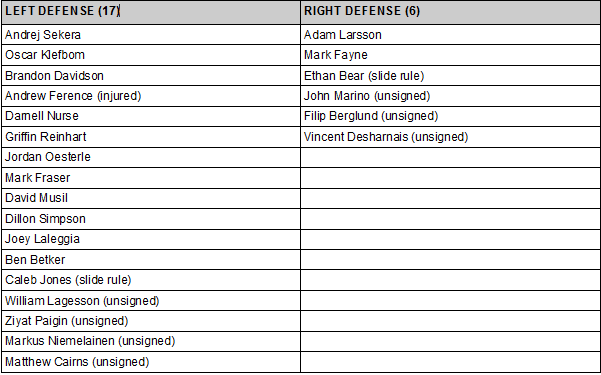 A year later, I count 5 actual NHL defenseman: Andrej Sekera, Adam Larsson, Oscar Klefbom, Mark Fayne, Brandon Davidson. Chiarelli added Sekera and Larson, with the other three already in the organization on arrival.
Seems to me Chiarelli has been spending a lot of time working on defense, with Sekera, Larsson, Griffin Reinhart and eight of 15 draft picks (53 percent) spent on the position. By and large, I like the additions by Chiarelli on defense. On the other hand, I think he traded Martin Marincin too soon, overpaid for Griffin Reinhart, badly overpaid for Adam Larsson and has made some progress in getting balance in the lefty-righty battle.
I think we can safely assume that Sekera, Larsson, Klefbom, Davidson and Fayne are going to be on the team—and based on their own verbal Darnell Nurse is surely in that group. From that point forward, my guess is that the Oilers will roll out (in order) Jordan Oesterle, Griffin Reinhart, Mark Fraser and down the line. Fair? Work to be done, and maybe the sign Eric Gryba as No. 7 and send the kids back to wait their turn.
GRAHAM MCPHEE
ISS: He's a hard working, competitive player who battles for the puck along the boards and is a responsible player. He needs to improve his speed and puck skills. He projects as a bottom six, role forward at the next level. Was solid but unspectacular at recent World U18 Championships. Played fourth line role and was effective – played with energy and was physical presence most shifts. Finished checks all over the ice. Average skater and strong on his feet. A real hard worker with a mean streak. Source
Las Vegas GM George McPhee: "He's a better player than I ever was in terms of skating and skillfulness. There was a time when he was caught up in playing too physical and getting worked up in the games. I stressed to him to concentrate on learning how to play the game. Play with pace, know how to pass the puck and be a good teammate; those areas require a lot of work but will pay off if you excel at them." Source
Chris Dilks, SB Nation: McPhee is a really smart, detail-oriented player that does a lot of little things, but what separates him from similar players is that McPhee can do all of those things at a faster pace than other players. I think he's only going to get better and better. He's got good hands, but isn't a tremendously gifted-natural scorer. He surveys the ice really well in the offensive end though, which will allow him to pick up his fair share of points. Source
Black Book No. 165: McPhee is a forward prospect who might have more upside than his numbers would suggest. The first impression of McPhee is that of a hard-working player who plays a smart game without a lot of flash. McPhee is an engaging three zone player and shows good work-ethic with and without the puck
THE LAST GOOD BLUE
It has been awhile since Edmonton dressed six good defensemen on an opening night, but if we go back to 2009 we see a nice group:
OPENING NIGHT 2009
D1: Grebeshkov-Gilbert
D2: Souray-Staios
D3: Visnovsky-Smid
The starting six had some weak links (Laddy Smid had a Corsi for 5×5 percentage of just 43.5 in 2008-09) but there was no doubting the quality of Tom Gilbert, Denis Grebeshkov plus veterans Sheldon Souray and Lubomir Visnovsky. Pat Quinn didn't like Lubo, and Souray would get hurt during the year and by season's end things were a mess.
PROJECTED OPENING NIGHT 2016
Oscar Klefbom—Adam Larsson
Andrej Sekera—Mark Fayne
Darnell Nurse—Brandon Davidson
Jordan Oesterle
That looks like a pretty good defense—Griffin Reinhart could outperform Darnell Nurse—but the cap bonus worry will be a factor. I picked Oesterle for No. 7, but the Oilers may bring back Eric Gryba and of course a trade that moves Mark Fayne down the depth chart or out of the organization is possible.
MEASURED WORDS
The subject of Leon Draisaitl in recent days seems to be the latest fracture among the Oilers fanbase and commentator group. From what I am reading, Leon is either the next $6 million contract or he has fallen and can't get up. In truth, as is the case in most of these arguments, the truth lies somewhere in the middle.
Leon Draisaitl is unproven—I have argued in favor of keeping RNH as a hedge against possible stalls in development—but has an interesting resume two years into his NHL career. A smart move by Todd McLellan may be to use Leon in both the 3C and 2R roles, allowing him to move forwards around depending on what works. The coach could also place LD on Connor McDavid's line with Milan Lucic, allowing Pouliot—Nuge—Eberle to put the band back together.
If you are fretting over Draisaitl, I recommend relaxing. The worry would be real if the Nuge had been dealt, that has not happened and that means Todd McLellan can use him in a complementary role.
We are in the part of summer when those who write about the Oilers are casting about for less obvious stories. Leon Draisaitl without Taylor Hall is an interesting story, but he also played well (in a small sample size) with Jordan Eberle and Benoit Pouliot. You can't really separate Leon from Hall in terms of performance last season, they were stapled together. That does not mean Leon can't play, and I would encourage you to push back against ideas that imply same.
LOWDOWN WITH LOWETIDE
A fun show, 10 this morning TSN1260. Scheduled to appear:
Bruce McCurdy, Cult of Hockey. How close are the Oilers today to that 2009 blue?
Kent Wilson, Flames Nation. Calgary has enjoyed a strong summer.
Jeff Krushell, Krush Performance. MLB All-Star game is done, do the Jays make some big deals to help themselves?
Brian King, NonStopSportsPicks. CFL Week 4.
10-1260 text, @Lowetide on twitter. Talk soon!