The Edmonton Oilers signed Jesse Pulujuarvi to his entry-level deal today, giving the team another solid option for their top 9F this fall. He is unique in that the Oilers could send him to Finland, the AHL or keep him in the NHL.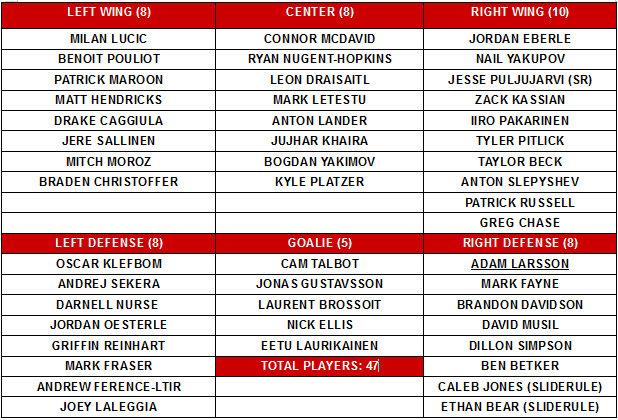 Oilers 50-man is now at 47, with three slide rules (JP, Caleb Jones and Ethan Bear). There is still room for one or two additions.

We can talk about Puljujarvi spending the year outside the NHL, but that is not realistic based on his talent and the Oilers own history.
Corey Pronman: He's an unbelievable skater for a 6-foot-4 player, having a great top gear and a really fluid stride. He's not that physically aggressive, but he closes on guys so well that he pressures and wins battles effectively. Puljujarvi shows a high-skill level, a plus shot and high-end hockey IQ. He is constantly around the puck and setting up his teammates.
Red Line Report: Big horse looks and plays like a Mats Sundin clone. Has the four S's: size, skills, skating, shot. Has all the tools to be a dominant power forward who combines top-notch skills with brute force. Terrific size/strength and is impossible to move off the puck — uses wide stance and is hard on his stick. Comes alive whenever the puck is nearby. Wants to make plays. Dynamic skater accelerates in a few strides and has excellent speed. Uses long reach and soft hands to beat "D" off the rush. Dangerous every shift. Excellent puck control, often impossible to contain. Receives tough passes without slowing down. Drives the net and protects the puck well. Has good hands in close with vision and playmaking skills. Responsible two-way player has good defensive awareness. Played the playoffs and U-18 Championships with a knee injury that required surgery after the season. Source
The Black Book: This very talented Finn brings to the game a rare blend of power, skills and commitment. He is quick for a big kid and is an impressive skater who uses his speed to impact the play in different ways. He can be very effective on the forecheck, leaving defensemen little time to escape pressure.
More at 5.