If I spent a year trying to describe the excitement I felt when the Rexall Drugstore would call to tell me of the arrival of July's edition of The Hockey News, it would still not grasp the moment. Mrs. Stenmark (she had a daughter I had a crush on, but so did every other young male in town) would call, my Mom would leave the message by the phone and I would drop by home during my paper route. I would check all during July, making sure it didn't have to wait overnight. I would read every story on every page, and then do it again. I would read the transactions, mull over the major items (Derek Sanderson a Ranger???) and figure out a way to screw the Canadiens. God I loved those days. The July THN would have all the transactions, the GM comments and maybe a line from the coach about how he would use his new star player—plus the draft, featuring a picture of Clarence Campbell with the first overall pick. Campbell couldn't pick a one of them out of a police lineup, but a few short years later someone had to pick Campbell out of one.
MILAN LUCIC SIGNS
Travis Yost is one of my favorite writers, so when he focuses on the Oilers it is an enjoyable experience. Yost knows the value of Connor McDavid (no extra points for that) and the Nuge—and I believe a lot of people miss that second one. Yost wrote an article yesterday on net-front presence, and found Lucic to be very poor in his metric (rebounds-per-60) which may come as a big surprise to you. I have seen Lucic for much of his career and he really is an odd duck. Lucic is a very good passer, and can score off the rush—something none of the almost-Lucic's can boast. He does not shoot a lot—really, he doesn't, but he can pile up the assists in a way that makes him unique among big wingers. You will have to watch him for awhile to really see his game. He is great on the forecheck, a steamroller on entries and puck battles, and a high percentage (not volume) shooter.
EVEN-STRENGTH ASSISTS, LW IN 2015-16
Jussi Jokinen 34
Johnny Gaudreau 33
Jamie Benn 32
Artemi Panarin 31
Taylor Hall 31
Jonathan Huberdeau 30
Milan Lucic 29
Among LWs, Lucic is tied for No. 14 in even-strength goals (18) and No. 52 in shots on goal (124) with the final total being all situations. In the time I have watched Milan Lucic—which is his entire career—I can tell you that expecting 200 shots in a year will end in disappointment. Perhaps it would help if I put Lucic in per 82gp structure:
Lucic helps in possession, and he will surprise you with his passing. He is extremely able in physical battles and being aggressive. He will not score 20 goals on 200 shots, and you will be surprised at his ability to score off the rush. Milan Lucic is a truly unique NHL player. I think he will play Wayne Cashman to McDavid, retrieving pucks and getting into position to receive one. His goals total is likely to increase, but check that assist total at the end of the season. Lucic is a lot more than a man who can block out the sun.
BOB GREEN VERSUS BOB MCKENZIE

Well, that is a little loud and I apologize. Interesting to see that the Oilers list and the McKenzie rankings lined up pretty well—and I am a big fan of Benson over Hajek at No. 32 overall. The first three players Edmonton drafted are bona fide prospects taken around the expected area and none of them have a fatal flaw (Niemelainen can skate). Can't wait to watch these young men  in draft +1. Benson's health is the big worry, that's for sure.
PRE-SEASON/WORLD CUP
The Oilers first pre-season games (it is a doubleheader against Calgary) will take place on Monday, September 26. The World Cup of Hockey will be in full bloom, with another week (closes October 1) to go. A bunch of Oilers management and coaching staff will be at the World Cup, while at the same time things will be happening in a very important pre-season back home. Does anyone else think this is a concern? No? Bueller?
FORENSICS
Dallas Eakins, Stu MacGregor, Morey Gare, Brad Davis, Kent Hawley and Billy Moores were all let go as the forensics found culprits and sent them away. Now that the draft is done and the decisions have been made, will there be others to go? If the Oilers do have some people to let go, expect the announcement on a Friday in summer.
THE RE SERIES BEGINS MONDAY
I have 35 RE's that will roll out in the next month or so, in two styles (RE and TC Hopefuls). The first one rolls off the assembly line on Monday morning (unless something breaks) and I have narrowed the musical field to: Johnny Cash, Paul Simon, CANCON and whatever you suggest that I take a liking too.
PETER CHIARELLI'S SUMMER
Traded Taylor Hall for Adam Larsson
Signed free agent Milan Lucic
Signed free agent Jonas Gustavsson
Signed free agent Mark Fraser
Signed free agent Taylor Beck
Signed first-round pick Jesse Puljujarvi
In a way, it was a franchise-altering summer, but in another way it feels incomplete. If the Oilers are looking for a goalie in November, would you be surprised? And the Mark Fraser and Taylor Beck additions seem to miss the mark—although the summer is not yet complete and things can change.
OILERS PROJECTED ROSTER 2016-17

I think this is going to be the lineup, with Mark Fraser and Anton Lander possibly being vulnerable. I also think Griffin Reinhart could come in and outplay several other defensemen and still get sent down—that bonus is not helping. I wonder if agents and players would push to alter the rule in the next CBA? Any rule that impedes player progress should be altered, in my opinion.
One other thing: No puck mover and PP QB yet, wonder if McLellan and Woodcroft are cobbling together PP lineups with a forward playing on defense. Nuge? Eberle?
NHLE'S
L Drake Cagguila 22-22-44
R Patrick Russell 17-17-34
L Jere Sallinen 10-15-25
R Tyler Pitlick 7-15-22
C Jujhar Khaira 8-13-21
R Anton Slepyshev 10-7-17
C Bogdan Yakimov 5-11-15
C Kyle Platzer 5-9-14
R Greg Chase 2-12-14
Among the forwards not listed in my assumed lineup, the NHLE's offer us some clues about possible callups. If Drake Caggiula can post some crooked numbers in Bakersfield, we could see him during the 2016-17 campaign. Patrick Russell is interesting, but his scouting report flags him for not speeding, and with this roster that is going to be a real challenge. Jere Sallinen and Tyler Pitlick have pro experience and could get a push via injury and I think Jujhar Khaira likely has a better chance than that to make this team. If Edmonton chooses Khaira over Lander, I would not be massively surprised. No real indication about the Russians, beyond they have enough talent and Slepyshev combines size and speed but the numbers didn't come year 1 in North America.
OILERS 50-MAN LIST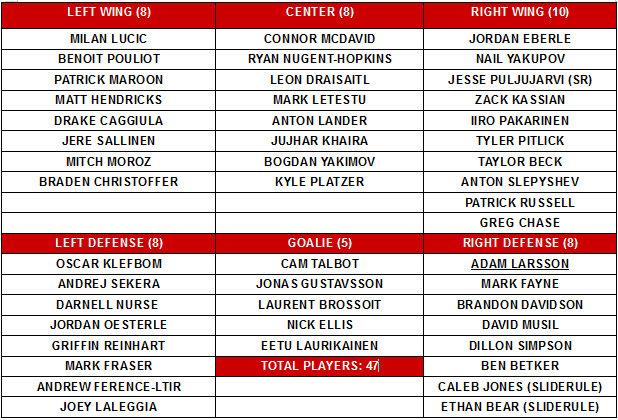 I like the increased balance on this roster, and there has been a slight (SLIGHT!) improvement in the Leftorium. I don't really know the gap between Taylor Hall and Milan Lucic, nor the gap between Adam Larsson and Jason Demers—only that it has been a painful summer. Maybe it will be followed by a 40-win winter, it does look as though the Oilers will have two pairings who can play.
https://twitter.com/generalfanager/status/753907736669282304
Crickets on David Musil, perhaps we hear something today. I honestly wonder what Musil and his agent might be thinking at this time. If he comes back to the organization, what then? My guess is something gets done, Musil goes to Bakersfield and works hard to either get a chance with Edmonton—or possibly a break in expansion. I had Tom Lynn on the Lowdown yesterday, and he was all about telling his players to have the best possible season in 2016-17. Although getting to free agency next summer is ideal, suspect agents are a big part of trades these days (finding a good landing spot for their client). Musil might be such a player.
LOWDOWN WITH LOWETIDE
At 10 this morning, TSN 1260. Scheduled to appear:
Steve Lansky, BigMouthSports. The Open, CFL Week 4 and the Blue Jays chances.
Sunil Agnihotri, Copper & Blue plus The SuperFan. What is the gap between Hall and Lucic? Plus figuring out this summer.
Matt Iwanyk, TSN1260. Hall versus Larsson a few weeks on: Do we feel the same? Plus, Eskimos on a roll.
Dean Millard, TSN1260. The Open.
10-1260 text, @Lowetide on twitter. Friday!