The Edmonton Oilers are set at some positions rolling out for many years—notably center, where the names Connor McDavid, Ryan Nugent-Hopkins and Leon Draisaitl could tower over the NHL soon.
At other spots, Edmonton has the look of an expansion team—goaltending, righty defense—with the rest somewhere in the middle.
Today, I would like to talk about depth (or lack of) at player types—something Peter Chiarelli and Todd McLellan badly need to have if success (and sustained success) are to arrive in Edmonton soon. List below based on recent Oulu Speedway post.
OILERS PROSPECTS, BY PLAYER TYPE
Potential starting goalies: Laurent Brossoit, Nick Ellis, Miroslav Svoboda
Potential backup goalies: Eetu Laurikainen, Zack Nagelvoort, Dylan Wells
Two-way defensemen: Griffin Reinhart, Ziyat Paigin, Ethan Bear, Caleb Jones, John Marino, Markus Niemelainen, Matthew Cairns, Filip Berglund
Offensive defensemen: Jordan Oesterle, Joey Laleggia
Defensive defensemen: David Musil, Dillon Simpson, Ben Betker, William Lagesson, Vincent Desharnais
Franchise center: Connor McDavid
Two-way centers: Bogdan Yakimov, Kyle Platzer, Aapeli Rasanen
Offensive centers:
Checking centers: Jujhar Khaira
Two-way left wingers: Jere Sallinen, Aidan Muir, Tyler Vesel, Evan Campbell, Tyler Benson
Offensive left wingers: Drake Caggiula
Checking left wingers: Mitchell Moroz, Braden Christoffer, Graham McPhee
Complete right wingers: Jesse Puljujarvi
Two-way right wingers: Anton Slepyshev, Greg Chase
Offensive right wingers: Patrick Russell
Checking right wingers: Tyler Pitlick
You may (and I am sure you will) disagree with some of these ratings, but the idea is to give a general feel of overall depth in these positions. Edmonton has no offensive centers—but Connor McDavid covers that bet, I have merely placed him in his rightful spot.
In terms of strength areas, I do like the number of two-way defensemen Peter Chiarelli has added in his two summers (all eight from PC era). Weaknesses? Goalies, surely, and scoring wingers although the Drake Caggiula and Patrick Russell additions were strong steps without using picks or assets. Bottom line: I like this list far more than a year ago—balance is coming to the Oilers, just wait and see.
OILERS CENTERS 2016-17
Once we get the Woodmoney numbers (and figure out what they mean, that could take me awhile) this kind of player card will have more value. Until then, we go with what we know (and for me, what I trust).
https://twitter.com/NicholsOnHockey/status/754027150152347648
RNH had a tough season, and really the numbers above should have been better (NOTE: Although Nuge played the toughest opposition, the top 3 Cs basically played the same level toughness according to BTN). I believe in Nuge, always have. He is full Dave Keon and folks that player can win you playoff games—not an ounce of doubt in my mind. Until the moment the Tyson Barrie rumors died down, I felt there was still a chance Edmonton would trade RNH. Happily they did not, and it appears the words of GM and coach (they were encouraging) in the spring and early summer are true. The time may come when Edmonton is forced to trade Nugent-Hopkins, but it must be after the club is sure Leon Draisaitl is ready to battle the toughest competition. We are not at that point, today.
VOLLMAN SLEDGEHAMMER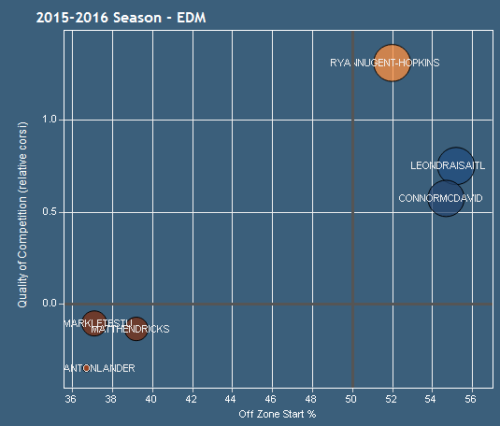 I believe the Oilers are wise to retain Nugent-Hopkins. I think the evidence is clear, but there was probably a point in summer where management had an offer (perhaps Matt Dumba) that was worth having meetings over. I am pleased the club decided to hold back their water and keep Nuge, because he is hellauseful on this club. If the young man can avoid injury and illness this coming season, the Oilers could be in playoff contention come the trade deadline. I believe it could happen.
WHAT IS UP, DAVID MUSIL?
The deadline for accepting qualifying offers expired yesterday afternoon, and we still have no news about David Musil. My guess is that he accepted and we will see an announcement in the next while. I have a story written for ON that will be up in the moments after we hear, and will post something here at 5pm—Musil news, if any, probably making up a big part of that post.