On the day Edmonton won the McDavid lottery, we all agreed that the Oilers would do well in free agency. The big additions (Andrej Sekera, Milan Lucic) have been good players in their 20s—players out of reach in the pre-McDavid era.
OILERS IN FREE AGENCY, 2015 AND 2016
July 1, 2015—Signed D Andrej Sekera to a six-year deal. (Age 29)
July 1, 2015—Signed C Mark Letestu to a three-year deal. (Age 30)
May 7, 2016—Signed L Drake Caggiula to a two-year deal. (Age 22)
July 1, 2016—Signed L Milan Lucic to a seven-year deal. (Age 28)
July 1. 2016—Signed G Jonas Gustavsson to a one-year deal. (Age 31)
I do believe Edmonton as a destination changed the moment McDavid was secured via the 2015 draft lottery. Sekera and Lucic are Oilers, and I think you can credit 97 for the Caggiula signing as well. Letestu feels like a contract that could have been signed before Bill Daly became a provincial hero, and Jonas Gustavsson is surely an outlier in this group. Do the Oilers have one more free agent grab in them this summer? If you include all of the bonuses, it becomes tough sledding.
PROJECTED LINEUP 2016-17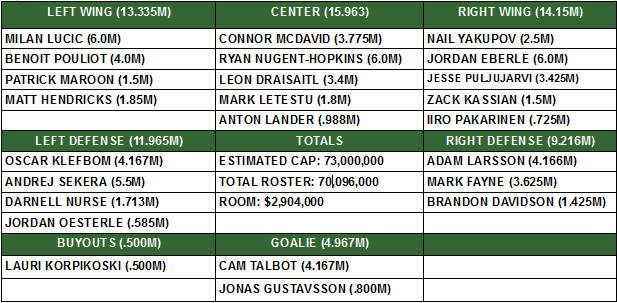 If my math is correct, we are going to be dealing with about $3 million in space if Edmonton rolls out opening night as above. That is a reasonable cushion, and of course I do not think they are done. Players on this roster who are vulnerable?
Benoit Pouliot. If there is a Cam Fowler trade (or similar), Edmonton probably sends a LW to Anaheim. There is (likely) enough depth to cover off this kind of trade, with Patrick Maroon moving up, and one of Drake Caggiula, Jujhar Khaira or Iiro Pakarinen stepping in as 3L.
Nail Yakupov. I believe the Oilers entered the summer thinking the Russian would be moved, and that could very well happen. Hall's exit may give him another life, as Edmonton needs shooters—even wildly inaccurate ones.
Matt Hendricks. If Peter Chiarelli is looking to shave $1M from the roster, Hendricks would be a candidate. Although the loss of experience would be difficult to overcome, the 3 and 4 lines got caved a year ago so bringing in Khaira as 4L may not be the gap the heart suggests.
Anton Lander. I genuinely hope the Oilers give him another chance, but all bets are off and his season was so bad one can't bitch if they cut him loose.
MORE DEFENSE!
Chiarelli to Bob Stauffer: "Notwithstanding the cries of protest for a power play specialist, I'd be very satisfied with where we sit today. We're getting Oscar Klefbom back. He's a helluva defenceman. It's going to take him some time to get him up and running. He missed a lot of games last year. We've brought in Adam Larsson, a high pedigree player, although not as well known to this community as in other hockey circles. He's a right shot, that's important in the righty/lefty scheme of things. He can play an offensive role. No, he's not an offensive specialist. He can play on a power play. No, he's not a power play specialist. So all things being equal, if we were to start today with our 'D' I'd be quite happy. I'd be very happy. Yes, I'd like to try to get someone that can compliment a power play and push the puck up to the forwards. That's no secret. We will continue to look at. There's still a couple that are out there. They are hard to find." Source
PC could be bluffing, but I do believe RNH has been pulled back from the trade pile. That leaves Poo, Nail and the 2017 first-round selection—and dammit I bet Brandon Davidson could be had but that is a bad idea. Seriously. Terrible plan. So count on it happening.
THE CHIARELLI LIST
Top-pairing RHD (Two-way skills—Adam Larsson)
Find a replacement for Taylor Hall (Milan Lucic)
Second-pairing RHD (Offensive defenseman)
Acquire RHC with some skill
Backup goalie (Jonas Gustavsson)
An unfinished summer, and one that offers painful solutions to the problems facing the team. Five years from now, we may have talked ourselves into the trade being justified—but it is important to remember the initial reaction to the trade and to hold that in your mind. It was not good value, and the only safety valve available to the GM is winning. Peter Chiarelli did the bold, now he needs to deliver the beautiful. He is not finished yet, although the other pieces do not appear to be on the immediate horizon.
THE CHIARELLI EXTENDED PLAY LIST
Add a "Pisani" who can mentor, score 15, and play a two-way role up and down the lineup.
Re-stock the shelves via the draft (Puljujarvi and the entire draft)
Improve overall team speed (Puljujarvi but lost Hall)
Offload Lauri Korpikoski (Bought out)
Improve goaltending depth (added Nick Ellis, Gustavsson).
Improve AHL quality (Caggiula, Russell, Ellis, Gustavsson, Fraser).
Cull the LHD herd (have, in fact, added to the LHD group).
As is the case with the major list, the current photo looks unfinished and decidedly unsatisfactory. Such is the life of a GM trying to build on the fly. The McDavid hurried up everything, especially sedan delivery. Music! Stat!
@adater @KCAvsFan9 Why don't avs get assets for him now like EDM 2017 1st and say Davidson, Yakupov. Then oilers can offer 6M per to Barrie

— Jere (@Jacson02806727) July 17, 2016
THE ASSETS LIST
Cap space*
Benoit Pouliot
2017 1st round selection
Nail Yakupov
Taylor Hall
Mark Fayne
Griffin Reinhart
The cap space only works if Edmonton is willing to send down Puljujarvi and others to avoid that bonus worry—and I do believe that option should be in play, depending on return. We should entertain the idea that a LH option comes in (Cam Fowler) and that in a Tyson Barrie deal, Brandon Davidson could be part of it. Davidson is an insane value contract, a top 4D option for the future and a home grown home run. Trading that deal may send this team into cap oblivion, but it could happen just this way.
A few notes to close:
As God is my witness I've no idea what is going on with the David Musil contract. If he accepted the qualifying offer, we would know (right?). If he rejected it, that could mean a contract that offers more for less (one-way? more AHL money?) is in place. We wait.
I have chosen the RE songs. We sail tomorrow morning with the leading scorer for 2016-17.
More at 5, sooner if something happens.