It was music—wonderful glorious music—but the season was cut in half and hopes dashed because of it. Connor McDavid came as advertised—the pure speed, the creativity, the ability to do things fellow competitors were astonished by—it was, and is, intoxicating. In a world in which disappointment is the default position, Connor McDavid delivered beyond wildest expectations. He is a pure delight, he is an Edmonton Oiler. (Hallelujah)
CONNOR MCDAVID, 2015-16
5×5 points per 60: 2.69 (1st among regular forwards, No. 2 NHL)
5×4 points per 60: 6.68 (1st among regular forwards, No. 6 NHL)
Corsi for 5×5 %: 51.3 (3rd among regular forwards)
Qual Comp: 4th toughest competition among regulars (2line)
Corsi for 5×5 % REL: 13.6 (1st among regular forwards)
Shots on goal/percentage: 105 shots/15.2%
Boxcars: 45, 16-32-48
(All numbers via Stats.HockeyAnalysis.com and BehindtheNet.ca)
VOLLMAN SLEDGEHAMMER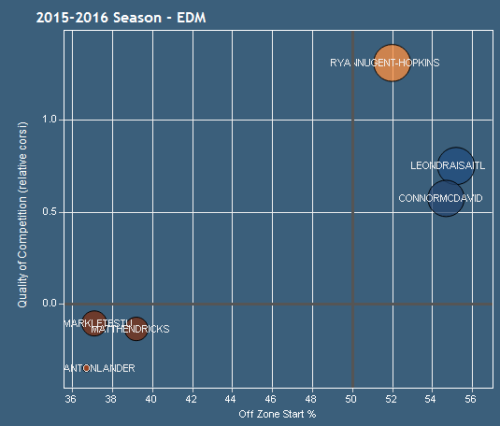 RE 16-17: 72GP, 33-54-87 (1.21)
Are you sure that's enough? Incredibly, no. I was way wrong last year, estimating his points-per-game at .886—he blew that away, posting a 1.07 total. I am trying to project greatness in real time, crazy for trying.
What kind of company did McDavid keep as a rookie? Since the turn of the century, the top four points-per-game totals by a rookie are Ovechkin (1.31), Crosby (1.26), Malkin (1.09) and McDavid (1.07).
So, we should expect Malkin? No. Malkin was 20 as a rookie, McDavid was 18—a large difference. Ovechkin was also 20.
What can we reasonably say? He is chasing Crosby among rookies this century, no others.
Is he Crosby? We will find out, but he has the ability to be as good or better. Connor McDavid is already supernova, they are working on a word to specifically describe the next step.
Abyss? Need something sexier. Try Absolute Magnitude. Or twitterpated.
You sure do like twitter. (Blinks)
Who did he play well with? Everyone. Very successful with Jordan Eberle, Benoit Pouliot, Nail Yakupov, on it goes. Fantastic player.
Ideally, who does he play with next year? Trick question. If you have no worry about other lines? Milan Lucic and Jordan Eberle.
Ah, you want to spread out the scoring. McDavid is a player who should be able to drive possession and results with lesser players. Edmonton would be foolish to ignore that advantage.
Crosby plays with two guys making 90 grand? Oh no, Crosby plays with excellent wingers. Patric Hornqvist ($4.25M) and Chris Kunitz ($3.85M) were his most common linemates. Crosby also played over 100 minutes with Phil Kessel ($6.8M), Pascal Dupuis ($3.75M), David Perron ($3.75M) and Beau Bennett ($750K). He also played with Conor Sheary during the year and in the postseason. He makes $667,500.
So, Lucic and McDavid with Tyler Pitlick? No. I do think Edmonton is wise to audition players with 97, though. There is an enormous opportunity to add a value contract if (say) Nail Yakupov, Drake Caggiula and others.
What about Leon? Leon is difficult because a big season with McDavid means his next contract explodes. Nail is less of a risk, because I think Edmonton trades him or puts him in the expansion draft next summer.
No matter what? Pretty sure.
Back to McDavid. Can he score 100 points? In the last five seasons, 100 points have been posted by Patrick Kane (once), Sidney Crosby (once), Evgeni Malkin (once) and Daniel (once). Rare air, ladies.
Crosby scored 100 points in each of his first two seasons. It was a higher scoring league at that time. In 2005-06, the average NHL team scored 253 goals. In 2015-16, the average NHL team scored 222 goals (as per hockey-reference).
And here comes the math excuses! I think reasonable people (and that is all this blog attracts) will see those numbers and understand there is a real and significant gap.
Can he help the power play? Oilers power play was fab when McDavid was healthy.

Jonathan Willis

: Edmonton's power play fires 63 shots per hour. When he isn't on the ice, Edmonton's power play fires 45 shots per hour. That's insane. Source
How many power-play points? I have McDavid going 7-22-29 with the man advantage, 2-0-2 on the PK (both against Calgary) and 24-32-56 at even strength.
If he had played 82 games, what would McDavid's numbers have looked like in 15-16? If we simply multiply his 45 games by 82 using the boxcars, we get 29-58-87.
Holy crap. Holy crap, indeed. Ironically, that is the season I am projecting for him, although in 72 games (making allowances for injury, and projecting progress along with it).
Those damned Flyers! The injury obscured so much goodness about this young man, but for me the way he handled himself was also a revelation. Great hockey players get neither too high nor too low, they respond in the moment and have singular concentration on the task ahead.
Are we getting poetic already? Where you been?
Will he play 82 games? McDavid has no complete season in his last three campaigns, so betting on it is not wise. That said, I think experience is a teacher and am projecting him to play 88 percent of the season.
Why this song? Because Jesus Christ, Superstar was written by a Brit, and we are featuring Canadian music this summer.