We are now in the dog days of summer, with news arriving by dog sled and stories of little note (David Musil signing imminent! Could be Oesterle-level!) being blown out of proportion. Senators and Rangers fans received a fabulous bit of news to discuss yesterday, perhaps Oilers fans will get something to discuss today or in the near future. What news would you most like to see this week? Oscar Klefbom gets a clean bill of health? We won't know until training camp, but that is the kind of news we could all use this week.
PREDICTING THE ROOKIE CAMP ROSTER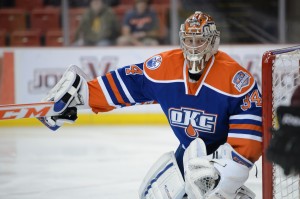 Bunz photo by Rob Ferguson
ROOKIE CAMP 2010 FALL ROSTER
GOAL: Olivier Roy, Tyler Bunz, Bryan Pitton
DEFENSE:

Jeff Petry

, Johan Motin, Alex Plante, Jordan Bendfeld,

Brandon Davidson

, Jeremie Blain,

Martin Marincin

, Dominik Schlumpf, Nolan Toigo, Dallas Ehrhardt
CENTER:

Chris VandeVelde

, Tyler Pitlick, Ryan Martindale, Milan Kytnar, Chase Schaber
LEFT WING:

Taylor Hall

,

Magnus Paajarvi

, Phil Cornet, Kristians Pelss, Drew Czerwonka, Curtis Hamilton
RIGHT WING:

Jordan Eberle

, Teemu Hartikainen, Cameron Abney, Mike Thomas, James Livingston
PROJECTED 2016 ROOKIE CAMP ROSTER
GOAL: Nick Ellis, Eetu Laurikainen, Dylan Wells
DEFENSE: Darnell Nurse, Joey Laleggia, Ben Betker, William Lagesson, Caleb Jones, Ethan Bear, John Marino, Markus Niemelainen, Matthew Cairns, Filip Berglund, Vincent Desharnais
CENTER: Jujhar Khaira, Bogdan Yakimov, Kyle Platzer, Marco Roy, Josh Currie, Tyler Vesel, Aapeli Rasanen
LEFT WING: Drake Caggiula, Jere Sallinen, Evan Campbell, Tyler Benson, Graham McPhee
RIGHT WING: Jesse Puljujarvi, Anton Slepyshev, Greg Chase, Patrick Russell, Joey Benik
Seven men from the 2010 rookie roster made the NHL at a good level, including No. 1 overall Taylor Hall. The 2016 (projected) group includes two players who should become significant NHL players (Jesse Puljujarvi, Darnell Nurse). Are there seven players? Who is the Jeff Petry in this group?
DARNELL NURSE
There are a group of people I count as being vital to the way I approach this blog and think about team building/decision making. Some you know, some you don't and some only get in touch when I post something so outrageous they feel a need to re-set my meds. I appreciate all of them.
To almost a man, my group of advisors believe the rookie season by Darnell Nurse was devastating to projecting him as an impactful NHL top 4D. I will tell you these are reasonable men, not prone to hyperbole or illogical bias (my blog displays far more of both).
POINTS-PER-GAME, NOTABLE ROOKIE BLUE
Johnny Oduya 2006-07 .145
Darnell Nurse 2015-16 .144
Jeff Petry 2010-11 .143
Martin Marincin 2013-14 .136
Source: hockey-reference.com

Nurse was struggling in the first 11 games, but the possession number was in the range of what you might expect from a 20-year old rookie, and he had three points in the first 11 games. How much of Nurse's final 57 games are about the player, and how much is about the position he was playing on the depth chart? I will have G Money and Woodguy on the Lowdown Thursday morning between 10 and 11, and this is one of the questions I have for these gentlemen. Can WoodMoney suss out complicated rookie seasons?
ALEX PETROVIC, OILER?
Beer League Heroes: I got word late last night from a source close to the team that the Florida Panthers have contacted the Edmonton Oilers regarding Nail Yakupov. The rumoured trade is being built around Yakupov, right-handed dman Alex Petrovic and a draft pick or picks could be coming back to the Oilers as well. The Oilers have also been talking to Brandon Pirri's camp, I imagine he'd be Yak's replacement if the Panthers deal goes through. Source
This is an interesting idea, as Edmonton would acquire a RHD and (apparently) a winger of value via free agency. Fascinating idea. I have no real opinion on the deal (no idea if this is an actual possibility), but let's run the numbers for each player.
NAIL YAKUPOV
5×5 points per 60: 1.35
5×4 points per 60: 3.46
Corsi for 5×5 %: 49.2
Qual Comp: 3line
Corsi for 5×5 % REL: 2.3
Shots on goal/percentage: 127 shots/6.3 percent
Boxcars: 60, 8-15-23
(All numbers via Stats.HockeyAnalysis.com and BehindtheNet.ca)
ALEX PETROVIC
5×5 points per 60: 1.00
5×4 points per 60: 0.00
Corsi for 5×5 %: 48.5
Qual Comp: 3rd pairing
Corsi for 5×5 % REL: -0.4
Shots on goal/percentage: 53 shots/3.8 percent
Boxcars: 66, 2-15-17
(All numbers via Stats.HockeyAnalysis.com and BehindtheNet.ca)
BRANDON PIRRI
5×5 points per 60: 1.31
5×4 points per 60: 3.96
Corsi for 5×5 %: 47.5
Qual Comp: 2line
Corsi for 5×5 % REL: -0.9
Shots on goal/percentage: 128 shots/10.9 percent
Boxcars: 61, 14-15-29
(All numbers via Stats.HockeyAnalysis.com and BehindtheNet.ca)
I have no source to suggest this deal is imminent or has even been discussed. That said, this is a deal (especially if picks are involved for Edmonton) that Peter Chiarelli should consider. I am not anti-Yak (despite many of you expressing that sentiment) but the idea of getting a young Petrovic has real appeal—and Pirri is a suitable replacement for Yakupov.
As for Florida, the return seems slight—although perhaps they are looking at that 6.3 shooting percentage and figuring the Russian can get 200 shots and 20 goals in a normal year. We are in the dog days of summer, the rumor may or may not be true. Interesting discussion, though.
LOWDOWN WITH LOWETIDE
At 10 this morning, TSN1260:
Jonathan Willis, Cult of Hockey. Oilers rumors, Sens-Rangers trade, holiday plans.
Jared Book, Bluebird Banter. Will the Jays make a move?
Russ Cohen, Sportsology. The Rangers and Senators made a very interesting deal, plus the blossoming blue for Philadelphia.
10-1260 text, @Lowetide on twitter. Talk soon!