They arrived with such promise, Taylor and Jordan. For as long as I live, the two kids (who grew to men here, in our town) will be linked—no matter the trades. The early days of promise gave way to frustration and losing and in the end, one man left and another man stayed. We all have our opinions on which man was blessed. (Helpless)
JORDAN EBERLE 14-15
5×5 points per 60: 1.97 (4th among regular forwards)
5×4 points per 60: 5.85 (1st among regular forwards)
Corsi for % 5×5: 50.4
Qual Comp: toughest among regular forwards (1st line opp)
Qual Team: 2nd best teammates among regular forwards (top linemates)
Corsi Rel: 7.7
Zone Start: 63.7
Zone Finish: 56.2
Shots on goal/percentage: 183/13.1%
Boxcars: 81, 24-39-63
JORDAN EBERLE 15-16
5×5 points per 60: 1.85 (5th among regular forwards)
5×4 points per 60: 4.17 (4th among regular forwards)
Corsi for % 5×5: 50.9
Qual Comp: 3rd toughest among regular forwards (1st line opp)
Qual Team: 3rd best teammates among regular forwards (top linemates)
Corsi Rel: 7.4
Shots on goal/percentage: 173/14.5
Boxcars: 69, 25-22-47
VOLLMAN SLEDGEHAMMER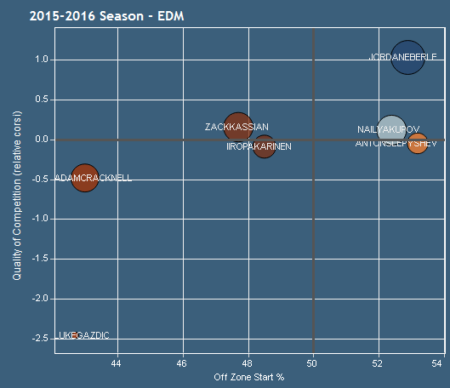 RE 16-17: 75GP, 27-34-61 (0.813)
You thought Eberle would be the man to be traded, didn't you? Yes. Wrote about it in the spring RE, assuming that a winger made more sense than a center.
Why did Eberle make it through the summer? A few reasons. The Oilers had Lucic as an option on LW, meaning Hall was perhaps more vulnerable.
Anything else? Eberle is a righty shooter, Edmonton has no other—or had none until draft night.
I think it is because Eberle works well with McDavid. Sure, that makes sense. The Duo was solid, with Eberle scoring 8 even-strength goals, posting a 2.64/60 points-per-60 total. McDavid-Eberle had the Corsi edge 5×5 for (52.2) with both men lesser without.
So you agree: Eberle with McDavid was the reason Hall was dealt? No, there is one other reason that makes sense.
What is the other reason? Value. Edmonton likely received stronger offers for Hall than Eberle—in fact, I would bet money on it.
What does Eberle do well? Score goals. He scores 28 goals per 82 games, that is a dandy total in the modern era. A lot of times guys like Eberle are called complementary players, but he has shown an ability to score when not on a feature line. Now, it is a damned foolish thing to do, but Eberle could score on a line that did not boast the team's top center.
Anything else? Most of his value is on offense, we all love his quick hands in close it is easy to overlook outstanding passing ability. He can really make plays.
What does he not do well? Most of the good offensive Oilers are not what you might call two-way types. Now, that can be overstated—if you are pushing the river then deficiencies without the puck are less harmful—but 14 doesn't interrupt sorties like Benoit Pouliot (as an example).
Your boxcars seem reasonable, maybe even a little low. I think Eberle and McDavid play most of the season together, but I am not certain it will turn out that way. I have hedged the bet, but only a little.
You don't think this team is going to score a lot. I believe the power play will improve this coming year, but the 5×5 total (the club scored 133 last season, No. 21 overall) will not spike. Edmonton wasn't a dynamic even-strength team a year ago, we will see if they can reach that (or eclipse) in the coming season.
Who are the other candidates for 97's RW? McDavid (5×5) played with RWs last season: Eberle (364 minutes), Nail Yakupov (205), Zack Kassian (38) and Iiro Pakarinen (24).
So, Eberle and Yakupov? Puljujarvi is also in the mix, but we can discuss that in due time.
How much will Eberle miss Hall? Well, he is (apparently) moving from the penthouse to the skyview, so miss may be a misrepresentation. That said, Eberle in six seasons with Hall delivered sublime offense 5×5: 29-25-54 (2.10 per 60) and 50.3 Corsi for 5×5 percentage.
Who are his comparables. Six years in, the list of comps includes Ales Hemsky, Mike Richards, Bobby Ryan, Matt Duchene. They are all good hockey players.
Do you worry about injury? Not really. The one he sustained last year was bad luck, or looked as much. He averages 77 games a year (if you adjust for the shortened season).
Will he score 400 goals in his career? Eberle will if he keeps falling ass over tea kettle into greatness—although in fairness, he can cash and that is important.
Will he score 400 goals in his career? At 25, Eberle has 145. By age 30, he should be around 240-250. That puts him on track for 400 NHL goals during his career.
Where would that put him in terms of all Oilers? If he scored 400 goals in the same uniform, Eberle would pass all but 99, Kurri and Anderson. Many miles to go.
What's the best thing you could tell a stranger about Eberle. He's a consistent offensive player and can be productive on a line that doesn't house his team's best player (proved that in 2014-15).
Why doesn't he get more attention? Oilers lose a lot, that craters all values, it just does. Plus, he's played a lot of his career with No. 1 overall picks, those guys get a lot of attention.
Who did he play well with last season? He was over 50 percent with pretty much everyone, and here are his 5×5/60s: McDavid 2.64; Nuge 2.23; Maroon 2.07; Pouliot 2.04. Silly good. Only played with Hall-Leon in a short window when he arrived back (iirc) and they were not good together, but would be if all the pistons are firing.
Where can he help the team most? I think it might be on a line with Nuge and Pouliot, but suspect Todd McLellan will place him with McDavid.
Mistake? No sin in placing your best player with the players who can help him succeed, and Eberle can in fact help with the offense.
Why this song? There is a melancholy to it, that is the theme of this summer's RE. A sense of sadness, even with the acknowledgement that things change, followed by renewal. Plus, being a prairie boy, he will be familiar with staring at the sky and wondering, as NY does in the song. This was a tough six years for Eberle, I hope he finds a better day with Edmonton.