If no changes come, the Edmonton Oilers opening night lineup should be more balanced than one year ago. That isn't the same as saying the trades and free-agent additions guarantee a playoff spot—and does not excuse the price on Larsson—but balance is stronger now than a year ago.
OILERS PROJECTED OPENING NIGHT ROSTER

I still believe we will see a James Wisniewski (or higher) added later this summer, but this is my projection for the RE. The team remains short in several areas, including a puck mover on D and a two-way RW/C—but there is time and those things may be addressed.
POSSIBLE RIGHTIES
Jacob Trouba, Winnipeg Jets. Could the Oilers acquire him?
Ryan Murphy, Carolina Hurricanes. Some chaos, but good speed and puck-moving ability.
Brandon Montour, Anaheim Ducks. This could be a special player.
Ryan Pulock, New York Islanders. Big shot from the point has high value. Very young.
Jakub Nakladal, Calgary Flames. Intriguing player.
Ryan Sproul, Detroit Red Wings. Puck-moving defender in the AHL.
Jordan Schmaultz, St. Louis Blues. Puck-moving prospect.
Ville Pokka, Chicago Blackhawks. Young defender in the Chicago system.
James Wisniewski, Carolina Hurricanes. If healthy, depending on price, interesting name.
Dan Boyle, New York Rangers. Retiring, but he is the player they are looking for—early, not late in his career.
Dennis Wideman, Calgary Flames. A year removed from a fantastic offensive season.
Cam Fowler may be the best puck mover available, and Edmonton may pursue him because of need. Acquiring a righty would make the roster more balanced while also allowing Klefbom, Sekera and possibly even Davidson to play on their natural side.
PROJECTED CONDORS 2016-17

The Bakersfield Condors should be a good hockey club, if the Edmonton Oilers can manage to keep the kids on the farm. They tried a year ago, with both Leon Draisaitl and Darnell Nurse on the opening night roster. This time, the possible impact AHLers include Drake Caggiula, Anton Slepyshev, Jujhar Khaira, Griffin Reinhart and Laurent Brossoit.
CONDORS OPENING NIGHT 2015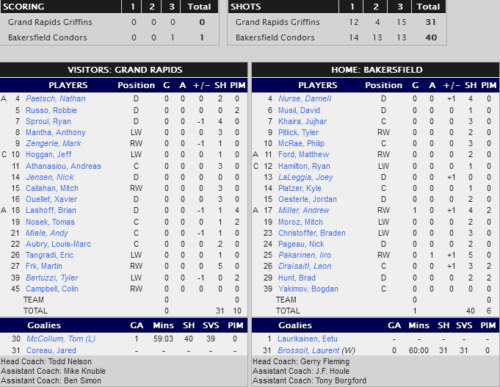 This is a pretty solid lineup for an AHL team. Top prospects included Leon Draisaitl, Darnell Nurse, Jujhar Khaira, Iiro Pakarinen, Bogdan Yakimov and Laurent Brossoit, among others. This season, the club should have some terrific additions, including some incoming forwards (ranked by NHLE):
L Drake Cagguila 22-22-44
R Patrick Russell 17-17-34
L Jere Sallinen 10-15-25
GRIFFINS VERSUS CONDORS, 2015-16
This is the third year I have looked at the developing talent on the farm for Detroit and Edmonton. Here are my conclusions from each of the last two years:
August 2014: The Oilers are not in Detroit's league in terms of development, but they are improving. This isn't a MacT versus Tambellini issue, both men had the task of crawling from the wreckage of the team put to sleep a decade ago. That kind of shortsighted move by ownership (EIG) cost Edmonton a generation of talent, and impacted kids from 2002 to 2007. Not having structure, having to rebuild what other teams had established and cultivated for decades, had a tremendous impact on the prospects and the NHL team. Source
August 2015: If there was an expansion draft and all of these men were available, I think Pulkkinen goes No. 1 for sure. After that? Solid young options on both sides and you could make a case for the Oilers having as many good arrows as Detroit from the AHL. Source
GRIFFINS PROSPECTS 2015-16
L Anthony Mantha, 20. 62GP, 21-24-45. He scored .5 points-per-game as a rookie pro, and then stepped up to .726 points-per-game this season. I don't really know the line in the sand for NHL players in pro+2, but progress is good and he stepped forward this year.
L Tyler Bertuzzi, 20. 71GP, 12-18-30. Rookie pro played his rugged style (133pims) and scored some, plus potted seven goals in nine playoff games. His .422 points-per-game seems shy if he is to have a top 6F role, but his skill set will fit well on a checking or fourth line when he arrives in the NHL.
R Martin Frk, 21. 67GP, 27-17-44. What a strong second pro season! He was in the ECHL in 2014-15, and this year Frk was scoring 27 goals in the AHL. Back on track as a prospect.
C Andreas Athanasiou, 21. 26GP, 8-8-16. A year ago I wrote 'he has the look of one of those two-way steals Detroit somehow finds' and it turned out to be true. NHL this year: 37GP, 9-5-14. Terrific pick from the fourth-round in 2012.

D Ryan Sproul, 22. 75GP, 12-23-35. Puck mover recovered from a subpar second AHL season, and I think he might make the grade in the fall. He is waiver eligible and certainly has enough talent to be grabbed if made available.
D Robbie Russo, 22. 71GP, 5-34-39. Red Wings signed former Islanders draft pick out of college and he took to the AHL lick a duck to water. He might be a better prospect than Sproul.
D Xavier Ouellet, 22. 61GP, 4-25-29. He appears to be making progress but has played only 30 NHL games (second-round pick). It is unknown to me where he ranks on the Detroit depth chart but his resume suggests he could have an NHL career.

C Tomas Nosek, 23. 70GP, 15-15-30. Undrafted free-agent from Czech, he has good size and is regarded as a good play-making center. Two AHL seasons have been about the same.
Eight players at the pro level, and I think you can reasonably argue six of them took substantial forward steps. Two others, Ouellett and Nosek, are gaining experience and remain legit prospects.
CONDORS PROSPECTS 2015-16
C Kyle Platzer, 20. 48GP, 6-11-17. He has a solid two-way reputation and entered pro hockey after a strong junior year. His points-per-game (.354) is shy offensively, so we can't count him as being on par with Bertuzzi after year one. A promising prospect, but he will need to force his way up the depth chart.
C Bogdan Yakimov, 20. 36GP, 5-10-15. His rookie season saw Yakimov post a .491 points-per-game total—on par with Anthony Mantha. This year, he struggled, then bolted to the KHL before returning. His points-per-game total (.417) lost ground and we are at an early crossroads with this player.
R Greg Chase, 20. 19GP, 1-6-7. Young winger spent most of the season in Norfolk, but should get a solid chance in Bakersfield this winter. He has no draft pedigree, but his points-per-game (.368) is equal to Platzer. Both men trail Bertuzzi.
C Jujhar Khaira, 21. 49GP, 10-17-27. His .551 points-per-game this season represents a real step forward for this player. Khaira has the traditional problem with Edmonton's AHL prospect forwards (light bat), but the gap may not be so large he cannot make the grade. The most promising season in Bakersfield's prospect arsenal.

R Anton Slepyshev, 21. 49GP, 13-8-21. A bizarre stretch in California obscures this winger's offense. He is clearly more talented with the puck on his stick than most (if not all) Oilers forwards, but this was a wildly disappointing AHL debut.
L Mitch Moroz, 21. 40GP, 5-5-10. He did improve offensively year over year (from .131 to .250) but that total is not NHL calibre.
D Griffin Reinhart, 21. 30GP, 2-8-10. He fell points-per-game year over year (from .373 to .333) and had his wobbly moments in the AHL. I think he will get another half season in Bakersfield and one hopes he dominates.
D Dillon Simpson, 22. 57GP, 4-16-20. He improved year over year at points-per-game (from .242 to .351). We don't know how far he can go, but this is five years now where he has made progress. Impressive.
D David Musil, 22. 67GP, 3-11-14. Defensive defender has probably done all he can do in the minors, but the way to the NHL is unclear. I think he is probably a terrific AHL shutdown blue, but every team has those guys.
G Laurent Brossoit, 22. 31GP, 2.66 .920. One of the encouraging signs from Bakersfield last year, Brossoit has now built a solid resume. A late-season NHL audition perhaps takes some of the shine off, but I think the Oilers have played it mostly right with him and he may have a career.
D Jordan Oesterle, 23. 44GP, 4-21-25. He improved markedly year over year in points-per-game (.377 to .568) and he has improved defensively.  Still plenty of work to do on the defensive side, but there are offensive openings. Oesterle's offensive numbers this season are better than any Griffins in points-per-game.
Eleven players, but far fewer who had positive arrows compared to Grand Rapids. I would say the best arrows of the Edmonton group (Laurent Brossoit, Jordan Oesterle and Jujhar Khaira) are all at least slightly behind the Big 6 of Grand Rapids. If you are an Oilers fan, the hope (I think) should be that Griffin Reinhart, Bogdan Yakimov and Anton Slepyshev spike in 2016-17.
SUMMARY
Detroit's prospects look stronger by some margin. If there was an expansion draft, I would rank the players thusly:
Anthony Mantha
Andreas Athanasiou
Griffin Reinhart
Robbie Russo
Jujhar Khaira
Jordan Oesterle
Ryan Sproul
Laurent Brossoit
Tyler Bertuzzi
Anton Slepyshev
FINDING KRUG
The Oilers badly need a puck moving option who can play real minutes—something Peter Chiarelli managed in Boston when signing Torey Krug. Kirk Luedeke has a very good article on him here, very worthwhile read.
LOWDOWN WITH LOWETIDE
A fun show with great guests, 10 this morning on TSN1260. Scheduled to appear:
Bruce McCurdy, Cult of Hockey. How much does balance matter?
Andrew Bucholtz, 55-Yard Line. CFL Week 5 on the way.
Jeff Krushell, Krush Performance. Jays at the trade deadline, when do bats begin to slow (impact player division).
10-1260 text, @Lowetide on twitter. See you on the radio!