Welcome to the first discussion of the Las Vegas expansion draft, or as you will come to know it, 'Cleanup on Aisle 3' if it holds to form. The first thing to remember: For the Edmonton Oilers organization, Las Vegas is the enemy. The idea? Send them overpriced junk, and plenty of it. If you have a romantic idea about Vegas getting a fair shake, please, please, please reconsider baby.
REACH FOR THE SKY, SUCKER
The first modern NHL Expansion Draft consisted of 20 rounds, and took place on June 6, 1967. Montreal Canadiens GM Sam Pollock was the man in charge of putting together the draft rules and set about formulating a plan that would be approved by the board of governors while allowing Montreal to retain all of the top flight talent, major and minor leagues. Protected lists and ineligible lists for 1967 are here.
At first each of the established teams were going to be permitted to protect 8 skaters and 1 goalie, but the original 6 teams felt it was too harsh and they moved the bar to 11 skaters, 1 goalie, and any junior aged players signed the previous season. ALL of the NHL teams benefited from the junior age rule, Boston didn't need to protect Derek Sanderson or Bobby Orr, Toronto had no need to protect Jim McKenny, New York didn't have to find a slot for Billy Fairbairn or Walt Tkaczuk. A full list (or close to) is available in volume one of this series.
Montreal was still very vulnerable though, owing to the rich junior and minor league system they had built up over time (the Habs had two AHL teams and a couple in the old WHL they would send extra prospects to like the Seattle Totems) and Pollock came up with a plan that went like this (courtesy Montreal Gazette, June 5, 1967): those who played pro hockey for the first time in 66-67 are exempt from being drafted until the eastern (established) clubs have 2 goalies and 18 other players on their list. Hence the Canadiens do not have to protect rookie Rogie Vachon until they've lost a goalie, or players such as Bob Lemieux, Carol Vadnais, Serge Savard and Danny Grant until they are nearing completion of the 18-man roster. This may be one of the smartest moves by a General Manager in the game's history, and it saved Montreal from losing the names above, plus Jacques Lemaire and others. The Habs had the deepest system, Pollock was given permission to protect his empire, and he did—effectively changing the balance of power for the next one dozen seasons. These are the facts as we know them today. More expansion history in the days to follow—and we will get into this a lot once the final expansion rules are agreed upon. Expect minor changes throughout 2016 and then some criminal changes in the weeks before the expansion draft.
PSST! THE ANSWER IS REINHART
The thing to remember about Edmonton in this expansion draft is that the priority is to lose a big contract, and the goal is to protect all (ALL) contracts of real value.
CURRENT RULES
Clubs will have two options for players they wish to protect in the Expansion Draft:
a) Seven forwards, three defensemen and one goaltender
b) Eight skaters (forwards/defensemen) and one goaltender
All players who have currently effective and continuing "No Movement" clauses at the time of the Expansion Draft (and who to decline to waive such clauses) must be protected (and will be counted toward their club's applicable protection limits). (Milan Lucic, Andrej Sekera and Cam Talbot)
All first- and second-year professionals, as well as all unsigned draft choices, will be exempt from selection (and will not be counted toward their club's applicable protection limits). (Connor McDavid, Darnell Nurse plus all of the 2014, 2015 and 2016 draft picks not including Leon Draisaitl).
This is my understanding of the Oilers situation. I will do two protected lists, one for each of the categories above:
7F,3D,1G—Cam Talbot, Andrej Sekera, Oscar Klefbom, Adam Larsson, Ryan Nugent-Hopkins, Leon Draisaitl, Milan Lucic, Jordan Eberle, Benoit Pouliot, Patrick Maroon, Zack Kassian.
If Edmonton goes this route, the club will lose Brandon Davidson. Even exposing a player like Benoit Pouliot or Patrick Maroon would not be enough. If Edmonton goes this route, and Davidson is not chosen, expect the two teams to make a deal after the expansion draft (Edmonton sending away compensation).
8S, 1G—Cam Talbot, Andrej Sekera, Oscar Klefbom, Adam Larsson, Brandon Davidson, Ryan Nugent-Hopkins, Leon Draisaitl, Milan Lucic, Jordan Eberle.
In this scenario, Edmonton is hoping to send away Benoit Pouliot ($4 million) and the expansion team's list probably includes Griffin Reinhart, Laurent Brossoit, Jordan Oesterle, Jujhar Khaira and Nail Yakupov. Why? Las Vegas can sign their own free agents, why grab everyone's $4 million dollar winger? For the record, I would in fact grab a player in his early 20s. The best available veterans (Pouliot and Fayne) will be duplicated across many rosters, and those contract totals are going to add up quickly. I think the answer is Reinhart, because he satisfies a real issue for Las Vegas:
The Las Vegas franchise must select players with an aggregate Expansion Draft value that is between 60-100% of the prior season's upper limit for the salary cap.
WOODMONEY!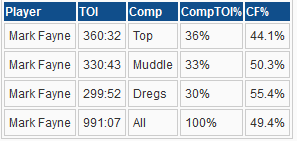 Via Because Oilers
On the show this morning between 10 and 11, Darcy McLeod (Because Oilers) and G (Oilers Nerd Alert) will join me in search of answers. The truth is out there, and we will find out what these men have been up to with their high powered computers and giant foreheads!
WOODMONEY OIL BLUE VS. ELITE

Based on my reading of The WoodMoney, the ideal pairing against the toughest opposition is Davidson—Larsson.
Klefbom and Sekera are the second most effective pairing against the toughest opponents, and Nurse would be No. 5. No idea if Sekera zoomed his number, but we are here.
Fayne and Reinhart should not be considered options against the toughest opposition based on the WoodMoney.
WOODMONEY OIL BLUE VS. MUDDLE

If Davidson—Larsson are fighting the toughs (as above), there are three reasonable options against the mid-level opposition.
Oscar Klefom, Mark Fayne and Andrej Sekera have good numbers in this area.
Nurse and Reinhart—rookies—are the least effective against this group, and that should come as no surprise.
WOODMONEY OIL BLUE VS. DREGS

If Davidson—Larsson and Klefbom—Sekera are the top two pairings, the third pairing may be Reinhart—Fayne based on these numbers.
If the top 6D are those men this fall, would you be surprised?
More this morning at 10!
DANGEROUS TALBOT
https://twitter.com/SteveBurtch/status/755934452136734720
One of the key players in Peter Chiarelli's 2016-17 season is Cam Talbot. Stephen Burtch posted these numbers last night and Talbot performs well in a three year window in HDSA. The larger the body of evidence, the more we can trust these numbers. Three years is a reasonable pile of evidence, and if Talbot can deliver three seasons as starter in this range there is some promise that this position is solved. A stronger backup option would have been the smart play, but (as I have mentioned) Laurent Brossoit is probably the backup for much of 2016-17.
ANOTHER DAY, ANOTHER NAIL
Jonathan Willis has a story up on Nail Yakupov and his gutter value in trade this morning, along with some discussion about the coming season. I have some hope that Peter Chiarelli brings Nail back and parks his ass on the McDavid line. Whenever I say that, comes the line 'he doesn't deserve the McDavid line!' and my retort is that we should look at it from a different view.
Jordan Eberle can make music on a line with Nuge and Pouliot, he has proven it. Nail Yakupov performed well with Connor McDavid, we have some evidence of it. It is not ideal—suspect the coach would prefer another—but this is still a building team and Nail Yakupov has more value than other teams are apparently giving him credit for at this time.
Nail on a scoring line gives Jesse Puljujarvi a chance to push up without pressure, and gives Yakupov a chance to increase his trade value. I do not see Yakupov as a long term solution—it is shocking he outlasted Taylor Hall as an Oiler—but increasing NY's value is just good business. It could happen just this way.
LOWDOWN WITH LOWETIDE
Hour 1—Woodmoney! Darcy McLeod (Because Oilers) and G Money (Oilers Nerd Alert) will join me for the entire hour to discuss their new measuring stick. We will not get into mind-numbing math, but will discuss the value of parsing these dangerous Fenwicks into three categories, and Dangerous Fenwick itself.
Jeff Veillette, Leafs Nation. What in the h-e-double-hockey-sticks is Lou doing?
10-1260 text, @Lowetide on twitter.