Since time eternal, the Edmonton Oilers have had a Lucic jones. I would venture the idea of getting him to our town preceded the Peter Chiarelli hiring—and I am dead serious. Milan Lucic is a damned good hockey player, full stop. The question we need to answer? How long will he be good enough for the McDavid line. (Blow at High Dough)
MILAN LUCIC 2015-16

5×5 points per 60: 2.04
5×4 points per 60: 2.83
Corsi For 5×5 %: 59.3 (No. 2 among regular forwards)
Qual Comp:  toughest among regular forwards (1line opp)
Qual Team: best teammates among regular forwards (top line)
Corsi Rel: 11.4 (No. 2 among regular forwards)
Shots on goal/percentage: 124/16.1
Boxcars: 81gp, 20-35-55
(All numbers via Stats.HockeyAnalysis.com and BehindtheNet.ca)
L.A. VOLLMAN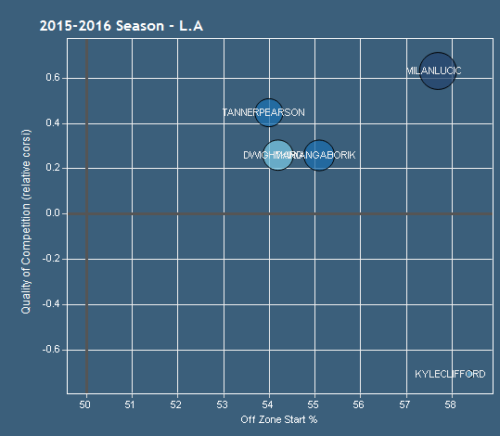 RE 16-17: 80GP, 22-39-61 0.763
You like this signing don't you? Yes. Now, I don't like the term, but Lucic is a unique player—and I am a fan of unique players.
How much is the deal? Seven years, $42 million.
Ouch! I predicted six times six, feeling the final three years would be at risk in terms of injury or erosion.
Too much, too long! I agree on the length, unsure if $6 million can be considered too much. Suspect that was the going rate for this player—but the length of the deal is an issue. I think we can safely say years four through seven are going to carry some hard times.
Your RE is farce. Clearly you're drunk to the point of incoherence. I gave Lucic a little push, but am fairly confident he will play with McDavid. That is going to push the offense some.
No, I mean he is going to score 35 goals. Well, no. Lucic has a career high of 30, so projecting him at 35 is unreasonable.
When he scores 35 goals, you will see. That isn't the point of RE. The point is to find a reasonable line in the sand. Now, he is playing with McDavid but this is not a good offensive team—not by a long shot.
What will you say when he scores 35 goals? I will say he crashed through reasonable, and I will congratulate him on his 25 percent shooting percentage.
McDavid changes everything! I agree, but we have already posted the McDavid numbers. Lucic will be a complementary player on his line and that will certainly help his numbers. I think Eberle scores more on the power play but Lucic is a dandy at even strength.
What is the breakdown in points for Lucic? I have him posting 10 power-play points (up from eight one year ago) and 51 at even strength (47 one year ago).
You are lowballing Lucic and you lowballed Eberle! I did nick Eberle a little because of uncertainty (McDavid line), but Lucic gets a full ride with 97 on this RE. He is going from a team that scored 233 goals to one that scored 199 goals. The two teams were closer to even at 5×5 (140 LAK to 133 EDM).
Face it Lucic came here to ride shotgun for McDavid. Why do people think this is a bad thing? Lucic is a good NHL player, top line winger. Can you show evidence that he is not capable? Just because I am not projecting 35 goals doesn't mean I dislike him.
Benoit Pouliot would have sufficed! Agree completely. One of the things I spent a lot of time on for the RE was trying to suss out Pouliot's handling. I used all of the LW McDavid minutes on Lucic—because my suspicion is Pouliot will be on the 2line with Nuge.
How does McDavid feel about Lucic? CM: "It kind of gives us that swagger, that meanness that we have been looking for. We tried to do that a little bit last year in adding a couple bigger bodies and it definitely helped, but now you have the addition of Lucic and those guys we added before. We definitely have that mean streak that other teams won't want to be pushing us around." Source
Is Lucic a good possession player? Oh yes, sure is. There is a bit of a zoom going on—ML plays with outstanding players—but he is no shy violet. Lucic might be the last bat on the line, but he can use the lumber.
Okay. I need the truth. What is the gap between Lucic and Hall? I am not qualified to answer that question.
Take a guess. I don't want to, it is a trap.
No, come on. I just want to know, curious is all. I won't overreact, honest. I would say Lucic is maybe 75 percent of Hall, although the comparison is difficult. Different player, but I will say he is capable of delivering enough to be considered in that range.
I knew it!!! Traitor! Oh dear.
You never liked Hall!! Ridiculous.
Larsson lover!!!! Do you hear yourself?
You prick! I did not like the trade, I believe it was telegraphed and showed a lack of patience. It does improve the overall depth and Larsson is an interesting player. We are going to need a year to see him, which is different than saying Edmonton could still win the trade—I do not believe that to be true.
You are kind of all over the place in this RE. Me?!!! Jesus, Mary and Joseph you have ranged from 'Lucic is going to score 35 goals' to ´he is JFJ No. 2!!' in this conversation.
You really see him getting 40 assists? I think he could get close, certainly closer than he will to 30 goals. That is my bet, based on his own past. McDavid can change things, and I have given Lucic higher numbers. I don't think Lucic will push toward 97's point totals, but he is going to be in on a lot of goals. He is a very good passer.
Why this song? My understanding of the song (it is a fantastic lyric) is that you should never get ahead of yourself and start believing your own b.s.—especially before anything is accomplished. It is also about a big event, a major moment in time that brings the community together, and I think the Lucic signing qualifies.
You seem conflicted about this summer. The idea of this blog is to be reasonable, to find the middle, and then digest it. There is no middle in this scenario and Lucic—who was not involved in the trade—may well be the lightning rod. It is difficult to say the price of the Hall trade—some believe it will cost a distant Stanley—and it is difficult to hold Larsson (or Lucic) up as a comparable.
What do you want to say? I can't lie to those who want to feel better about the Hall-Larsson deal, it was a major loss and a embedded-in-your-brain-memorable trade—you won't remember this era without recalling it. I also cannot deny the appeal of Milan Lucic to this team. So, we are just going to have to get along with our conflicts and find a way to get past this summer—an extremely difficult task.
And if we can't? Well, the blog has no plans to sail on, you have to make your own decision. And we are going to have to deal with Taylor Hall in many of these REs, because that becomes a central part of the story moving forward—today, and five years from today. The Oilers are likely to win more games this season, but did they cost themselves a Stanley in 2019 because of it? The story is such a distant bell that it becomes almost unimportant to the day-to-day—and yet that is in fact the big story. Now and forever.