At the beginning of June, Edmonton had a 50-man list of 38 players, 21 men who were associated with the organization but without a contract, and a bunch of issues. Here is a review of what happened over the last six weeks.
EXITING THE SYSTEM!
L Taylor Hall, expert river pusher now in swamp country.

L Lauri Korpikoski, bought out and looking for work.
D Adam Clendening. Not qualified, signed a two-way deal with NY Rangers.
L Luke Gazdic. Not qualified, signed a two-way deal with New Jersey.
R Adam Cracknell, Not qualified, signed a two-way deal with Dallas.
G Niklas Lundstrom. Not qualified, signed with Bjorkloven (Allsvenskan).
L Kale Kessy. Not qualified, destination unknown.
D Brad Hunt. UFA, signed a two-way deal with St. Louis.
R Andrew Miller. UFA, signed two-way deal with Carolina.
R Rob Klinkhammer. UFA, signed with Dynamo Minsk of the KHL.
L Daniil Zharkov. UFA, signed with Torpedo Nizhny (KHL).
D Adam Pardy. UFA, destination unknown.
D Eric Gryba, UFA, destination unknown.
D Nikita Nikitin, UFA, rumored to be heading to Omsk (KHL).
L Josh Winquist. minor league UFA, signed by Bridgeport (AHL).
C Marco Roy. minor league UFA, destination unknown.
G Keven Bouchard. Unsigned, now UFA and returning to QMJHL.
That is an amazing amount of movement in six weeks. Now, that isn't the entire story, because Edmonton retained some of the men who were looking for a job on June 3—and some of the names offer genuine surprises based on where we were a few weeks ago. I still think Gryba could be in play for an Oilers job.
Taylor Hall is the biggest name, of course. Edmonton traded (potentially) 328 games in his prime—and that cannot be pushed aside.
HA! HA! HA! HA! STAYIN' ALIVE!
R Iiro Pakarinen, signed to a $750,000 one-way deal.
R Tyler Pitlick. RFA, qualified and signed a $725,000 two-way deal.
D Jordan Oesterle, signed to a $585,000 two-way deal.
D David Musil, RFA qualified, signing is imminent.
L Ryan Hamilton. UFA, signed minor league deal with Bakersfield (AHL).
R Josh Currie. Signed an AHL deal with Bakersfield.
I was legit surprised Tyler Pitlick signed, he was passed by Iiro Pakarinen a year ago and once again had injury issues. As we will see in a moment, the RW side is well stocked—but counting on Pitlick is unwise based on his own inability to stay healthy. As someone who has believed he could emerge as an NHL player, sincerely hope this is the year he stays in the lineup.
David Musil is the final June 3 name unsigned (or cast away), but Edmonton qualified him and a contract will be along in due time I am sure.
CURRENT 50-MAN (WITH MUSIL)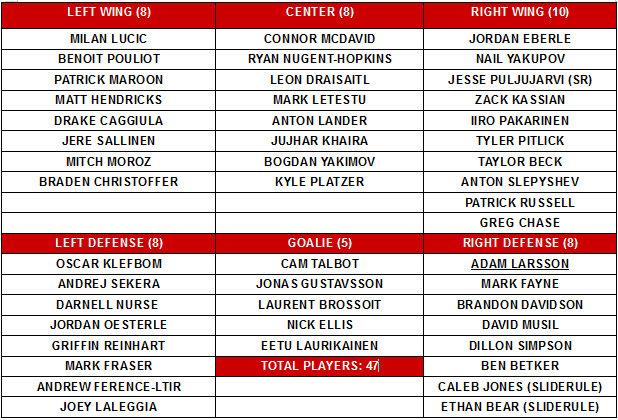 It is 47 deep, but the real current number is 45. Jones and Bear are slides that will happen. Some room, maybe two spots, as teams rarely end up at 50 on the nose.
I am going to guess that Todd McLellan will like Jesse Puljujarvi more than Nail Yakupov, but that is a guess. One thing I don't entertain as a possibility—but could happen—is Zack Kassian as the 2RW.
Other battles we may see in camp: Gustavsson—Brossoit, Nurse—Reinhart, Lander—Khaira and I imagine Drake Caggiula is going to push.
Jesse Puljujarvi will have a gigantic chance to make the team.
CHIARELLI'S OILERS

These are Chiarelli's Oilers. When it comes time to trade talk, it is wise to keep in mind these names were procured by the current GM.
Not all of the names omitted are likely to be dealt. It would be shocking to see Oscar Klefbom, Leon Draisaitl or Darnell Nurse traded, and I am quietly encouraged by the fact RNH remains on the roster.
Who could be vulnerable? Benoit Pouliot, Nail Yakupov, Mark Fayne—maybe even Brandon Davidson.
NAIL YAKUPOV
A lot of chatter about Yakupov as an option for the coming year, but it is important to keep in mind the player must earn the trust of the coach. I have talked and written about the possibly strong move (Yak with McDavid) but sincerely doubt Todd McLellan is entertaining that option. Seriously.
When it comes to discussion of skill spots right side this fall and winter in Edmonton, my guess is (and the RE will) focus should be on Jordan Eberle, Jesse Puljujarvi and Zack Kassian as the top options.