Todd McLellan found a microphone today, and a mid-summer media avail from the coach is like finding an ocean in the desert. Giddyup.
McLellan on Jesse Puljujarvi: "From what I've been told & seen, I think he's going to have a real good opportunity." Source
McLellan on Jesse Puljujarvi: "Jesse's played against men & I think that gives him a head start." Source
We have talked previously about how best to ease Puljujarvi into the Edmonton lineup. The team has several options, including NHL, AHL and back to Europe. I expect JP will receive every opportunity to make the big club (my RE has him playing a large percentage of the season). A very reasonable take by the coach, we should assume it will be business as usual (Puljujarvi will make the team) until otherwise informed.
McLellan on Nail Yakupov: "I believe in giving people opportunities to recover. Yak is working extremely hard this summer. "I know Yak has been working extremely hard. He's done some things that he hasn't done in the past throughout the summer — training in different areas. When he comes back, if that's the case, I want him to have success his teammates will want him to have success and it's a matter of finding that as quick as possible and we could use him."." Source
As we have discussed, the ideal solution for Edmonton is to bring Yakupov in and find a way to make things work. Seriously. I think the coach should be able to have the team he prefers, and if we find out McLellan just couldn't see himself deploying Yak, then I accept it. That said, it sounds like the coach would like another chance to make this work.
 OPENING NIGHT 2015-16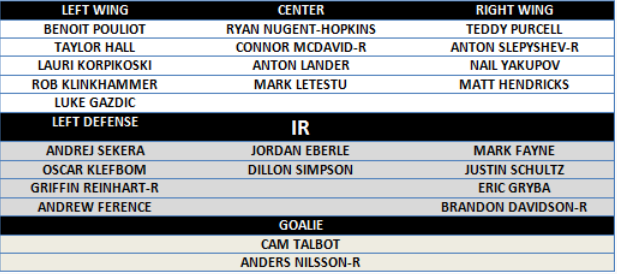 You know, it's funny how quickly we forget about things. I look back on the poor start in 2015-16 and think about the goalies, but in fact Cam Talbot had a helluva opening night. Jordan Eberle's injury surely had an impact and the team was unsettled everywhere but center, left wing and net. Balance and being ready for opening night: Pretty big things!
PROJECTING 2016-17 OPENING NIGHT

The projected roster does not yet have its IR (as above, with Eberle) and of course Hall is in New Jersey. I like the 2016-17 defense more by quite a bit—although a puck mover is still an area of need. I love the center depth chart, it is crazy good. I also like the LW group, the top three wingers there are good. RW is a strange brew, I honestly think you could see Yak, JP or Zack Kassian on 2R—maybe even Drake Caggiula, although that is a distant bell for opening night.
LARSSON
Todd McLellan on Adam Larsson: "We've got to take our time with him. I don't want to be bold and tell the fans and even his teammates that he's going to play in a situation or that situation. We've got to take some time with him and we've got to make him comfortable with what he does best, and that's playing regular minutes and penalty killing and playing a good defensive game." Source
McLellan has him marked and that is a good thing. He used the name Marc-Edouard Vlasic as a comparable, and in terms of deployment that is a nice description. This is not a dynamic offensive player, but he can help win hockey games. I am pleased the coach is slow playing the offense. Larsson is a fine NHL player, if you give him a chance you may grow to like him.