Many times in the last few years, people have asked me why I talk about adding a Pisani. What does that mean? Why is that player important? Below is my attempt to answer that question—and to offer an example of someone who could be a modern Pisani for the current Oilers.
During the time Fernando Pisani laced them up for the Edmonton Oilers, he was never the team's best player. Never their best forward, never their best right-winger. Pisani was an extremely valuable two-way player, offering enough offense to play regularly while also being comfortable in a support role.
He was a great mentor, and since he arrived as an older rookie, appeared to take a leadership role early. He spent a bunch of time in the early part of the century playing the responsible one while also helping coach up some pretty damned good NHLers, like Jarret Stoll and Raffi Torres. Fernando Pisani was a coach's dream: a veteran who could help shelter the young players and provide instant chemistry for whatever wayward soul the GM dragged in. Fernando Pisani: Mentor—with enough offense and two-way acumen to play in the big parts of the game.
FERNANDO PISANI'S OFFENSE
05-06 5×5 per 60m: 1.84
06-07 5×5 per 60m: 1.39
07-08 5×5 per 60m: 1.55
08-09 5×5 per 60m: 1.82
One of the things Pisani was able to do is score reasonably well at even strength, a discipline that the Oilers are not especially effective in these days. Pisani's 1.81/60 in 2008-09 placed him No. 2 among Oilers regulars that season.
PISANI, BY YEAR (points-per-game)
Age 19 35gp, 12-18-30 (.857) NCAA
Age 20 36gp, 16-18-34 (.944) NCAA
Age 21 38gp, 14-37-51 (1.34) NCAA
Age 22 38gp, 14-24-38 (1.00) NCAA
Age 23 52gp, 12-13-25 (.481) AHL
Age 24 79gp, 26-34-60 (.759) AHL
Age 25 41gp, 17-15-32 (.780) AHL
As you can see, Pisani had a solid offensive career in college, took a year to find the range in the AHL (might have been a TOI issue in year one), and then spent an extended period in the minors waiting for his chance. That famous overtime goal in the playoffs against Carolina came at the end of Pisani's second full NHL season. His rookie AHL season—.481 points-per-game—is lower than Jujhar Khaira and Tyler Pitlick in Bakersfield last season. There is a difference though: Pisani's college numbers suggested a very good player offensively. His NHL equivalency as a senior is 82gp, 17-17-34 using the modern Providence number. He could play.
Pisani per 82gp in the NHL: 15-15-30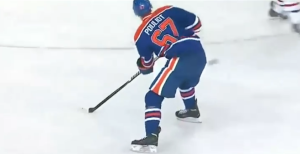 BENOIT POULIOT'S OFFENSE
12-13 5×5 per 60m: 2.51
13-14 5×5 per 60m: 1.75
14-15 5×5 per 60m: 1.93
15-16 5×5 per 60m: 2.05
Pouliot ranked No. 4 among Oilers regulars this past season, and is absolutely capable as an offensive winger. It should be mentioned that, as an Oiler, he has played with more impressive linemates than Pisani did during his Edmonton career. At least that is my assessment.
VOLLMAN SLEDGEHAMMER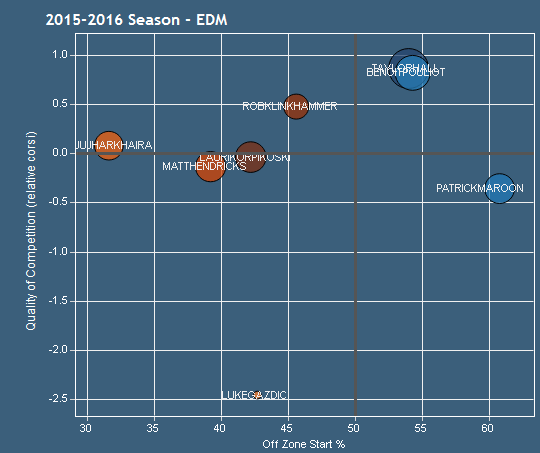 Benoit Pouliot could be a Fernando Pisani to Leon Draisaitl and Jesse Puljujarvi—as soon as this coming season. I know it is a helluva lot of money, but I think it would rattle and hum. The Oilers must think this way if the team is going to be competitive for longer periods of the game. If you look at last season's numbers, the gap between lines 1, 2, 3 and 4 in terms of possession were incredible. That 3line, the kid line, needs a Pisani. I think Benoit Pouliot—he of the $4 million contract—is a perfect fit.
It is a large investment, and Pouliot is perhaps better used on the Nuge line—I cannot argue it. That said, I have been asked several times recently about the best available Pisani out there—and for me, he is already on the roster. Benoit Pouliot can be that player, pretty sure. What I cannot answer? Can the Oilers afford to use him there.
BAKERSFIELD SIGNS FRANKIE SIMONELLI
I will talk to Kirk Luedeke on the Lowdown this morning about this player (mostly about Milan Lucic), but here are the bullet points:
He is 23, righthanded
5.11, 201
58 AHL games over two seasons, 3-8-11
EV strength Primary Points-per-game in 2015-06—0.95 (David Musil level)
Estimated time on ice: 19 minutes
Estimated points-per-60: 0.614 (David Musil level)
OILERS BRUINIZATION: NEXT STOP MARCHAND?
Shawn Hutcheon is a writer for TFP and ESPN, and is reporting that sources close to negotiations say Brad Marchand is seeking a monster extension from the Boston Bruins. Hutcheon reports 7-years, $49 million.
The Oilers added two former Bruins this summer (Milan Lucic, Jonas Gustavsson) and have three former Bostons from the Chiarelli era there (Benoit Pouliot, Matt Hendricks, Andrew Ference). Bakersfield signing Simonelli adds another player to the fold, although we may never see him in a regular-season game with the club.
I am a Bruins fan going back to Orr, and love Marchand as a player. I do not see a fit, certainly not for that kind of money and term. Peter Chiarelli may feel differently.
TYSON BARRIE ARB
Elliotte Friedman tweeted out the offer and ask for the Tyson Barrie arbitration hearing this morning—and it is a gap.
Team Offer: $4.0 and $4.25 million (two years)
Player Ask: $6.0 million
I think a two-year, $10 million contract ($5 million per year) is reasonable, but there are signs the Avalanche are not convinced of him. I wonder if they have 'challenged' him, that always works out well. If Barrie gets $6 million from the arbitrator, I can see the club taking two years and then trading him during the length of the contract. That does not help Edmonton in the short term, but Barrie has a good chance to be an Oiler at some point in the next 24 months. This is what I believe to be true.
LOWDOWN WITH LOWETIDE
A fun show today, 10-noon on TSN 1260. Bruce McCurdy from the Cult of Hockey will join me, we will discuss the Oilers incomplete summer plus the CoH prospect series that has just kicked off. Also on the show at 11: Kirk Luedeke, from Red Line Report, The Scouting Post, and New England Hockey Journal. We will talk about Lucic the man and the player, plus a little on Simonellli. 10-1260 text, @Lowetide on twitter. Talk soon!