David Musil signed today with the Edmonton Oilers, it is the kind of contract given out annually to a player who is in the mix for 7D on the NHL depth chart ($600k, per Bob Stauffer). That contract may be the last one he signs with the team. Musil will be waiver eligible this fall and the team will have a choice to make: Risk losing him or keeping him on the roster as a 7D or 8D. This is exactly what happened last fall with Brandon Davidson.
In an era where speed is king, David Musil is bucking the trend. Make no mistake about his potential, we're talking about a player who—if everything breaks right—will play in the NHL as a pure defender and PK man. That's a third pairing defender, along the lines of Ladislav Smid or Eric Gryba.
Peter Chiarelli and Todd McLellan did not bring him to the show during a season when blue were dropping like flies—and yet they qualified him. As is the case with Tyler Pitlick, Edmonton had a chance to walk him and chose not to do it. That tells me the club still believes in him on some level, hockey men have liked his defense from the start.
Red Line Report (ranked him No. 17 in 2011)—Maintains great gap control and always squares up to the puckhandler. Has good poise, plays solid, mistake-free game in own zone and is excellent positionally. Reads and anticipates developing plays well. Good laterally, but

1st step and straightaway speed are average

. Is not good as either a PP quarterback or trigger-man— has weak shot and makes poor decisions in puck distribution.
I always like to go all the way back to draft day scouting reports, it is extremely uncommon for players to shed those words. Musil has been in the minors for all but four games—and speed, plus the Leftorium, are the reasons why. I imagine the player and agent agitated for a one-way deal, but as it is this young man will have lots of competition for that job—in fact, Jordan Oesterle might have the inside track.
EVEN STRENGTH GF-GA (2014-15)
Oscar Klefbom (17-7) +10
Brandon Davidson (42-32) +10
Dillon Simpson (48-44) +4
David Musil (40-38) +2
Martin Gernat (37-37) 0
Brad Hunt (52-53) -1
Martin Marincin (16-21) -5
C.J. Ludwig (13-20) -7
Jordan Oesterle (39-47) -8
This is even-strength goals for-against while each player is on the ice. We don't have time on ice, qual comp, qual team or possession, but this does indicate that good things were happening with Klefbom and Davidson on the ice—both men moving up to the NHL in the following season. Source: Eric Rodgers.
EVEN STRENGTH GF-GA (2015-16)
Brad Hunt (57-50) +7
Joey Laleggia (54-50) +4
Dillon Simpson (43-39) +4
Darnell Nurse (6-4) +2
Colton Waltz (2-1) +1
Mark Fayne (2-2) 0
Martin Gernat (15-16) -1
Griffin Reinhart (22-24) -2
Caleb Jones (1-3) -2
Ben Bekter (6-9) -3
David Musil (46-50) -4
Jordan Oesterle (36-41) -5
Nick Pageau (8-14) -6
Nikita Nikitin (12-24) -12
Source Eric Rodgers
OILERS CURRENT 50-MAN LIST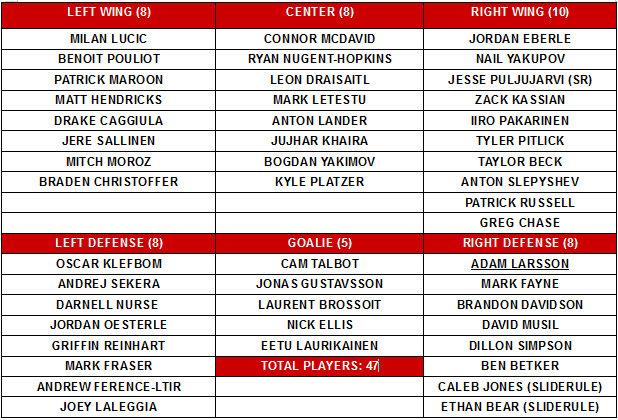 List is now complete, David Musil being the last RFA. Edmonton may still find time to add one of their own free agents (major or minor) and the team does have room (three slide rules, two of which are likely to do just that thing).
STRAGGLERS
L Kale Kessy. Not qualified, destination unknown.
D Adam Pardy. UFA, destination unknown.
D Eric Gryba, UFA, destination unknown.
D Nikita Nikitin, UFA, rumored to be heading to Omsk (KHL).
C Marco Roy. minor league UFA, destination unknown.