This is Caleb Jones. He could play pro hockey in 2016-17. He is signed, was drafted out of the U.S. National Development system and has an extra gear available to him—the AHL—unavailable to a player like Ethan Bear. Will that come in to play this fall? Unlikely, but the young man did play AHL hockey in the spring (3gp, 0-0-0) and is coming off a fabulous season. One of the reasons Jones is likely to stay? The Leftorium: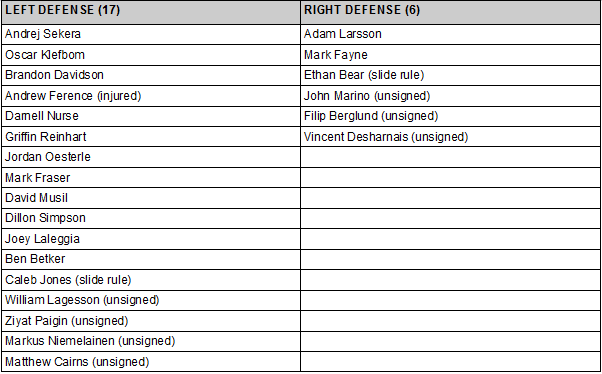 Here is the list of Oilers blue either signed, slide rule eligible, or unsigned. The ratio (basically three-to-one) remains out of time—but is a massive improvement over the spring depth chart. I estimated Jones would be the No. 12 lefthander on the pro list (Ference LTIR) and that probably means ECHL. I suspect he is looking at another year in junior (Jones had a strong year) and Edmonton—with a brand new contract hours away for Tyson Barrie in Colorado—looking at a PTO or smaller trade.
PTO!
The possibility of Edmonton inviting James Wisniewski to training camp—or signing him to a small contract with much of the deal bonus laden—no doubt has some appeal. What would Edmonton be getting in terms of outer marker? Well, Wisniewski was injured for basically all of 2015-16, so let's look back at the previous season and his player card:
5×5 points per 60: 0.91
5×4 points per 60: 3.94
Corsi for 5×5 %: 49.1
Qual Comp: 3rd pairing
Qual Team: 2nd pairing
Corsi for 5×5 % REL: 4.7
Shots on goal/percentage: 147 shots/5.4
Boxcars: 69, 8-26-34
(All numbers via Stats.HockeyAnalysis.com and BehindtheNet.ca)
The shot total (147) is about equal to Andrej Sekera for Edmonton last year (155) but Wisniewski has a terrific shot. The nature of his injury (ACL, left knee was torn) means the Oilers would have to see him on the ice and skating before a major commitment could be undertaken. Still, at this point, Wisniewski is probably the best choice. Other free agents I would like to see pursued:
Radim Vrbata. RW had a tough year in 2015-16, but he can shoot the puck. He might be a useful addition on a one-year deal.
Dan Boyle. RD is old as the hills, but some of the underlying numbers remain strong. I also really like the idea of Boyle training Edmonton's blue about how McLellan deployed him in San Jose. A lot of the outlets came via Boyle, evens and power play.
David Rundblad. RD is (at this point) a classic Glen Sather bet—Slats used to trade a load of hay for Donny Murdoch in hopes of uncovering gems. I would be onside with a contract for this player.
Brandon Pirri. LC remains available, inexplicably. I think Edmonton would be wise to sign him now, if available. You can never have too many scorers.
Jakub Nakladal. RD is a fascinating player. It could be an unwise investment (he played only 27 games) because he is not a puck mover, but he is an intriguing player nonetheless.
CERTAIN OILERS

Most of the roster is here, and the names not included (on the second page below) are fairly obvious. How many jobs are actually in play? More down the screen.
It is important to remember that injuries will play a major part in decisions. The 17 men listed here are unlikely to make the opening night lineup as a group due to injury.
In preparing for the RE, one of the things I looked long and hard at? Maroon as 2R.
UNCERTAIN OILERS

I have six jobs being open, and the race is on at: Backup goalie, 7D, 4L, 4R, and the two extra forwards.
My current bets are on Jonas Gustavsson, Jordan Oesterle, Matt Hendricks, Jesse Puljujarvi, with the two final forwards being Anton Lander and Iiro Pakarinen.
That isn't a sexy list, and I doubt it breaks exactly this way. JJ Khaira, Tyler Pitlick, David Musil and Mark Fraser could also push for jobs, and Griffin Reinhart may outplay others to the point where the organization is willing to bring him north.
THE DISTANT BELLS

I have included Bogdan Yakimov on this list, but his jump to the KHL likely disqualifies him from contention during the coming season.
Dillon Simpson's presence on this list might be a mistake, but the Leftorium is like a giant glacier and one doubts this will be a year for him to emerge in TC.
Nick Ellis is intriguing.