The summer sun is gifting us with incredible days and stormy nights, and the mind wanders away from hockey and onto other important pursuits. For the Edmonton Oilers, unfinished business hangs over these days and nights—the roster is incomplete in very important places, and the options available for just money are bleeding out onto other rosters.
Tyson Barrie's arbitration results will come down in the next 24 hours or so, and my guess is that Colorado opts for two years—and then trades Barrie one year from now. I think there is just one obvious name left.
JAMES WISNIEWSKI 2014-15
5×5 points per 60: 0.91
5×4 points per 60: 3.94
Corsi for 5×5 %: 49.1
Qual Comp: 3rd pairing
Qual Team: 2nd pairing
Corsi for 5×5 % REL: 4.7
Shots on goal/percentage: 147 shots/5.4
Boxcars: 69, 8-26-34
(All numbers via Stats.HockeyAnalysis.com and BehindtheNet.ca)
Klefbom—Larsson
Sekera—Fayne
Davidson—Wisniewski
That is a veteran group of defenders, and if Wisniewski can stay healthy there is an enormous opportunity for him. He could enter free agency in an expansion summer with 35-40 points on his resume. I honestly think this is a likely path at this point—unless Colorado does something rash. I would mention an Oilers offer sheet for an available restricted free agent, but it is such a distant bell.
THE LEFTORIUM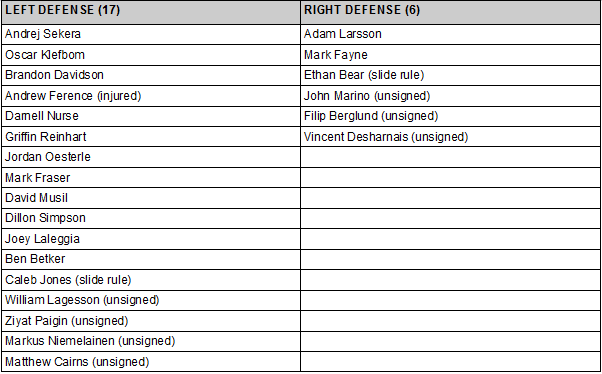 I think we are at a breaking point with this damnable graph. If Peter Chiarelli had a mind to do it, he could trade two LH defenders for a bona fide RH blue. Klefbom and Sekera are not going anywhere, and I remain somewhat convinced that Brandon Davidson will be in play at some point.
I have mentioned Davidson being in play several times over the spring and summer, and always get comments like 'you are nuts, Davidson has insane value, don' trade him!' I would remind you that my opinion (Davidson is an insane value deal) isn't really the discussion default point for this blog—the default is 'what might the Oilers do?' and in this way trading Davidson is a legitimate talking point. After PC traded Taylor Hall, who can reasonably argue against that point?
What would Darnell Nurse and Brandon Davidson get you in the way of a young RH defender?
VALUE DEALS
One of the things Edmonton lost in the Hall deal was a dandy value contract. Now, I happen to believe the Adam Larsson deal is a good one, but not at Hall levels. Without Hall, I could point to the Brandon Davidson and Patrick Maroon contracts, and of course Connor McDavid's contract is a ridiculous value for this and next season. After that? Klefbom could be (seriously) and we wonder about young men like Drake Caggiula. Trading Brandon Davidson is not a great idea, but I absolutely believe he is someone who could be in play. Why? I refer you to the Leftorium, and remind you that Oscar Klefbom and Andrej Sekera are here long term—plus Darnell Nurse and Griffin Reinhart represent Bruinization more closely than Davidson. It could happen, please understand that is different than me saying it will happen. You need to understand that Peter Chiarelli has shown a willingness to release the gold requested—and the past informs the future.
Talked with Klefbom who likes the Larsson-trade: "Hall never played his best games against the tough teams": https://t.co/atq2ebaJHE #Oilers

— Ola Winther (@OlaWinther) July 31, 2016
Ordinarily, I would tell my Charlton Heston story (actors who get political should be ignored with extreme prejudice) and we would move on. In this case, I would argue two things: First, there are often issues with language when it comes to what is actually said. Nuance, inflection, facial expressions, all of these things can and do change the meaning of a single sentence. Second: It is very difficult to come away from this article with the same degree of respect for Oscar Klefbom. If what is quoted is what he meant, it is a stark look into a young dressing room that appears to have deep divisions even in the same age group. Stark.
Of all the things you should be worrying about in the Edmonton Oilers organization, the apparent ease with which these quote were apparently uttered are disturbing.