Since Benoit Pouliot went down with an injury that ended his season, the left wing position has seen major change on the Edmonton Oilers roster—to the point where there could be some questions about where he fits. No matter, Pouliot is a terrific answer to whatever challenge the Oilers choose to deploy him in. (New York City)
BENOIT POULIOT 15-16
5×5 points per 60: 2.05 (4th among regular forwards)
5×4 points per 60: 3.75 (6th among regular forwards)
Corsi for % 5×5: 51.0
Qual Comp: 6th toughest among regular forwards (2nd line opp)
Qual Team: 5th best teammates among regular forwards (2nd line linemates)
Corsi Rel: 7.9
Shots on goal/percentage: 109/12.8%
Boxcars: 55GP, 14-22-36
(All numbers via Stats.HockeyAnalysis.com and BehindtheNet.ca)
VOLLMAN SLEDGEHAMMER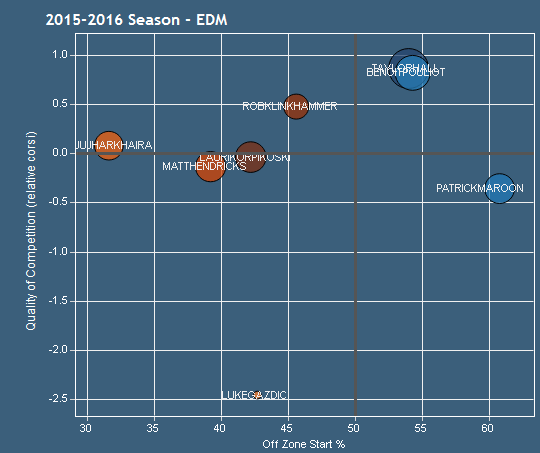 RE 16-17: 62GP, 17-22-39 .629
How good is he? A very good NHL forward. His 2.05 5×5 points-per-60 ranks him No. 37 among NHL forwards with 400 or more minutes in the discipline. (Stats.HockeyAnalysis.com)
Who likes Pouliot? I do, most analytics folks do, probably the Pouliot's who know him, neighbors, dog, people in his complex. 'Like' is probably too mild a word—he is a really good player.
Who doesn't like Pouliot? The people who roll their eyes when he takes penalties in the offensive zone.
Why don't they like Pouliot? He takes penalties in the offensive zone.
How much offense does he deliver? Per 82 games, BP has scored 18-21-39.
That isn't much for $4 million. Since arriving in Edmonton, he has delivered 51 points per 82 games, he just can't stay healthy for 82 games.
What is he? He has pretty close to a complete skill set, making him one of the best complementary players on the team. Pouliot has enough skill to play (and succeed) on a top line, and he forechecks well—that is where he gets the penalties. I never worry about those penalties, those are the kinds of penalties that are easy to kill.
What? What?
Why do you constantly mention interrupting sorties? You know how the Oilers can never make a damned pass out of their zone because some pesky forward is either interrupting or intercepting a pass? That is Pouliot on the Oilers, he does that to opponents effectively. He and Nuge are the forecheckers on the Oilers who can gain possession when the other team is heading up ice. BP is a very good forward in this area.
Who did he play well with? Pouliot is a plug-and-play veteran, having had success with all centers. He clearly enjoyed his time with McDavid (2.94/60 5×5; 53.6 percent Corsi for percentage), less so with a clearly struggling Nuge (1.60/60 5×5; 49.1 percent Corsi for percentage). Corsica has him doing well with multiple linemates.
He gets injured a lot. Pouliot plays a rugged style, and his injuries are not wimpy little maladies. Shoulder, broken foot, on it goes. He is a tougher player than some believe.
Maroon makes him moot! No. Not at all.
Maroon will win the 2line job. Well, I have Pouliot getting more time than Maroon on the 2line, but I do think we will see both men alongside Nuge and or Leon.
Who scores more? Well, BP gets his RE first, so a good guess would be him.
Why does he score more? I think Pouliot is a better offensive player (5×5/60), so he is going to be a very effective player on a soft minutes third line—and the best available option for the 2line.
You have him scoring less than last year, though. Yes. I think the Oilers will have several wingers moving up and down the lineup—and he could be playing with a very young Leon and a rookie in Puljujarvi—so a small dip in offense should be anticipated.
How much did he play on the power play last season? 128 minutes, he went 4-4-8 at the 5×4.
Same output this season? I actually have the Oilers power play improving this year, and Pouliot with 12PP points, 27 at evens. Increases in both totals, but he is also projected to play seven more games.
How many forwards do you have playing top 6F at one point or another next season? I have McDavid, Eberle, Lucic, Nuge, Leon, Pouliot, Yakupov, Maroon, Kassian, Puljujarvi—not necessarily in that scoring order. So that is 10 forwards inside the top 6F at one point or another. Drake Caggiula could also play there, but that seems a stretch.
Will the Oilers trade him before his contract expires? I think so. He was not signed by the current general manager, a less expensive (if lesser) winger has been procured (Patrick Maroon) and he should have enough trade value to move the needle. He has three years left, and a team like Anaheim might consider him a worthwhile addition.
Could he be traded this season? Probably. Edmonton's LW depth chart (Lucic, Pouliot, Maroon, Hendricks) is not strong enough to weather a loss, but if they traded Pouliot and signed Pirri the offense would be replaced.
But who would take those offensive-zone penalties? Heh. Pouliot has terrific value beyond the points, wish I was certain the Oilers agreed on that point. I think they have a sense that he doesn't use his size enough.
How many goals does Edmonton score in this RE? I can't tell you, but it is more than a year ago—mostly due to the power play.
Would you do Benoit Pouliot for Cam Fowler? I think the Oilers should try to solve the RH defense problem without creating a hole elsewhere.
Why this song? It is a great song, love the guitar. It reminds me of buying punk albums at Obscure Alternatives in the old Tegler Building. I would drop in, buy five albums with my money earned, head home and listen to bands from England with weird names and safety pins hither and yawn. Fun times. The connection to Pouliot is very thin—he played in NYC—but I wanted to get this song into the group.