Keith Gretzky will have no problems finding areas to work on this winter, and my hope is we see him force a change in handling of AHL rookies. For many seasons, the Oilers organization has used that valuable year as a holding chamber, allowing the young player into about one half of league games with meager minutes. It runs counter with successful minor league organizations, and my hope is Gretzky fixes it.
GRETZKY CLARIFICATION
Keith Gretzky to Mark Spector: "I'll do everything. Get to know what we have in the system, spend some time in (AHL) Bakersfield. Get to know the team that we have in Edmonton, and overlook both the amateur and pro scouting departments." Source
Keith Gretzky won't ask me, but here are my suggestions for him:
The amateur scouts have had two good drafts in a row. Encourage PC to add a second-round pick sometime this season, and then let the scouts continue their work. Maybe try to figure out why Edmonton drafts the goalies they choose, but other than that the amateur side looks fine from here.
Have a long chat with your AHL coaching staff. Impress upon them that slow playing 20-year old graduates from junior and CHL will be punished with extreme prejudice. Seriously. Edmonton has been sitting CHL grads—even high picks—routinely over the years. That needs to stop, Mr. Gretzky.
KYLE BRODZIAK
AHL at 20: 56, 6-26-32 .571
AHL at 21: 55, 12-19-31 .563
AHL at 22: 62, 24-32-56 .903
There is an asterisk for that final season, as Brodziak played on a combined team (Oilers-Penguins) that included more than the usual number of talented prospects. That said, Brodziak had a strong year and was one of the best prospects (maybe the best) to come from that team.
JUJHAR KHAIRA
AHL at 20: 51, 4-6-10 .196
AHL at 21: 49, 10-17-27 .551
Khaira got the 'Oiler treatment' in year one, I hope Keith Gretzky changes that ridiculous practice on day 1. If you are bringing in rookie pro's, play them! Khaira's year two is in the range with Brodziak, of course this is comparing two seasons over one decade apart so that has to be factored in. Brodziak's team at 21 scored 238 goals, Khaira's team scored 211 goals.
KYLE PLATZER
AHL at 20: 48, 6-11-17 .354
Platzer performed pretty well in spite of the Denver boot that is the Oilers. I am fairly encouraged by his season, and hope he gets a push in year two.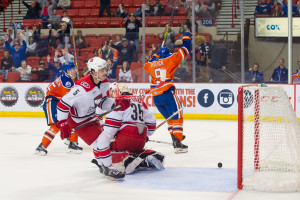 THE DENVER BOOT
For many years now, the Oilers have promoted AHL veterans and graduating college kids (like Mark Arcobello) while slow-playing the drafted kids who have turned pro. Believe me, it is a thing. I do not blame the coaching staffs—their job is to develop but also deliver a competitive team—but Keith Gretzky would do himself an enormous favor by changing the culture that slow plays the new pro players. That is not to say all of the issues that plague Edmonton's draft and development system is on this practice. Here is what I wrote in the early months of Curtis Hamilton's pro career in OKC:
OKC Barons PBP man Jim Byers told me in mid-November that Hamilton had been in and out of the lineup at times and was "waiting his turn" with few special teams options. Byers said Hamilton was "feeling his way" into the lineup through mid-November. Since that time, Hamilton has played 7 games and is 1-2-3 +3. What's more, 11 of his 19 shots on the season have come during that time. Although we don't really know the TOI totals, all indications are that Hamilton is getting more opportunities since the injuries. Source
Hamilton was hurt shortly after that point and really injury was his story as an Oilers prospect. That said, this is one example over many years—and there is evidence Edmonton has kept youngsters waiting in the pressbox at 20. That first year is an extremely important one for development, and the Oilers are not playing it smart.
"They're apart on term, they're apart on money, they're apart on usage" – Gary Lawless on WPG negotiations with Jacob Trouba. #Jets

— Brennan Klak (@nhlupdate) August 3, 2016
Don't even think about it. The Jets are not going to give up Trouba—who will be expensive from now through well into next decade—for anything less than too much. You may be thinking Darnell Nurse or Griffin Reinhart, but I think it would take Leon or Oscar—or more. Winnipeg's idea of a fair deal has the Buffalo Sabres licking their wounds all day, every day.
CALEB JONES
Jones made the first Cuts for the U.S. Roster for World Juniors. Although this is a somewhat arbitrary line in the sand, making it this far—based on his draft number—is another indication that Jones is emerging as a substantial prospect. We need to dial back enthusiasm—but this is a good arrow.
The Edmonton Oilers will need a lot of help from their prospects this winter, and we could see some surprises among the group of youngsters bubbling under. I define prospects as players with less than 50 NHL games under their belt, meaning this is the group Todd McLellan will choose from for 2016-17:
C Connor McDavid, Edmonton Oilers (45, 16-32-48).
R Jesse Puljujarvi, Karpat (50, 13-15-28).
L Drake Cagguila, North Dakota (39, 25-26-51).

C Jujhar Khaira, Edmonton Oilers (15, 0-2-2) and Bakersfield Condors (49, 10-17-27).
LD Griffin Reinhart, Edmonton Oilers (29, 0-1-1) and Bakersfield Condors (30, 2-8-10).
G Laurent Brossoit, Edmonton Oilers (5, 3.61 .873) and Bakersfield Condors (31, 2.66 .920).
LD Jordan Oesterle, Edmonton Oilers (17, 0-5-5) and Bakersfield Condors (44, 4-21-25).

R Anton Slepyshev, Edmonton Oilers (11, 0-1-1) and Bakersfield Condors (49, 13-8-21).
LD Dillon Simpson, Bakersfield Condors (57, 4-16-20).
LD Joey Laleggia, Bakersfield Condors (63, 8-19-27).
R Tyler Pitlick, Bakersfield Condors (37, 7-14-21).
R Patrick Russell, St. Cloud State (41, 20-21-41).
RC Kyle Platzer, Bakersfield Condors (48, 6-11-17).
R Greg Chase, Bakersfield Condors (19, 1-6-7) and Norfolk Admirals (43, 18-19-37).
L Jere Salinen, Jokerit (50, 8-11-19).
G Nick Ellis, Providence (36, 1.80 .936).
D David Musil, Bakersfield Condors (67, 3-11-14).
L Mitch Moroz, Bakersfield Condors (40, 5-5-10).
G Eetu Laurikainen, Bakersfield Condors (18, 3.42 .907).
D Ben Betker, Bakersfield Condors (14, 0-2-2) and Norfolk Admirals (49, 3-14-17).
I believe the first seven names above will play in the NHL, some of them for the entire year? After that? Edmonton badly needs some of those names after No. 7 to deliver this coming season. Edmonton really needs one of their minor leaguers to magically turn into Kyle Brodziak. The problem? Very few AHL players are trending in a good way, partly because the Oilers do not give their minor league rookies playing time (Kyle Platzer being the most recent example).
LOWDOWN WITH LOWETIDE
A fun morning, with Bruce McCurdy from the Cult of Hockey and Scott Cullen from TSN (plus other guests as the morning moves). 10-noon, TSN1260. Text 10-1260, Lowetide on twitter. Gretzky talk on the way!