Nothing is promised to anyone. You can work your fingers to the bone, you can run out every groundball, you can work late on proposals, you can be top choice and you can go the extra mile. Some people work hard, other people work smart, and if you work smart and hard you will never be wanting for a career. I believe Nail Yakupov worked hard as an Oiler, but am less sure he worked smart. The bet here is that it doesn't matter anymore. (Superman's Song)
NAIL YAKUPOV 15-16
5×5 points per 60: 1.35 (8th among regular forwards)

5×4 points per 60: 3.46 (7th among regular forwards)

Corsi for % 5×5: 49.2

Qual Comp: 10th toughest among regular forwards (4line opp)

Qual Team: 8th best teammates among regular forwards (fourth-line teammates)

Corsi for % Rel 5×5: 2.3

Shots on goal/percentage: 127/6.3

Boxcars: 60GP, 8-15-23 .383
VOLLMAN SLEDGEHAMMER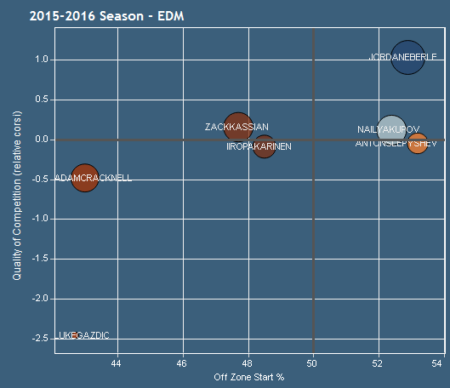 RE 16-17: 70GP, 11-13-24 .343
Clearly you are betting Yak loses the 2R job? I think Jordan Eberle gets the 1R job, and then the 2R job goes to a combination of Leon Draisaitl, Jesse Puljujarvi, Yakupov and a couple of others. By season's end, suspect JP has the 2line R job.
The numbers for Yakupov seem low. Not really, he is averaging about 25 points per 65 games in his last three seasons. I do not think he gets a power-play push in the coming season.
His shooting percentage a year ago was poor. Did you correct for that? Yak scored about five fewer goals than one would expect from a skill player based on shots. My projection is closer to average range, but the young Russian has been going the wrong way since his rookie year.
What is the best thing about him? He is a talented skill player. Yak can stick handle, pass, shoot and has reasonable speed. There is an NHL player there, I believe that to be true.
What is the worst thing about him? He is making the same mistakes now as he did as a rookie. Whatever instruction he has received, it is either too much, not enough or delivered in a way he cannot understand or is beyond his aptitude.
Example? Late in the season against St. Louis, Darnell Nurse labored for 20 seconds to fend off a big Blues forward, finally getting the puck out past the blue line and to Yakupov. Nail took the puck, stickhandled back into the zone, passed the puck to Nurse (with the same St. Louis forward now bearing down on him) and skated off the ice. Nurse iced the puck, and Yak's shift continued.
He had a bad shift. He has been doing that kind of thing forever. I cheer like hell for Yakupov, but he is either so overwhelmed with coachspeak or his brainwheels don't turn. I don't like to be harsh, but those are the two options.
How can you blame him? I am not sure blame is the right word. I think Nail Yakupov may need a second opinion. The Oilers have been bad medicine for lots of young players—Justin Schultz, others—and some of those guys turn out okay.
Who is to blame? The management. Seriously. Never, ever let anyone tell you different.
Why? If you draft a gifted, raw, Russian winger, HAVE A PLAN.
Can you believe he outlasted Taylor Hall? Kind of strange, for sure. The world as we know it is over.
His possession number improved. Playing with McDavid was a giant part of that result. He was 2.63 at 5×5 with 51.9 Corsi for 5×5 with McDavid, and 0.83 5×5 with 48.1 Corsi without McDavid. No question about who is zooming who.
Ideally, where would you play him? I would have him on a line with McDavid.
Why? I would like to see Edmonton try to ice three scoring lines. It is there, but you have to feature Yakupov on a top line—and he cannot play with Nuge, it just does not work.
Couldn't you play him with Leon on the 3line? Sure, but the options for R are Eberle, JP, Yak, Leon and Kassian. There are never enough puzzle pieces for three legit scoring lines. Leon would have to play center, Puljujarvi—teenage rookie—would need to play on a tough minutes line.
McDavid or bust? My guess is Yakupov will be the odd man out unless he gets a push on the 97 line.
Does Yak deserve that? For me, the question isn't about deserving, it is about best deployment. I think Yakupov could get to 20 goals on a McDavid line, if Milan Lucic doesn't kill him.
What will he need to do? Yakupov's role on the team is probably tenuous, there is probably a very narrow window of opportunity for him to play on the McDavid line. If he scores a bunch of goals early, maybe he wins the day. RE is about reasonable, for me it is a distant bell.
What is your RE bet? Eberle plays with McDavid, Puljujarvi runs on a 3line that faces the soft parade at the beginning, moves up late. Leon gets time as 2R, as does Eberle when Yak is on the McDavid line. Others are in the mix, but by season's end the R depth chart (for my RE) would be Eberle, JP and then Yakupov if he is still here. Kassian could disrupt the party, we will discuss that next week.
Will he be traded? I don't think so, the value is so poor.
Will he be signed next year? No, I think he will be made available in the expansion draft—and could be a hit in Las Vegas. There is also a chance he heads back home. This is the last chapter of the Yakupov Edmonton book, in my opinion.
How much is the agent to blame? Hey, the agent and player did not handle this well—but your question allows management to wiggle off the hook. Stay strong on this—the answer is management.
Why? We have been over this. In 2012, the Oilers drafted a flawed young player. If you go back to Hall (and Eberle) as rookies, they were gifted a veteran center in Shawn Horcoff. Despite scoring seven of his 10 even-strength goals as a rookie with Horcoff, Edmonton put the Russian rookie with Sam Gagner most of the time. The young man needed structure.
What is the ideal scenario? Yakupov scores 20 on the McDavid line, learns the position, ends up being a part of the team. I would have predicted it, but it is not realistic.
Why this song? Proof positive that pop lyrics can be brilliant. It is a song about supremely talented people who have to struggle just like the rest of us. They are dogged by the daily rigmarole of going about their business, by self doubt, by the mundane. Despite so many talented people making things look easy, that ease comes from hard work, dedication, luck and the ability to comprehend, learn, and apply those lessons to the chores at hand.