In the first look at Providence Bruins versus Bakersfield Condors, we found the Oilers cheating their entry-level forwards compared to the Bruins' kids. Tonight, we look at the defensemen—looking for possible improvements Keith Gretzky might bring over from the eastern seaboard. All estimated time on ice numbers via Prospect-Stats, let me know any errors. Note: If your reaction is what does this have to do with Keith Gretzky, I will not argue. Still, interesting idea and let's have a look.
CONDORS BLUE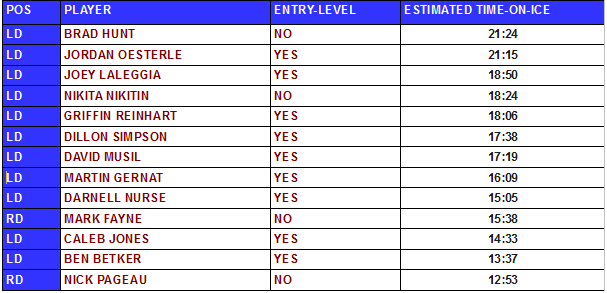 The Leftorium dominates the Condors landscape. Lordy that is a crazy column.
Only four of the 13 names above are outside entry-level contracts—and Pageau is an extra. Add to the NHL blue who were down for shorter periods (Nikitin, Fayne) and the entire roster is pretty much entry level.
Three offensive defensemen rank at the top of the list, suggesting (to me, anyway) that even strength TOI may have been shared somewhat equally. Important to remember these are estimated time on ice totals.
Unlike the forwards, the defensive minutes seem reasonable. Of course, all of these prospects are entry-level, so that isn't offering much insight.
The number of players who appear to be variations of the same type—Griffin Reinhart, David Musil, Dillon Simpson, Darnell Nurse—is mind boggling and frustrating. Seriously, it is dumb to have this many of the same player type. I hate this.
BRUINS BLUE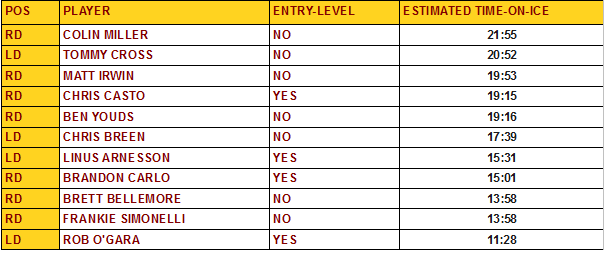 There are 11 blue here, and seven are right handed.
The Bruins have a lot of players on this roster that could safely be called defense-first types.
Tommy Cross is 26, drafted in 2007 and played his first NHL games this past season. He is a second-round pick, meaning David Musil is lapping him.
Five of the top six TOI totals are not on entry-level deals. That seems too much to my eye, while I can also agree there are ebbs and flows to these things.
Colin Miller aside, there are no names that jump out at me. Chris Casto has some ability, but is 24 and his time is now.
Linus Arnesson did not deliver much offensively, but is well thought of in the organization. He will turn 22 in September, so has plenty of time. He is a defensive defender, I know some of you put little value on this type of player.
Frankie Simonelli signed an AHL deal with the Condors, so will help the lefty-righty.
WHAT DOES IT ALL MEAN?
The Oilers as an organization have some real balance issues with their AHL team.
They should play the entry-level forwards, the way they are playing the entry-level blue.
They should cull the Leftorium. Today.