Griffin Reinhart and Nail Yakupov will forever be linked, so I am writing them back to back in this year's RE. The conversations that occurred in the weeks leading up to the draft have found some public oxygen, so we know a little about this soap opera's plot. The scouts wanted Ryan Murray, the scouting director wanted Griffin Reinhart, and management wanted Yakupov. Nail was drafted, and that was followed by a three-year period of questioning the pick and his progress. Out of sight but never out of mind, Edmonton dealt for Reinhart (paying a dear price to scratch the itch) and in their minds righted a historic wrong. Fans reacted with disappointment, anger, rage, denial and may some day reach acceptance. What do we make of this Griffin? (Early Morning Rain)
GRIFFIN REINHART 15-16
5×5 points per 60: 0.13 (7th among D)
5×4 points per 60: nil
Corsi for 5×5 %: 46.3
Qual Comp: 3rd pairing
Qual Team: 1st pairing
Corsi for 5×5 % REL: -9.0
Shots on goal/percentage: 24 shots
Boxcars: 29, 0-1-1 .034
Information via Stats.HockeyAnalysis.com, behindthenet.ca and hockey-reference.
VOLLMAN SLEDGEHAMMER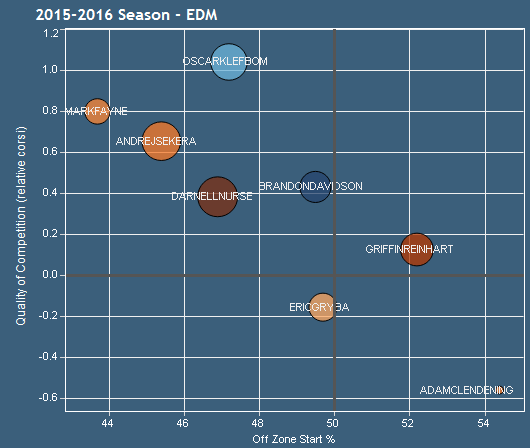 The Vollman places Reinhart in the two-way region of the chart (Nurse and the Klefbom group are in the shutdown/tough minutes zone of the Vollman). Reinhart's results are slightly better than those of Nurse, but their deployment was not the same. This subtle difference will come into the conversation over the next two weeks on this blog.
RE 16-17: 39GP, 1-5-6 .154
I see you have him in the minors for half the season. Yes, the bonus issue—while not a an absolute show killer—probably means he spends significant time in the AHL in the first half of the year.
Works out well, since you clearly hate him. Anyone who watched GR play for the Oil Kings will have an appreciation for what he can bring. He needs to transfer those junior skills to the NHL, and for defensemen that can take some time.
The Oilers overpaid. The sun refuses to shine, all is ruined. Well, I do think the team overpaid, and in an area they already had some cover (Nurse). I also think there is some value in moving on from outrage, but your mileage may vary and you are welcome to stay angry as long as you like.
Why are people mad at Reinhart, anyway? Don't know. It is absolutely ridiculous to hold the player responsible for a trade, but Adam Larsson will probably get his name dragged online for the same reason.
At least Larsson didn't play for the Oil Kings! Heh. It is interesting that fans have turned what should be an advantage—knowing the player inside and out—into a negative. I don't blame the fans—losing for a decade excuses the entire class—but logic and reason tell us procuring those you know to have good habits and character is a good idea.
Chiarelli gets all the blame? Yes. In two consecutive summers he has acquired defenders at enormous prices. That is not in the winning playbook, and the severe cost of these men will have an impact.
Especially when PC leaves him off the protected list for the expansion draft. I think they protect him.
What?? Yeah, I have been thinking about this, and suspect Reinhart will be on the list. Chiarelli invested a lot in Reinhart and that likely ties the two men together long term—or at least longer than the expansion draft.
Now you are trolling, full on trolling. No, I think GR fits the template for Chiarelli's Oilers and he will get every chance to step up by the end of the year. If he does, I think he makes the list.
Who else is on the list, then? I think they go 8 skaters and a G. My list: Cam Talbot, Andrej Sekera, Oscar Klefbom, Adam Larsson, Griffin Reinhart, Ryan Nugent-Hopkins, Milan Lucic, Jordan Eberle, Leon Draisaitl.
So, they will leave Brandon Davidson unprotected? I think there is a good chance. Now, if Davidson has another strong season (he was fantastic in 2015-16) then all bets are off. However, I think GR is going to get a chance to show what he has in the second half. If he performs well enough, suspect the Oilers keep him.
The Oilers will lose Davidson for sure! Hmm. Benoit Pouliot, Patrick Maroon, Brandon Davidson, Nail Yakupov, and of course all of this is far too soon. A player not mentioned here could emerge and become the obvious choice. Miles to go.
Where is he on the depth chart? I think the last 10 games of the season—he played 20 or more minutes in five of them—establishes that the Oilers are going to be comfortable with him on the third pairing when he arrives from Bakersfield.
Where is Reinhart on the depth chart entering training camp? On LH side, I think the depth chart will go Oscar Klefbom, Andrej Sekera, Darnell Nurse, Griffin Reinhart, Jordan Oesterle, David Musil, Mark Fraser, Dillon Simpson, Joey Laleggia. This assumes Brandon Davidson will line up on the RH side.
And Oesterle wins 7D? Well, him or Musil. Fraser could, my bet is that the foot speed issue will rule him out.
Reinhart gets sent down for sure? I think the die is cast because of cap, but if he forces the issue perhaps there is a way.
Who did he play well with in the NHL? Jordan Oesterle. Makes sense, they would have played together in Bakersfield, and the 47.9 Corsi for 5×5 percentage together featured close to even faceoff usage (offensive and defensive).
Why would Oesterle be a good partner? Despite both being lefties, Oesterle can move the puck quickly—Reinhart should be the secondary option in that area, especially as a young NHLer.
Is he better than Nurse? I think Nurse's speed puts him in front of Reinhart, but the performances last year were within range of each other. Reinhart is older, so that is a factor. We don't know who will be better as an NHL player, despite what people tell you.
The organization sees him as part of the future? Yes, I think so. You never know, but there did seem to be a feeling that, despite delay, the club was committed to the player.

Oilers assistant coach Jim Johnson on Reinhart

:  "For him, it's his skating ability and making sure he feels comfortable enough that he's not flat-footed. If he's got good momentum coming back and gaps up well in the offensive zone on offensive rushes, if he does that, I think that will give him a little bit more confidence defending. He'll get better, he's a young defenceman." Source

How many shutdown defenders does Edmonton need? That is the real issue. Currently at the NHL level, Mark Fayne, Darnell Nurse and Griffin Reinhart fit that description—with Adam Larsson added this summer. Brandon Davidson is not a similar player (more finesse and puck passing than physical) to Nurse and Reinhart but he would be in the general area. That is a lot of this player type.
Davidson has more offense than Reinhart? Well, in junior per 82 games Davidson delivered 55 points, Reinhart 44 points. In the AHL per 82 games, it was Davidson 15 points and Reinhart 29. The AHL numbers probably reflect eventual NHL usage, but I think Davidson has a good enough shot to possibly get some power-play time. I would give him the edge offensively, while also making clear that neither man is likely to post 40 points in one season.
What would you say to someone who is down on GR as a player? I would encourage everyone—myself included—to remember that he is still very young and experience will allow him to progress. I see a lot of folks saying that defensive lottery picks spike immediately or not at all—and the finality of that statement is being used online as an unavoidable hammer. I get the feeling that many believe this player is already a failure, which is strange and unusual for people who (mostly) impress with insight and knowledge. Surely we can agree that he is not yet doomed to an AHL career? That he could be better than Luke Schenn? We should be careful not to bury this player, Nurse too.
What exactly are you saying? Griffin Reinhart is still young—younger last season than Jeff Petry was on his day of arrival in Edmonton—so making a sweeping statement about him, while true today, implies he is unable to make great progress year over year.
Why this song? There is a melancholy in it that fits the mood of Reinhart's career. There is also the urge to roam (why else head to the airport?) and that may be part of GRs future. Lightfoot wrote this song while homesick for Canada and watching jet airliners taking off from LAX, and it is typical of his songs in that it perfectly fits the feeling of being alone. For older readers, I will add (as you know) the sound of Lightfoot's voice is as familiar to us as the air we breathe. The version of the song I linked to may surprise some viewers, as Lightfoot's voice still has great range compared to his later (more famous) work.