Over time, a management team will develop enough of a past in terms of player evaluation for us to make decisions on them. Peter Chiarelli has already made two famous deals that we will be talking about for a long time—and in a real way, we are already beyond the point of no return. It is unlikely this GM can recover his reputation after the Reinhart and Hall deals. For those of us still keeping track, there are other decisions being made that give us insight into the current GM and his support staff. Example: Marco Roy. Roy was drafted in 2013, an analytics pick who fit a model (hello, Michael Parkatti!) Edmonton believed would deliver value in the late second round. Roy did not develop offensively as hoped, went unsigned by the team, and spent his first pro season on an AHL contract with the Bakersfield Condors.
DRAFT DAY SCOUTING REPORT
Red Line on Draft Day: While thought of as a grinder who brings passion and intensity to each shift (which is accurate), that is short-changing his skill level. Good skater with speed and balance, and accelerates well. Wins a lot of races for loose pucks and is always 1st into corners. Works his bag off every shift and comes back hard on the backcheck. He's an absolute buzzsaw with a motor that never quits. If his team loses the puck, he wants to go and get it back immediately. Stays in constant motion in the offensive zone, making him very difficult to check or contain. Soft hands for both giving and receiving passes. Gets shots away quickly around the slot and shows good accuracy. Competes like a bastard and always has his head in the game. Rugged and persistent on the forecheck. Reliable player at both ends who is continually improving. Also 6'1″ with a nice frame to fill out.
Michael Parkatti: "The model really liked Marco Roy. There's a lot of things to like about the player outwardly, and if you look at the statistics diagnostically it's not just the point production but also the situation he found himself in. The team he played for this year was very good, but it was one of those situations where he wasn't being dragged along by anybody. The way I like to look at it was he was the good player on the team, he played an integral part on that team. And you really saw that in the playoffs."
JUNIOR PROGRESS
Without going too far into his junior career, Roy's lack of offensive development in his final two seasons of junior would probably have hurt him in a big way. That final Remparts team in 2014-15 was very strong, Roy finishing sixth in team scoring during the regular year, a tie for ninth in the playoffs. That second year involved some injury issues (wrist, others) and impacted his progress—we should always remember those injuries but I never can—and may have contributed to his not receiving an NHL deal.
ROY ROOKIE (AHL)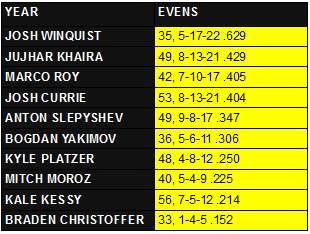 These are basically the forwards on their entry-level deals, or those who should be but have not been signed by the Oilers. Now, I am going to let you in on a little secret. I do not know the number, and don't have the time to find it, but there is a point-per-game total somewhere in there where you can basically NP (no prospect) a player. It sounds harsh, and teams don't do it until the three year mark (after entry level), but at least three of the players on this list are below it—pretty sure.
Remember Tobias Rieder? In his first (and only) AHL season, Rieder went 64, 18-11-29 0.453 even strength points-per-game. Remember, that total was delivered at age 20. Winquist at age 20? 46, 8-8-16 .348. Marco Roy? .405. It probably isn't enough—Rieder scored 18 even-strength goals at age 20 in the AHL, Roy scored seven—but doesn't it make you wonder about what the Oilers are doing?
They traded Rieder for Kessy, and they signed Braden Christoffer, Mitch Moroz, Kyle Platzer, Bogdan Yakimov, Anton Slepyshev. They drafted Marco Roy in the second round, did not sign him to an NHL contract, but played him enough on an AHL deal so he could trump all the signed guys except Jujhar Khaira (who was a year older)? And then didn't sign him again?
Edmonton may be learning some lessons, as the club's most recent second and third rounders from the CHL are better offensive prospects. Here are the last five picks (forwards) in those rounds and their points-per-game total in their draft seasons:
Marco Roy 2013 1.03
Ryan Martindale 2010 .984
Tyler Benson 2016 .933
Curtis Hamilton 2010 .615
Mitch Moroz 2012 .378
Travis Ewanyk 2011 .375
Edmonton signed all of these men, save Roy (and Benson who will likely be signed in the next 18 months). Based on some of the names that currently reside on the Oilers 50-man list, it is extremely curious Marco Roy's name remains off the list.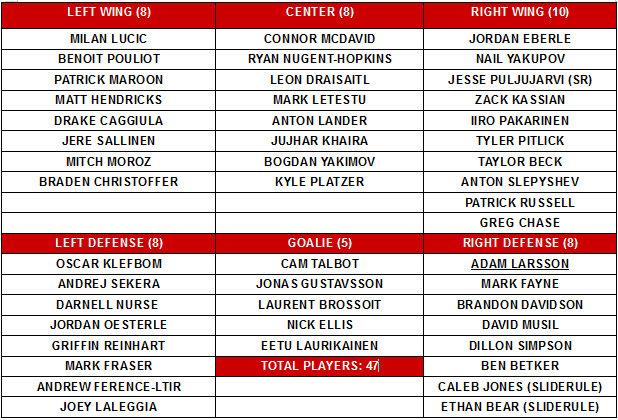 Listened to oilers now Today, Stauffer away but did a hit and said that if Wizniewski does not sign a contract he will be invited to a PTO

— Heather Marginet (@margih99) August 8, 2016
I did not hear the interview but trust Heather got it right. We have looked a Wisniewski at length on this blog, mostly staring at his last healthy season.
JAMES WISNIEWSKI 2014-15
5×5 points per 60: 0.91
5×4 points per 60: 3.94
Corsi for 5×5 %: 49.1
Qual Comp: 3rd pairing
Qual Team: 2nd pairing
Corsi for 5×5 % REL: 4.7
Shots on goal/percentage: 147 shots/5.4
Boxcars: 69, 8-26-34
(All numbers via Stats.HockeyAnalysis.com and BehindtheNet.ca)
Foot speed was an issue before the injury, it is most certainly going to be one now. Wisniewski basically missed an entire year of hockey as an older player, so it is extremely likely he will be well behind the rest as training camp opens. I like the idea of a PTO, hope the Oilers are aiming higher—and would be well pleased if they get Wisniewski on a PTO and trade for a quality RHD. Wisniewski as a 7D has some appeal.
THE GRETZKY TRADE
I was on holidays. I got a message from Too Tall Matthews (he was John Short's producer, helluva fun guy and an excellent producer) saying get the hell down to Molson House but I couldn't make it in time (I was in Sylvan Lake). My initial reaction was shock, but I will be honest my second thought was 'well, they can win anyway' and in fact Edmonton would win in 1990. I did not like Jimmy Carson as the centerpiece to the deal, and suspect it was not an enjoyable season (1988-89, plus four games in 1989-90) for him in Edmonton.
Martin Gelinas had just been drafted and seemed a distant bell. The three draft picks to come (Jason Miller, Martin Rucinsky and Nick Stadjuhar) were whatever lies beyond distant bells (distant silent screams?) and of course the Oilers also sent away Mike Krushelnyski and Marty McSorley in the same deal.
I spent many days with John Short after that, discussing how the deal went down (it is all well known now) and the fracture that deal had caused with 99. I think there was a real effort to put the deal back in the box from the Sather side, but it was too late to turn back by then. Suspect there is a lesson for Darryl Katz in there, should he choose to learn it.