James Wisniewski signed a PTO with the Lightning today, meaning the Edmonton Oilers are just about to pull into the last chance Texaco. It has been a long summer.
DEFENSE OPTIONS (that remain)
Jacob Trouba, Winnipeg Jets. Expensive and compelling option. He would cost a major piece or more, but would be an outstanding addition this late in the game. What would Edmonton have to add to the 2017 first-round pick to get this done?
Brandon Montour, Anaheim Ducks. This could be a special player. I like his even strength and power-play offense and he is young enough to cost very little. Anaheim has blue to the sky, maybe Chiarelli can pry him loose.
Cody Franson, Buffalo Sabres. That hammer from the point would come in handy and he fits a real need. I don't know about the cost, but would guess it would not be dear.
Eric Gryba, Edmonton Oilers. I think management likes him. Do not see him signing unless Mark Fayne can be offloaded and Gryba does not address need in any way.
Ryan Sproul, Detroit Red Wings. Puck-moving defender in the AHL. He is waiver eligible and a solid match for Edmonton's needs.
Dennis Wideman, Calgary Flames. A year removed from a fantastic offensive season.
Dan Boyle, New York Rangers. Retiring, but if he has anything left I think he could help based on last year's numbers.
DAN BOYLE 2015-16
5×5 points per 60: 0.58
5×4 points per 60: 2.32
Corsi for 5×5 %: 49.8
Qual Comp: Third pairing
Qual Team: Third pairing
Corsi for 5×5 % REL: 9.0
Shots on goal/percentage: 95 shots/10.5 percent
Boxcars: 74GP, 10-14-24
Information via Stats.HockeyAnalysis.com, behindthenet.ca and hockey-reference.
50-MAN LIST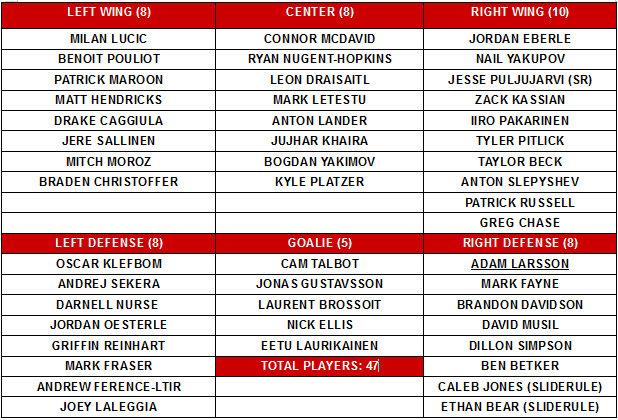 The Oilers have room, and a need. I can buy the idea that Wisniewski wanting a contract after missing an entire year is a concern (signing him to a one-year deal would not have been that risky, though). Peter Chiarelli would be extremely unwise to go through the entire 2016-17 season without adding another option. Maybe they will trade for Mark Streit. We wait.