Jujhar Khaira must feel like all the other dice, rolling around in the cup—the hardest thing in the world to do (it seems) is to separate yourself from others when you are in the Edmonton system. Ice time is given out to 20-year olds like water to prisoners on the River Kwai—and damned if this kid isn't poised to make it anyway. (Tokyo).
JUJHAR KHAIRA 15-16
5×5 points per 60: 0.39 (16th among forwards with 100 or more minutes)
5×4 points per 60: nil
Corsi for 5×5 %: 46.2
Qual Comp: 4th line competition
Qual Team: 3rd line teammates
Corsi for 5×5 % REL: +5.6
Shots on goal/percentage: 14 shots
Boxcars: 15, 0-2-2 .133
Information via Stats.HockeyAnalysis.com, behindthenet.ca and hockey-reference.
VOLLMAN SLEDGEHAMMER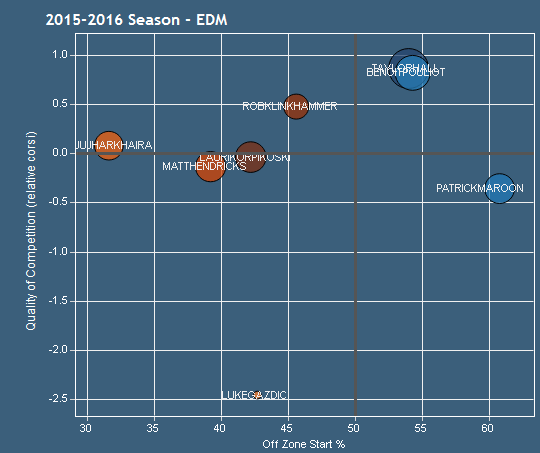 RE 16-17: 29GP, 1-3-4 .138
Were you surprised by him? Yes. The Oilers don't ordinarily have callup forwards who impress first time out—seriously. He looked fast enough, big enough and smart enough, and the offense would be a worry. That was my first impression, it was a good one.
What happened after first impressions? He faded, that is typical and predictable—and that's why teams have an AHL. I think it is fair to say Khaira's callup came early—he was a year and two months into his entry-level deal when the call came—and he played well enough to play almost 20 percent of the NHL schedule. Fine season for a prospect.
Offense is going to be a worry. Yes. We are looking at a checking forward, probably a winger. That said, there are some interesting things and he progressed well season over season.
What do you mean? In his first 54 games in the AHL, he went 5-6-11. In his second 54? 12-18-30. That represents real progress.
It could be more TOI in year 2. Sure, we know the Oilers tend do slow play 20 year olds. That said, in year two, Khaira's point-per-game increased from .196 to .551—that is significant.
Any of your fancies? He went from 1.05 to 2.06 in estimated points-per-60 in the AHL year over year.
Do we have a recent comparable? Kyle Brodziak was .563 in year two, but he had a far better year one. Khaira got himself into a better conversation in year two—a more recent comparable would be Tyler Pitlick in year two.
That seems low. Well, Pitlick was never healthy, that certainly impacted his development. However, his offense at 21 is a Tom Pyatt kind of number and if we are realistic that is a fair comparable.
What centers did he play with? Anton Lander (44.4 percent Corsi for 5×5, 0 points in 67 minutes); RNH (51.0 in 59 minutes, 1 point).
Can he play center? Yes, he played center quite a bit in Bakersfield.
Could you project him onto the opening night roster? Outside shot, but a better chance of recall into the year.
Who do you have ahead of him? On LW, the list is Lucic, Pouliot, Maroon, Matt Hendricks. After that, I would think Khaira is in a battle with Anton Lander, Iiro Pakarinen and maybe Jere Sallinen. Drake Caggiula will not be applying for this job.
At center? McDavid, Nuge—God I love writing that—Leon, Letestu, Lander, then Khaira. So he could win a utility job and should be considered direct competition for Anton Lander at this point in time.
Does McLellan like him? McLellan: "I like his physicality, his size, and I think there's more there. I think he has to get his confidence up. We're playing him like we really believe in him and he's got to believe in himself a little bit more because I think there's more there. He'll learn situations a little bit better, but his size offset a little bit of their size tonight." Source
Could Khaira be part of the future? Sure. The Oilers basically have a giant mess of a fourth line, and a bunch of veterans who will not be here long term, so there are opportunities.
Who is leaving? Lauri Korpikoski was bought out, Matt Hendricks is probably entering his final Oiler season, Anton Lander is not secure and Iiro Pakarinen needs to step forward and he is not a young prospect. There is opportunity here.
Is he in good position? Think so. I go back to how good he looked first blush in the NHL. He is not facing a murderer's row for 4line competition and he is young enough to develop a little more.
What will keep him out of the NHL? Skill. Khaira has the look of a guy who can keep up and he appears smart enough to figure out the NHL game. Offense? Edmonton is not good at prying offense out of average players, haven't been since forever. Ridiculous skill at center will help that, but Khaira is extremely unlikely to play on those lines.
Did he talk about playing at the NHL level?

Khaira

: "Just some of the passes they make. You don't expect them to land on your tape but next thing you know they're right there and you've got to think a lot quicker to make a play instead of just dumping it in all the time. It's a line that needs to keep position and make plays and I'm trying my best to help them out." Source
Why this song? It is about being in a strange place and not being able to find anything you recognize. The language is not your own, no one to answer questions, give direction or to center you, nothing familiar around you. It is about overcoming enormous challenge and making the unknown familiar. It is a fabulous song for a rookie NHL player.